Heavy Rain's David Cage
The interactive dramatist on reviews, future plans, orange juice and mud.
EurogamerI guess you must have done quite a lot of focus-testing of the game... Did you find that people worked out who the killer was before the end?
David Cage
No-one. 70 people did the user test, none of them found the killer before the game reveals it.
EurogamerI've got a note from Tom here where he says that he guessed correctly during the club sequence...
Eurogamer...but he wasn't 100 per cent sure until the very end. Are you pleased that people aren't guessing? I suppose you have to assess the value of what you've done as a storyteller, and if you're creating a mystery you presumably don't want people to be able to guess it...
David Cage
I'm OK for them to guess if they feel like they've been very clever. I didn't want to hide and make it come from nowhere so people would say, "Oh really? Why?" But I don't think that's the case, I think it's quite consistent and it makes sense. And when you replay the game knowing who the killer is, I think it makes perfect sense.
EurogamerIf you were put in the same situations as Ethan Mars, how far would you have gone to save your son?
David Cage
Oh my God. I hope to never be in this position. But, you know, it's always very easy to say, when you sit near a fireplace you're comfortably seated, "Sure, I would do anything." I think no-one knows exactly how they would react confronted with this type of thing.
I don't know. Talking now, I would say I would do anything for my sons. Anything. Including taking a life.
EurogamerAlthough Heavy Rain is quite unique, there are other studios doing story-driven gaming and working with flexible narratives as well... I'm thinking of BioWare as an example. Do you study other story-driven games? Have you played them, do you compare them to what you're doing?
David Cage
I play many games but I don't really study how they do things, maybe I should. But I sometimes get the feeling that they don't dare to break the rules enough. They are still making videogames, and they try to twist it to tell a story, where I think that some rules are fundamentally wrong. You should just get rid of them.
Why do you still bother giving a gun to your characters? Can't you imagine a way to tell a story without a gun? I mean they are still using mechanics most of the time were you press here to jump, here to run, here to shoot... Yes, you can tell stories with this, but I'm interested in people trying to invent new ways of interacting.
There are people doing this. Sometimes in very different ways from what I am doing, for example the guys doing Flower. It's a very different experience that has nothing to do with Heavy Rain, but it's still an emotional journey... I'm very interested in people trying to do different things, break the rules, invent new ones. The time has come now for new rules.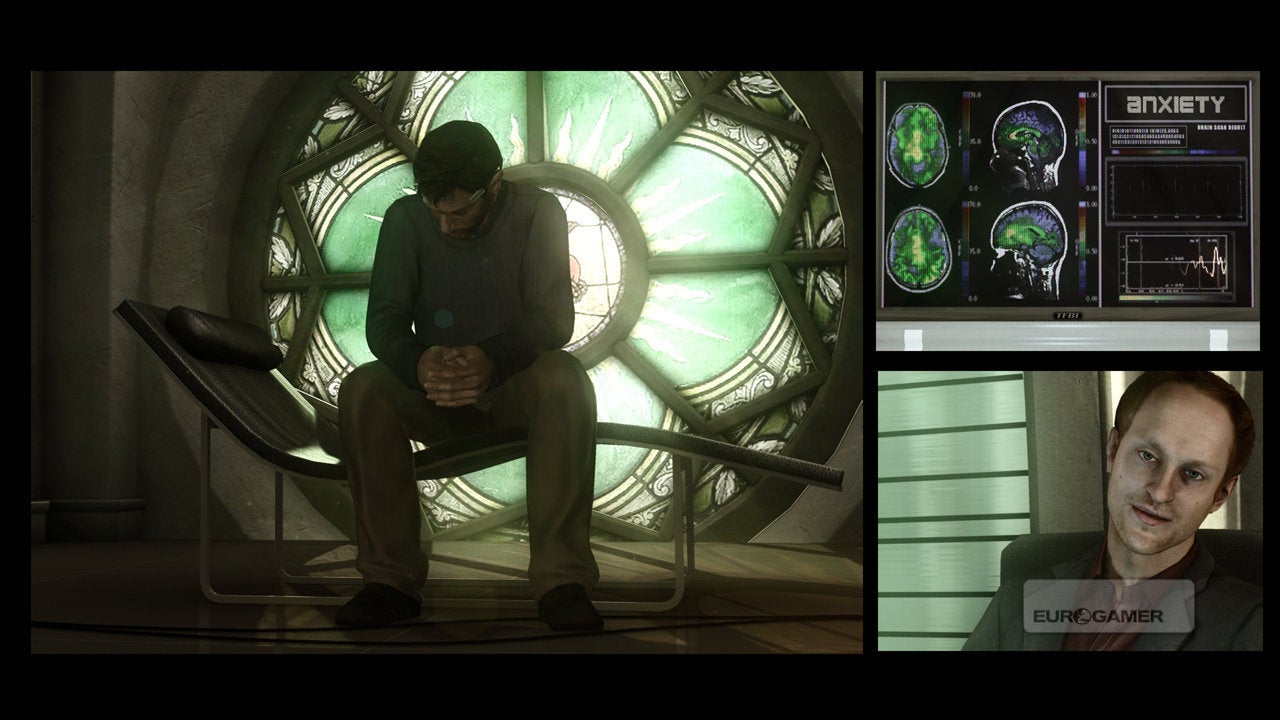 EurogamerHow did you come up with the Origami Killer's back-story and motivation? Did you do a lot of research into serial killers?
David Cage
Oh yeah, I really worked on serial killers, I read a lot of books about them. I'm fascinated by what they write. Because when you read what these people write, they are nuts of course, but sometimes there is a kind of logic, a kind of poetry... a strange poetry in what they say. It's really intriguing and frightening at the same time.
I did some research, I was looking for something that would be very intriguing as a modus operandi, and I came up with the fact that the killer may give a gift to his victims, like, "I'm sorry for what I've done, it was not you that I intended to kill." Everything started from there: why? Why an orchid on the chest? And mud on the face was something that has been done by some real serial killers just to make the victim anonymous, so they replace the person that is the victim by a symbol.
EurogamerI noticed there was a trophy for seeing all the possible endings... Can you say how many distinct endings there are?
David Cage
There are many different endings, I think there are 23 epilogues actually in the game. But it doesn't mean that there are 23 endings, because there are many different paths leading to different endings, and there are combinations of paths and consequences offering more choices leading to more consequences... so the way it's written, it's not like there's one branch here, one branch here and you end up with two endings.
What was really surprising to us was that when people played the first time, they got the feeling that they were making no choices. They were just doing what seemed logical to them, and the story just unfolded whether they succeeded or not, so they didn't feel they did something wrong or right. Because the story always continues.
EurogamerWere you surprised that Sony put the resources behind Heavy Rain that it did?
David Cage
[pause] I'm extremely pleased that they signed the title initially. I think that when they did so it was a huge risk. Because look, if they failed, if the game didn't receive 90 per cent average but 60 per cent, they would be in a strange position here.
But no, they trusted us from day one. They were very patient - it's a strange kind of game, because it looks like shit until the very last months, or even the very last weeks. Because until you've got the music, all the dialogue in it, all the cameras, all the sound effects, it looks like crap. It must be very scary for a publisher to see all the scenes, emotion nowhere, everything looking ugly... and in fact they were not nervous. I'm not surprised because I think that Sony wants to expand its market, which makes a lot of sense.
EurogamerYou say you're much happier with this than you were with Fahrenheit, but are there still things that you want to improve?
David Cage
Oh yeah, there are always things that you want to and that you can improve. And I will, trust me, I will. You can tell better stories, you can trigger more intense emotions, you can have a more fluid narrative, you can have even more impact to players' actions. But my feeling, thinking of Heavy Rain, I see it as something solid, something really major, and I'm really happy with the consistency of the piece. I'm not saying this is perfect and I'll never do anything better, I'm just saying I think there's a big gap between Fahrenheit and Heavy Rain and Heavy Rain really looks like a major experience.
Heavy Rain is released for PS3 on 26th February.
Will you support Eurogamer?
We want to make Eurogamer better, and that means better for our readers - not for algorithms. You can help! Become a supporter of Eurogamer and you can view the site completely ad-free, as well as gaining exclusive access to articles, podcasts and conversations that will bring you closer to the team, the stories, and the games we all love. Subscriptions start at £3.99 / $4.99 per month.