Hearthstone's Kobolds and Catacombs expansion originally themed around WOW's Blingtron
"There are some cards which take us four or five sets to find a home for..."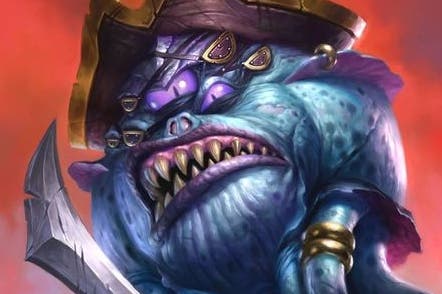 Hearthstone's next big expansion, Kobolds and Catacombs, is due for release next week - but it was not always going to be themed as such.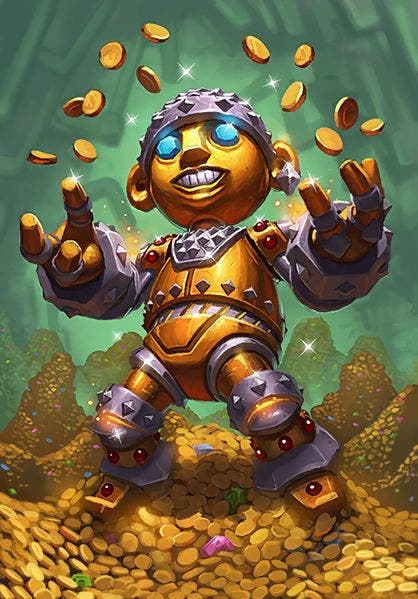 Blizzard's original plan for the set was a collection themed around World of Warcraft's mysterious mecha-goblins, the Blingtrons, and during development was titled Blingtron's Lootapolooza.
Blingtron's coins were placed in this teaser image of the year's Hearthstone sets, which was created before the switch to Kobolds was made.
"We hadn't locked down Kobolds yet. Those are coins from Blingtron in there," senior game designer Peter Whalen told Eurogamer this week in an interview to discuss the upcoming expansion.
"We'd locked down that we wanted the set to be about loot," art director Ben Thompson added, "about gold and gems and items and the very rich and expensive things in the world of Warcraft you could amass."
By this point many of Kobolds' set mechanics had already been decided upon, including the first legendary weapons and the new Spellstone cards which can be buffed in power as you progress. But the cards which were in the set changed slightly - a process that happens often behind the scenes, Thompson explained.
"It could have remained a fun set as Blingtron's Lootapolooza, but with the Kobolds, and the things which the Kobolds find while digging, those sorts of things wouldn't have been there. So we might have always had a giant enemy doing X or Y, but now it's a Kobold riding a giant mole. It provides flavour when we're doing the art and text, for sure."
Cards usually end up in the set they were created for, but in some cases can be shuffled out and then kept in limbo for some time.
"There are some cards which take us four or five sets to find a home for," Thompson continued. "We'll have the mechanics and art done, all ready to go. And then the next set comes up and it still doesn't feel quite right. Sometimes it's as simple as switching out the art - because a Kobold may no longer be relevant looking two or three sets time."
Legendary pirate card Patches has already gained a reputation for being the most high profile example of this, which Whalen then referenced.
"Patches was in a couple of sets before he found a home," Whalen said, "and in a couple of different versions. There was a Pirate version, a Murloc version. [League of Explorers set star] Sir Finnley was kind of a version of Patches at one point. But yeah, he was in a lot of sets before he finally shipped in Mean Streets."