Hearthstone: Heroes of Warcraft beta key giveaway
UPDATE: The competition is now closed! Winners to be notified directly.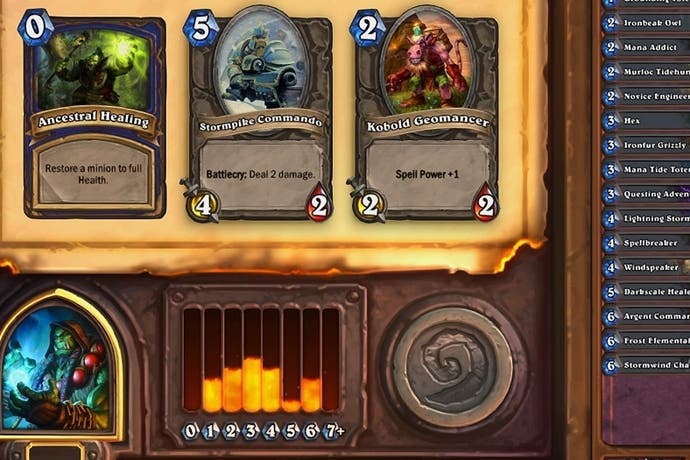 UPDATE #3: The keys have all been distributed! Check your inbox and congratulations if you won.
UPDATE #2: The competition is now closed! Thanks to everyone who entered! Winners will be notified directly through the email they use for their Eurogamer account.
UPDATE: Thanks to everyone who has entered the competition so far! We've had huge demand, so Blizzard has kindly given us another 400 keys on top of the original 2600. If you have already entered, you don't have to do anything else - you just have a slightly better chance of winning one. If you haven't entered, what are you waiting for?
ORIGINAL POST: The demand for Hearthstone: Heroes of Warcraft beta keys is immense. Blizzard has been kind enough to give us 2600 to hand over to you, so to give everyone a fair chance of obtaining one, we are running a competition this week and will distribute the keys randomly to 2600 winners next Monday.
If you want one, follow these instructions:
If you aren't already, you need to be a registered Eurogamer user, which is free.
Log in and answer the simple question below.
That's it!
We will distribute the beta keys first thing next week and we will update this page and post on Twitter when winners have been notified.
Oh, and if you don't know much about Hearthstone, Blizzard's new card battler, check out what Chris Donlan wrote after spending a weekend becoming completely addicted to it: "It's hardly a shock to hear that Hearthstone: Heroes of Warcraft will put you in mind of Magic: The Gathering, but perhaps more surprising is the sheer extent to which it will make you think about PopCap games, too. Blizzard's latest is virtual card battling at its most physical and also its most ingratiating."
Good luck!
Prizes will not be exchanged for cash or other goods.
No employees of Eurogamer or Blizzard may enter.
The judges' decision is final.
The closing date was 27th October.