Cella: eSports Star
The story behind StarCraft II's head coach.
Were you ever a normal gamer?
"No."
You were good from the start?
"Nobody is a good player in the beginning."
Hong Seung Pyo, better known as SlayerS Cella, is far from a normal gamer. How good is he? "No-one knows." The head coach of SlayerS, Korea's most spectacular and successful StarCraft II team, Cella is immaculately turned out in his blue and white team jacket, shrugging his shoulders, cracking a huge grin. And as usual, he's trolling.
Cella's the kind of guy who says "I don't English" and then launches into a lot of English, his enthusiasm effortlessly making the point while the eyes of Blizzard's translator widen in fear. Cella's not shy, as anyone who's watched his livestream knows – a fizzing mix of high-level gaming, hamburger-munching, sugar-sweet pop music and inventive spellings.
The 27-year-old Korean has had a long journey to being SlayerS head coach: one that, at times, must have made him feel like a very normal gamer. The backdrop is, of course, StarCraft and StarCraft II, Blizzard's realtime strategy series and the biggest e-sport of all time – thanks almost entirely to its wild success in Korea. StarCraft II, despite the prettier graphics, is yet to overhaul its predecessor in popularity, but it is still big news: the GOMTV Global StarCraft II League (better known as the GSL) is the largest professional StarCraft II tournament in the world, and the gold standard.
Like many Korean gamers, Cella played Brood War (the StarCraft expansion used for competitive play). He was never a presence, though, something he attributes to not giving the game enough time. "I started to play more later, when it was Warcraft III and I was in the Werra clan: so my name became CellaWerra," he says. "Then I began to have dreams. I noticed I was playing even better and my ladder score was very good, so maybe I should do this some more. That thinking started to resonate with me, and at about the same time StarCraft II was starting."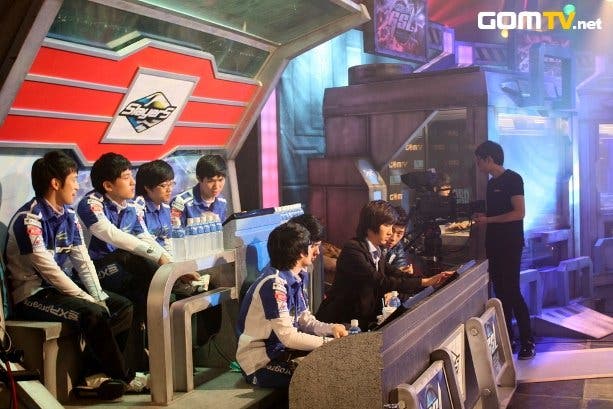 This was late 2010, and things almost looked good. CellaWerra qualified for the first GSL, a considerable achievement, but was then knocked out in the last 64. It could have been a building block, but instead Cella hit a wall – and it's easy to see why. In October 2010 an extraordinary scandal broke around Werra, when its leader and manager GundamWerra was accused of sexually molesting a fifteen year old. It was evening news material in Korea, and in the days following even more allegations came to light.
Werra's prominent players immediately left the clan, and it was left to Cella to confirm its disbandment (his note's in the previous link, and makes uncomfortable reading). Cella was now alone, and didn't even have anywhere to practice. "I didn't want to be with another team," says Cella. "I felt I didn't really have a place. I couldn't play games at home – things weren't going well there & my father wasn't in his best mind. I was pissed off."
Unable to practice in any meaningful way, Cella failed to qualify for the next GSL. But things were quietly improving. "Because of my situation, I ended up playing at Rainbow's personal house." Rainbow is a top-tier Terran player and captain of Startale. "That was for about two months, and during that time I helped him prepare for the GSL and went with him to the qualification rounds."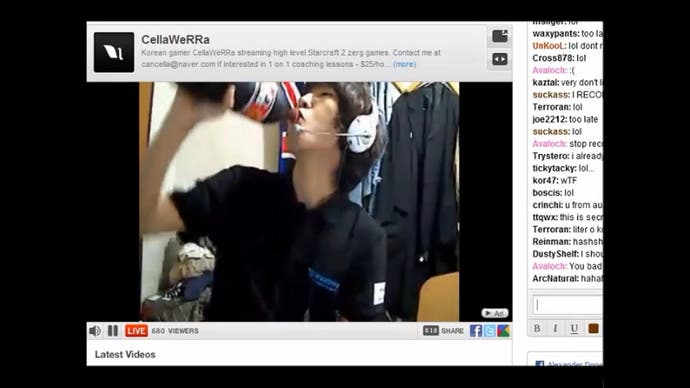 Rainbow also happens to be good friends with the StarCraft legend Lim Yo-Hwan, better known as Boxer, who at that time was assembling what would become SlayerS, and was on the lookout for talent. Boxer is in the latter stages of his career now, but is best thought of as StarCraft's Michael Jordan: one of the most successful and easily the most famous pro-gamers in Korea, you could fill a whole article with his major achievements.
Boxer was known for his ability to spot a player, and his team enjoyed considerable success as a result. But SlayerS had bombed badly in the first Global StarCraft II Team League – a competition that pits teams head-to-head in a knockout cup format. In Cella, Boxer saw someone who could help with that. Cella wasn't sure. "I didn't have a lot of experience as a coach, and I hadn't proven myself," he says, "certainly not as much as some of the other GSL coaches."
Boxer was persuasive. "I didn't really make the decision – Boxer just said 'you can play at the same time, and try to qualify for GSL while being coach' so... I accepted it."
Cella was officially announced as SlayerS vice-captain in March, just as the GSL began. "I slept for about two hours in the first five days," says Cella. "Because I had to watch videos of all the other players' games, find out their weaknesses and their strong points and try to work out what they needed to focus on."