Halo 4 Preview: Remaster Chief
Bungie finished the fight, but 343 is ready to start it all over again.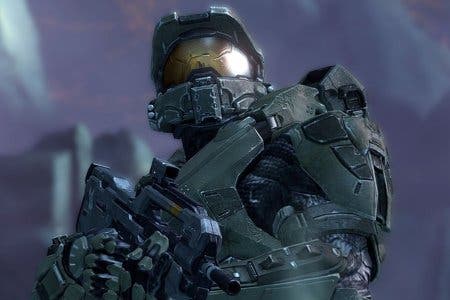 It's Halo. Which says a lot and yet says very little at the same time. There are the same springy jumps, the same man-cannons and the maps with the same perfectly crafted symmetry. There are Spartans, there's a battle rifle and there's a grand, extra-terrestrial backdrop, the architecture as ever seemingly a result of Frank Lloyd Wright being kidnapped by some alien race and forced to design the flat steel that twists beneath beautiful skyboxes.
It's Halo, and the fourth mainline game is in essence the same we've all been playing since Combat Evolved in 2001. And that suggests, in one regard, that 343 hasn't dropped the ball for its first serious attempt at the series since Bungie departed.
A Halo without Bungie at one time seemed as inconceivable as a Mario without Nintendo - but 343's definition of the Halo experience, it turns out, isn't so very different from Bungie's after all. "Jamie Griesemer of Bungie once defined it as this golden triangle," franchise director Frank O'Connor tells us. "And while I'm not a game designer, I have my own personal definition of it.
"I think it's a world that gives you tools and opportunities to explore in a really adventurous and exciting way. That's how I'd define it. I wouldn't narrow it down to encounter by encounter combat tropes, or even the bigger emergent sandbox things.
"It's a combination of so many things, including music and sound effects. For me it's a combination of those high-level things and something visceral that I feel in my thumbs. I wish I had a golden triangle for you, but that's how I feel about it, and that's my real answer."
So Halo 4 looks like Halo and, in all likelihood (playable code, like so much else about Halo 4, is being preserved for another part of its doubtless prolonged PR cycle), it feels like Halo. It's red-versus-blue, it's rechargeable shields, and it's shooting that's playful in tone.
"I think in the worst-case scenario - and we're shooting for a best-case scenario - the Halo that you like is still in there," assures O'Connor. "You can find the thing that you like and go and enjoy it with some newer graphics, and some fairly significantly improved technology. The more complicated and more adventurous things that we're doing - you'll have to wait and see."
We'll have to wait and see for a lot of what exactly Halo 4 is - the first look, coming at Microsoft's Spring Showcase, reveals so very little. The campaign's being saved for later, as is the meat of the multiplayer. What we're getting here is the slimmest slice, a guided tour of two multiplayer maps as well as some short, sharp bursts of the game in action.
First there's Warhouse, a civilian manufacturing plant that's been built by 343 with deathmatch in mind. As a map, it's typical Halo - there's a strong verticality, as well as corridors circling a central area and an arena that's pocked with small warehouses. And then there's Wraparound, a Forerunner installation that again looks like it'd comfortably fit into Reach's existing portfolio, with its open areas and suspended walkways bridged by man-cannons on either side of the map.
So far, so familiar - but there's enough here to get a handle on where exactly 343 wants to take the series over the trilogy that it's mapped out over the coming decade. Firstly, and most strikingly, there's a technical progression that's immediately noticeable. Halo 4's foundations are built upon the same engine that's powered previous Xbox 360 outings, but its many augmentations and upgrades make the visual results stand out clearly from its predecessors, adding thick, warm lighting and a new fidelity to characters and backdrops that make it one of the console's best-looking games.
Such power is married to a level of detail that's new to Halo, and helps usher in a return of the fantastical that was somewhat lacking in the more terrestrial ODST and Reach. Wraparound inspires some of the wonder of Combat Evolved's Forerunner architecture, an artificial sun sending bright lazy beams across the map while thick clouds swallow the buildings in the distance. Even the civilian plant benefits from a new strength of vision. At its centre there's a towering Cyclops Mark 2, a heavy mech first introduced in Halo Wars that's under construction and looks like it's just strutted in from the Metal Gear games.
The maps boast the form that the series has well established, and they've been lent a new sense of purpose. 343's intention is to reinvigorate multiplayer, and to have it work with the campaign in more meaningful ways. Intriguingly, it wants to lend a purpose to the ongoing fight between red and blue, a fight that will be justified in Halo 4's narrative - setting off spiralling thoughts of a civil war introduced in the campaign and played out in the multiplayer, charting the new conflicts that emerge in the wake of the war with the Covenant.
It's a premise that may be familiar to anyone who's dipped into the wider world of Halo's fiction, and something loosely explored in Karen Traviss's Glasslands novel. Links such as these will become more prevalent in Halos to come, with 343 wanting to bring more of the extended universe into the game world.
Glasslands also lifted the veil on the Spartan IVs, and it's these new super-soldiers that are the stars of the multiplayer. The Spartan IVs introduce their own quirks to Halo 4, and they're quirks that are likely to prove the most controversial. Armour can now be upgraded and personalised, but whereas such modifications were purely aesthetic in previous games, this time they bring with them gameplay perks - as well as a fundamental shift in the philosophy at the heart of Halo's multiplayer.
There's a clear parallel to Call of Duty here, but it's one that 343's quick to brush aside. "We're not chasing anybody else's tail," insists O'Connor. "What we do take very seriously is changing player habits. So rather than chasing Call of Duty or Battlefield and trying to do their thing and doing it poorly, and doing injustice to it, we're trying to do our own thing, and do something fairly original but still something that's completely compatible with the Halo universe."
Snippets of gameplay show that some of Halo's tropes have returned, while others have been refined. There's the sprinting that was introduced in Reach, although with the lack of player classes implied by the game's custom loadouts it would seems that it's now a permanent fixture. The rechargeable shield also appears, now reset to its pre-Reach state with the ditching of medi-packs.
It's a return to a more classical Halo in other regards too, with the Battle Rifle making its first appearance since Halo 3. Reach's DMR Rifle always proved divisive, its single shot and scope making it a hard tool to wield for fresher players. The return of the Battle Rifle, with its classic three-shot burst, will for many be more than welcome.
And of course there's another series stalwart making a return. The Master Chief's absence was felt keenly in ODST and Reach, and his comeback in Halo 4 sees a slight visual overhaul, his suit more nimble and seemingly a marriage of the existing Spartan armour with Crysis' Nanosuit.
The trailer suggests it'll introduce a new physicality to the Chief as he wrenches doors open from a first-person perspective. Again, there are no specifics, though O'Connor confirms it will play a part in the game's mechanics: "Everything that you experienced outside of the cinematics will be in the player's control."
Regardless of how the Chief plays, he'll find himself at the centre of a story that, like so much else about Halo 4, remains a mystery. Its jumping-off point is already known, the Chief and Cortana being stirred from sleep by a strange new planet. They may have saved the universe once already, but Halo 4 is going to introduce a peril that's graver than what's been seen before.
"Our game isn't going to be any less serious in tone than Reach," says O'Connor. "Reach felt domestic for a very specific reason, as you felt that you were on one world, and you were trapped there during this catastrophe around you. This game will have a very different, more explorative feeling. There'll be lots of sci-fi tropes in there, but also smaller stories. I can't go into specifics, but there's something in there that's going to be like walking along a beach looking for Man Friday. "
And the enemy the Chief will face? Rack that up as another detail that 343's currently unwilling to disclose, although what they do permit themselves to say speaks several volumes. "At this point we're talking about them as an ancient dark evil foe that's unlike anything that the Chief's faced before," teases creative director Josh Holmes. "That isn't to say that you won't be facing familiar foes, but the addition of a new enemy is going to be one of the most important changes in Halo since the beginning."
O'Connor confirms that the Covenant will return in some form, and it takes a small leap of the imagination to come to the conclusion that it'll be the Forerunners who will serve as Halo 4's main foe. "I won't admit anything," O'Connor responds when pushed. "I don't even know what a Forerunner is."
"The thing about spoilers like that is we're doing a service to the experience in the game which is somewhat counter to what a movie would do. A movie would show you much of the movie in a trailer, whereas we have the luxury of being able to keep things secret for longer."
And there are plenty of secrets surrounding Halo 4 that 343's yet to give up. Yet as skinny a reveal as this is, it manages to be both promising and reassuring. 343's new direction may be only a few degrees removed from the one that the series departed on, but the studio has proved that it's building upon Bungie's foundation in meaningful ways. It's still Halo - and for now that should tell you everything you need to know about 343's handling of the franchise.