Gyromancer
Bewitched, Bothered and Bejeweled.
Your beast and the enemy have gauges for two or three abilities each. Yours fill up every time you make a successful match - but your opponents fill up every time you rotate gems, successful or not. You can fill your gauges quicker by matching gems of your beast's colour, setting off cascades, combos or matching more than three, and by making uninterrupted runs of matches. You stop your opponent's gauge filling by matching gems of its colour. When one of your gauges is filled, it appears as an ability gem on the board and explodes when matched, damaging the opponent; your enemy's ability gems need to be matched in a certain number of moves before the countdown hits zero, like Bejewled Twist's bombs.
It's a beautifully balanced setup. The smarter you play, the faster you set off your attacks, and the fewer of your opponent's hit home. Your only real enemy is your own inefficiency, especially later in the game, when there's a steep penalty for idle twists - they make your opponent's gauges fill much faster - bringing finely-judged risk-taking into play as you balance setting up tactical plays or neutralising attacks against flooding the board with hostile ability gems. It's a battle alright, but in reality the battle is just between you and the board. It's a brilliantly clever design, and a big improvement on the original Twist.
The RPG mechanics surrounding it are slightly less convincing. The player and beasts level in tandem; some have level caps, so will need to be discarded for newer models as you progress. You level faster and earn more cash for playing well (good matches and combos earn puzzle points, which are converted into XP and cash). But the beasts aren't all that clearly differentiated and their attacks can't help but be variations on a theme, while the affinity system - whereby certain combinations of beasts cause buffs and debuffs to each other - doesn't make a huge difference. More crucially, while levelling gives your beasts more hit points and attack power, it doesn't have a huge functional impact - there are no exciting ability unlocks for example, just progress.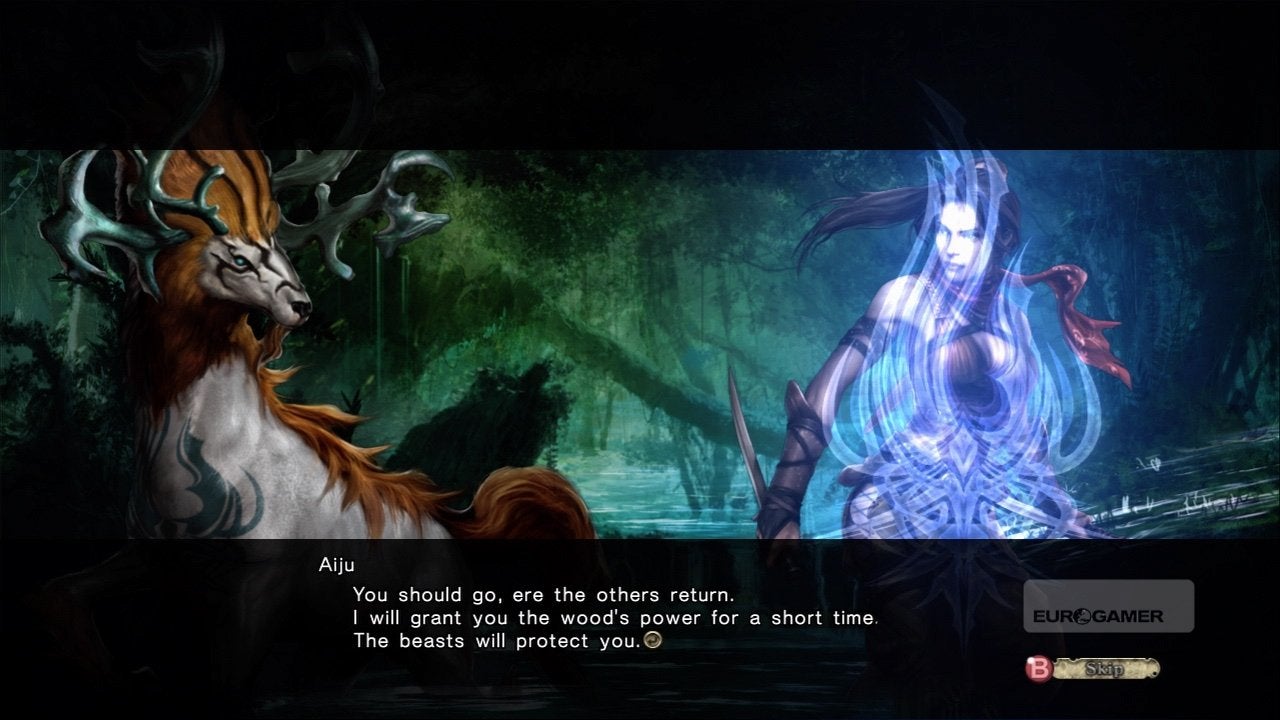 Nevertheless, the game does get deeper. New monsters and their abilities play off new tile types - inert stones and locked gems which can't be rotated, for example. Gyromancer confidently walks the path from gorgeously mindless gratification to almost surreptitious tactical depth that PopCap knows so well.
What's more, the dungeon-diving aspect of the game is fiendishly compulsive. Although the maps are rather crudely portrayed, they're littered with loot - items that can be used in-puzzle, such as a mirror that gives you one anti-clockwise rotation, and more importantly new beasts to summon - and crawling with traps, enemies and secrets that go far beyond the story mission in each one. Each labyrinth also has a set of achievements to collect (high scores, boss kills, puzzle scenario challenges and so on) that will bring you back to them many times after you've completed the surprisingly varied story missions, and there are one-off challenge arenas to play for high scores and cash. The 360 version already has a three-map DLC pack available for 240 MSP (about £2 / €3 / $3) and a pack of items to ease your progress for 40 MSP (small change).
Gyromancer has longevity, it's fearsomely addictive, and it's more absorbing the more you play it. It's done more than enough to set itself apart from - maybe even slightly above - Puzzle Quest, and although it's a better puzzle game than it is an RPG, the mesh between its puzzle and battle systems is stunningly harmonious. So, more surprisingly perhaps, is the mesh between PopCap and Square Enix, who have come from opposite ends of the planet and the gaming spectrum to create a happy hybrid where the chain combos chime forever.
Gyromancer is available today on Steam for £10.99 / €13.99, and on Xbox Live Arcade for 1200 Microsoft Points (£10.20 / €14.40).
Will you support Eurogamer?
We want to make Eurogamer better, and that means better for our readers - not for algorithms. You can help! Become a supporter of Eurogamer and you can view the site completely ad-free, as well as gaining exclusive access to articles, podcasts and conversations that will bring you closer to the team, the stories, and the games we all love. Subscriptions start at £3.99 / $4.99 per month.