Gunpoint dev's stealthy space sandbox Heat Signature launches this month
Play during the first week to unlock the "Everything Gun."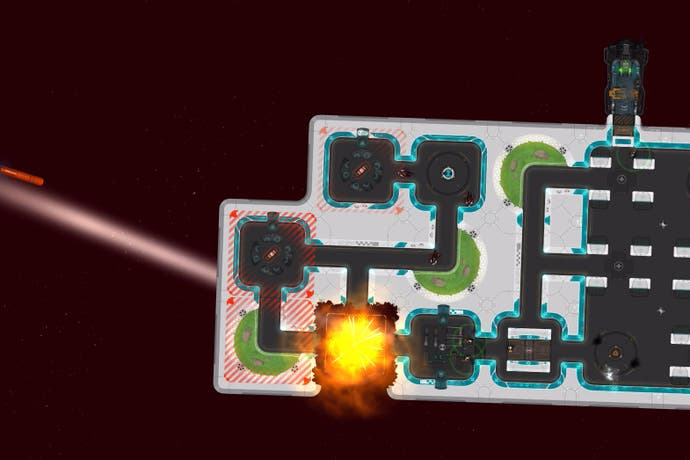 Gunpoint developer Tom Francis' long-awaited action roguelike, Heat Signature, will launch on PC via Steam 21st September.
Heat Signature is an almost comically ambitious affair that looks a bit like a procedurally-generated mix of Hotline Miami's top-down heists and Metal Gear Solid 5's more robust stealth mechanics. The sandbox game has you accepting missions to steal supplies or assassinate NPCs, then it's up to you to fly your ship around the cosmos, sneak onto the craft where your target is, and infiltrate the vessel.
In a cool twist on the formula, each ship you sneak onto is both a dungeon and a vehicle. Some ships are rather spacious labyrinths with plenty of guards patrolling, while others are more modest crafts, but they all have one thing in common: you can seize control of them and then cruise the cosmos with your new flying fortress.
Amazingly, these ships can be fractured into multiple pieces that can still be boarded. So if you're after a bounty in a ship's cargo hold, you could dock elsewhere on the vessel and make your way down on foot, or blast the entire cargo hold off its station and board just the stranded vessel. Chances are you'll get into a pretty big space battle should you take this all-guns-a-blazin' approach, but maybe that's your style.
To add even further comical complexity to this free-form space sandbox, the first week Heat Signature is on sale you'll be given an opportunity to snag a unique weapon called the "Everything Gun." This special bonus weapon operates similarly to Half-Life 2's gravity gun in that it sucks up loose materials then spits them back out at enemies. Apparently you can even shoot guns with it that will go off when they slam against walls. "It will definitely get you killed, but you'll die laughing," Francis said of this chaotic weapon.
Should you seize an Everything Gun before 28th September, it will remain a random drop in the game for you. If you miss out on it, you'll just have to live in a world without an Everything Gun. But that's okay. If you had one you'd shoot your eye out, kid.
When asked if this weapon will return at a later date, Francis said in an FAQ: "Maybe some day, but we haven't decided so won't make any promises yet."
Francis noted that for Steam Trading Cards he'd like to adorn them with gifs of players doing crazy, exciting stuff. If you submit a clip to him in the game's early days you may be commemorated by having your name and video attached to one of the game's trading cards.