Guild Wars 2
A question of questing.
ArenaNet took chances with Guild Wars, scrapping all fees past game and expansion purchases, establishing an obtainable level cap (that even I reached, twice) and insisting on an instance-led approach where cities and outposts were the only evidence of a massively multiplayer world. It was and is unique. And it worked; the game initially scored higher than World of Warcraft, Blizzard's behemoth that had launched a couple of months prior, and WOW never trampled Guild Wars into the ground.
ArenaNet, once small, now has a massive team working on Guild Wars 2, and is taking chances on a much grander scale. NCsoft is revealing its new champion in stages, not that we could digest an entire MMO in an instant. Here, lead content designer Colin Johanson and - very briefly - global brand manager Chris Lye explain how ArenaNet is attempting to change the face of MMO questing in Guild Wars 2.
EurogamerSo, what are dynamic events?
Colin Johanson
The basic idea behind our system is to take the traditional concept of quests - where you go up and talk to a character and get a big wall of text to read to find out what's going on and then run off to do it - and change it so we have dynamically occurring events where things are constantly happening around the player that they can see, that they can hear and they don't have to go read about.
These events dynamically change the world and cascade out across the map and change the content for everybody in it.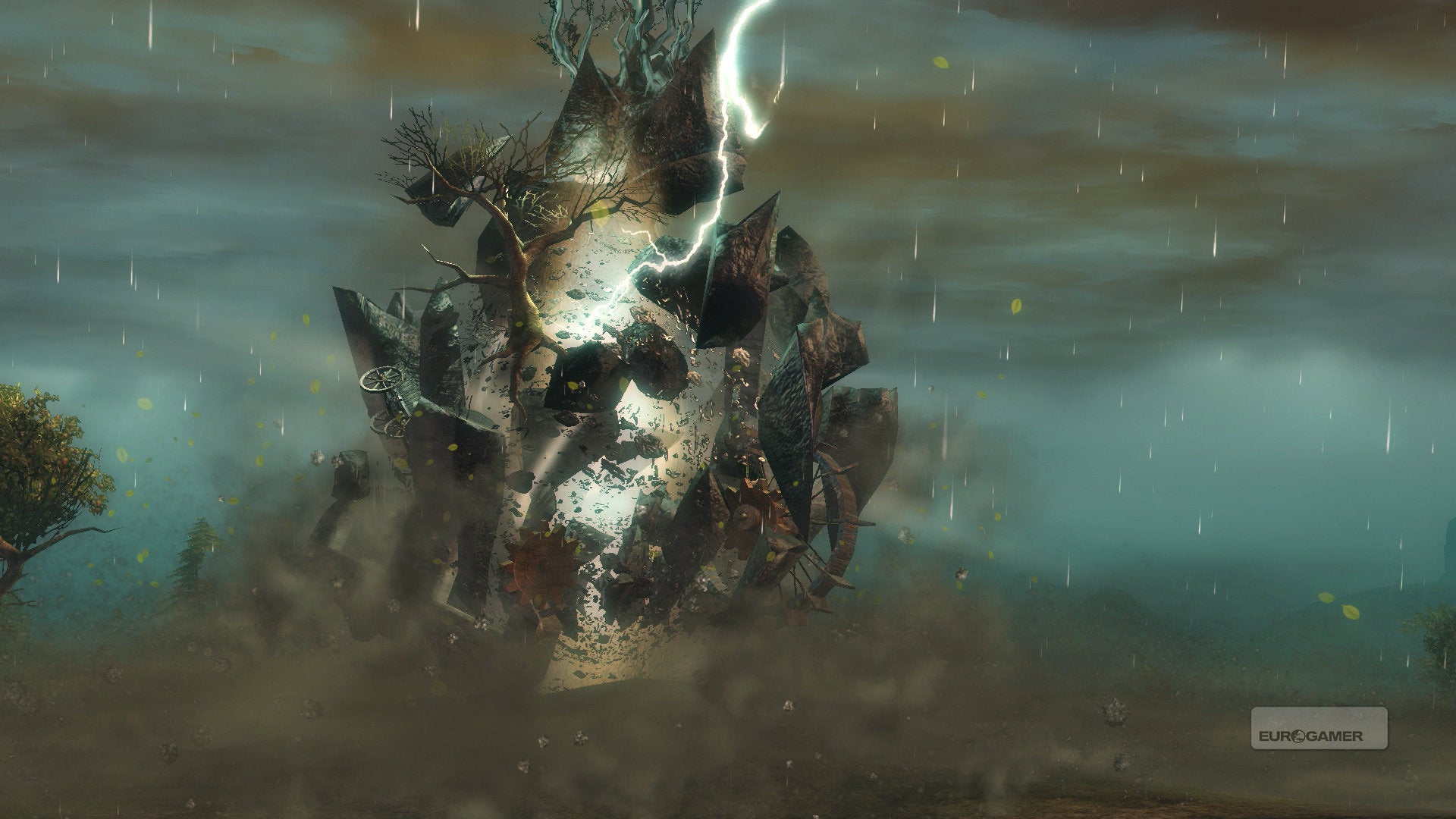 EurogamerCan you talk us through a dynamic event? Let's pretend I'm a warrior and I'm in a starting area. I put on my shield and metal hat.
Colin Johanson
Let's say you are a Charr warrior. You can join up with the Iron Legion Charr and a force that is marching out to assault the Flame Legion base - the bad Charr. A whole bunch of different events cascade out from this assault. There's a troop of engineers to escort who set up mortars. That kicks off another event where you defend them as they try to build the mortars. If you successfully defend them, and the mortars go fully operational, they start firing down on the main Flame Legion base.
Or you can join the foot troops in an assault on the main gate of the base and try to smash it down. And you're going to be able to do side events to gather weapons to help equip the troops. As you get these weapons, the troops switch to use them and become more powerful. All of these events chain together.
Eventually, when you take control of this Flame Legion base, follow-up events to hold or branch an attack to other locations on the map open up. But if the Flame Legion take these locations back, they'll start organising attacks on friendly player locations on the map.
EurogamerGuild Wars had an instanced quest system that was activated in main towns. Is that what happens with these dynamic events - get to a town, hit "go" and you and your party begin the mission?
Colin Johanson
We've split quests into two completely different concepts. One of them is our dynamic events system, which occurs in the persistent world and keeps the world dynamic and alive for all the players. The other core system is your personal storyline. This you're always on and there is always a next step available to you; where you should be going in the world and something you should be doing to progress your storyline.
In Guild Wars 1 we presented a story about other characters. The story is the world. You yourself never had a story; you didn't have a personality. We're taking the best aspects of a role-playing game and putting that into your personal storyline. You'll go through and make choices that develop who you are and the world you see. Your friends can come with you and help you do your personal storyline, and you can help them.
EurogamerHow will our choices manifest on our characters?
Colin Johanson
We're trying to let the characters make choices that have real emotional investment and that are important enough to care about. You're going to choose if your best friend lives or dies. Based on the choice you make, that character will actually die and the storyline will completely change. There will be villains you capture that you have the choice of sending to prison or executing. Your choice will completely change the outcome of things that happen in the future.
You have friendly groups that you can rescue and save, and they'll start showing up in other storyline steps later and help you. They'll check back in with you in cities and you can talk to them and see how they're doing.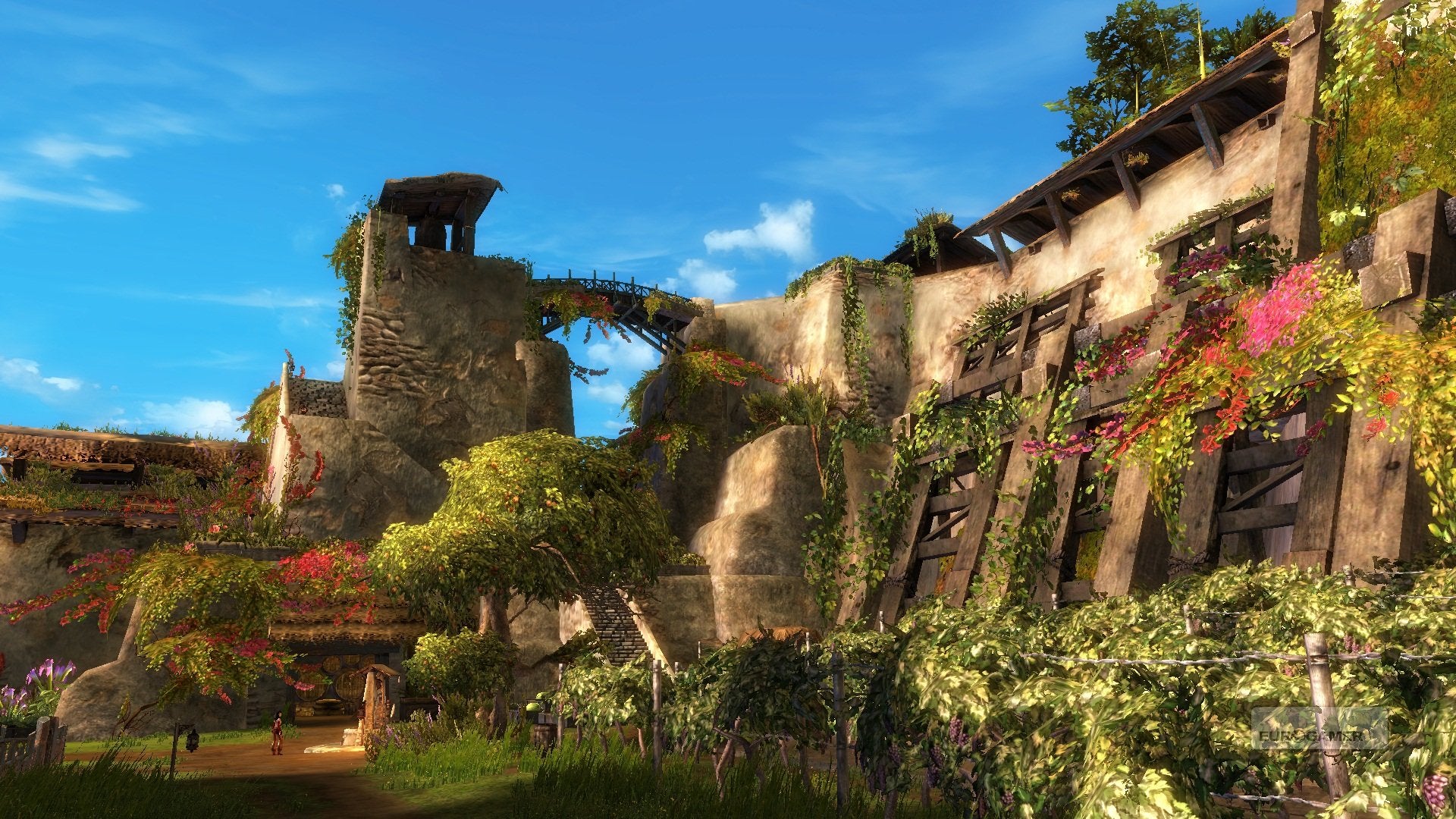 Locations will get destroyed, and this is a little bit of a spoiler for you, but early on in one of the Human storylines you have to pick between trying to get to a hospital or an orphanage - which one do you want to save first? The bandits are going to attack both. Based on the choice you make it has a dramatic effect on your storyline.
EurogamerI'm vain; I want to see these changes visibly on my character!
Colin Johanson
The most important thing for us is to make sure the story changes and that characters react differently to you based on the choices you've made. We want you to be the hero. That's one of the key design elements in Guild Wars 2. We're going to have you doing heroic things.
There are item rewards that you'll get from story stuff that can make your character look a little bit different. We have things along those lines, but they're still in development at this time.
Become a Eurogamer subscriber and get your first month for £1
Get your first month for £1 (normally £3.99) when you buy a Standard Eurogamer subscription. Enjoy ad-free browsing, merch discounts, our monthly letter from the editor, and show your support with a supporter-exclusive comment flair!