Ground Control
3D strategy game previewed
Something strange is happening in Sweden. The country best known as the homeland of Volvo, Abba, and reindeer is suddenly becoming a hive of game development activity.
In the last few months here on EuroGamer we've covered Starbreeze Studios and their first person RPG "Sorcery", and SouthEnd Interactive's futuristic online action-sports team game "Blitz : Disc Arena".
Massive Entertainment is another Swedish company that has recently come out of the woodwork with an impressive looking game powered by its own homebrew engine. In this case it is a 3D real time strategy game, going by the name of "Ground Control"...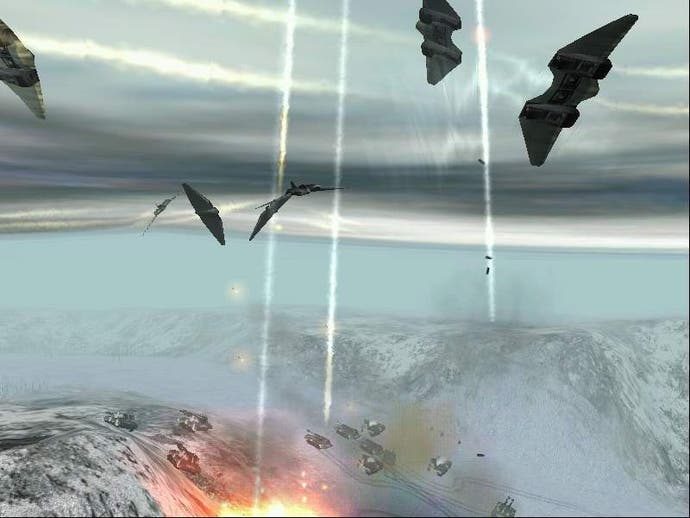 Ground Control To Major Tom
Actually, calling Ground Control an RTS is a little misleading, as it strips away the traditional base building and resource gathering elements of most strategy games. Instead you pick which units to take with you on each mission.
And you should have plenty of choice, with a total of almost thirty units available to players, as well as the ability to customise individual units with different weapons, armour and equipment before sending them into battle. Your units will also gain experience if they survive from one mission to the next, which should encourage the player to think about what they're doing instead of treating their men like cannon fodder.
According to Henrik Sebring, one of the game's designers, this approach "allows the player to concentrate on realistic battle tactics" instead of being bogged down by resource management and unit construction. It also lets players get straight into action, which should appeal to the more gung ho strategy fans amongst us.
The graphics should also appeal to those of you who prefer blowing stuff up to building it, with a full 3D engine sporting some impressive weapons effects and explosions, and a free floating camera that lets you get right down into the action as well as being able to zoom out for a wider view of the action.
As you can see from the screenshots, the game can handle impressively detailed wide open spaces effortlessly with a minimum of fogging. Models and textures for the various units are also looking good, and the game certainly looks to be up there with Battlezone II in the graphics department...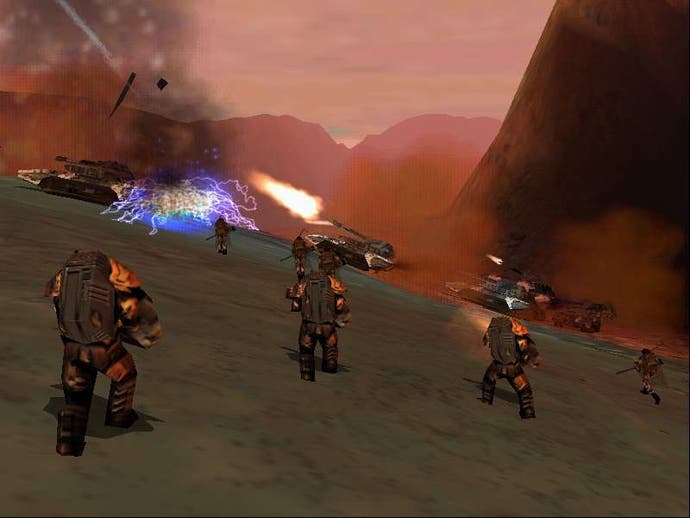 Control Freak
Set in a suitably dismal future of over-crowding, pollution, and battling mega-corporations, the single player game is taken care of with two seperate campaigns of fifteen missions each, allowing you to take the role of either Crayven Industries or the Order of the New Dawn.
Ground Control will also feature a full set of multiplayer options and several dedicated multiplayer maps, allowing up to four players to battle it out over the internet, or eight on a LAN. Online play is handled through WON.net, making it easy to find servers and chat with other players.
Standard deathmatch and capture the flag options will of course be included, but there is also a more interesting sounding multiplayer mode where players will need to live up to the game's name by controlling ground, with the first team to control a certain number of objectives in the map winning.
And for when you get tired of the out-of-the-box experience, Massive are going to be releasing GenEd, the editor which they use to create all the game missions. "The editor will allow the community to create their own single and multiplayer maps", Henrik told us. And as the mission scripting is stored within the maps, "it will also allow creative players to come up with their own unique multiplayer modes."
Which we like a lot.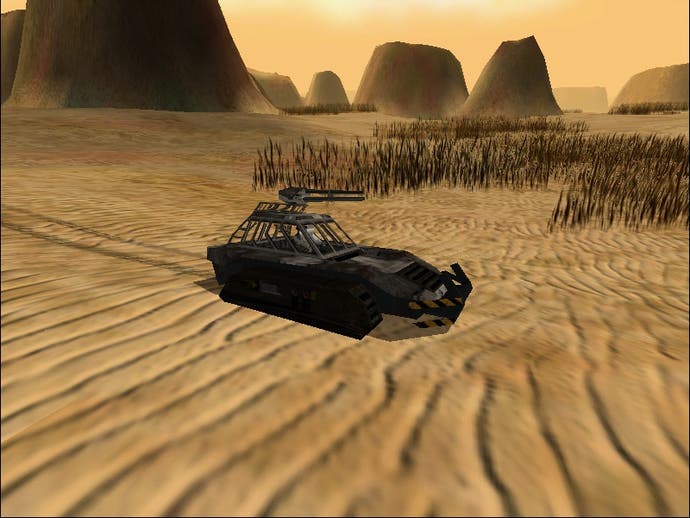 Conclusion
Ground Control is shaping up to be a strong contender in the battle of the 3D strategy games this year, where it will be going up against the likes of Battlezone II, Dark Reign II, and of course Warcraft III (in the unlikely event that Blizzard's latest game is actually released on time).
With an impressive in-house graphics engine, strong multiplayer options, innovative gameplay, and plenty of room for customisation through the game editor, this is one title we will be keeping our eyes on as it nears release later this year...
-
SouthEnd Interactive interview