Grid 2 announced with debut trailer and screenshots
Get world's first hands-on at Eurogamer Expo 2012.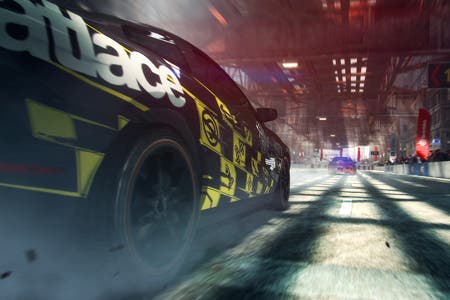 Codemasters has announced Grid 2, for release on the PC, PlayStation 3 and Xbox 360 in 2013 - and it will be playable first at Eurogamer Expo 2012.
In the debut trailer we get a glimpse of Chicago and Paris, the first of the game's new locations.
Grid 2 has been in development for two years, and is built using the latest version of Codemasters Racing's Ego engine.
"Grid's back and we're going to make street, track and road racing exciting again," said executive producer Clive Moody.
"The core design philosophy for Grid 2 is that we treat the race as a character, not a consequence of simply putting cars on tracks. Everything that goes into the game impacts on that second-to-second, in the moment, blockbuster drama - the feel and personality of the race."
He added: "We're pushing boundaries once again with what can be accomplished in the genre via new tools, technology and innovations. In single-player, split-screen and online, the next-generation of the Ego Game Technology Platform will power graphics, AI, handling and damage advancements that will immerse players in the racing experience like never before. Like its predecessor, Grid 2 will put the sheer thrill and adrenaline rush of the race at the heart of the experience. It's what we call Total Race Day Immersion."
Grid 2 builds on the handling model from Grid using the new TrueFeel Handling System. This uses real physics to "hit a sweetspot" between accessibility and simulation.
The game spans three continents: USA, Europe and Asia, and takes in cities including Paris, Abu Dhabi and Miami (as well as the California coast). Expect licensed circuits, fancy city streets and mountain roads.
On the multiplayer side there's a new progression system that features customisation and integration with Codemasters Racing's online community portal RaceNet.
The world's first Grid 2 hands-on opportunity will be at Eurogamer Expo 2012, which runs at London's Earls Court from 27th-30th September.
It will be playable throughout the four days of the show, and its developers will dish the dirt on the racer during an exclusive developer session, called Grid 2: Total Race Day Immersion, on Saturday afternoon at 3pm.
Eurogamer operations director Tom Bramwell said: "We got a chance to check out Grid 2 at Codemasters' offices last week ahead of today's announcement and it looks amazing. We can't wait for people to play it.
"It's also going to be fantastic to hear from the developers about what they're attempting with the game and see some of their work in progress during the developer session."
Tickets for Eurogamer Expo 2012 are now available at www.eurogamerexpo.com.