Great art and puzzles converge with real style in The Other Side
Everything's nifty!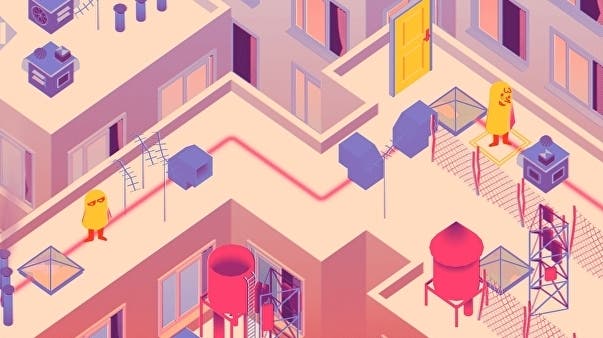 A magical door in a magical forest? Who can resist that? Not me, at least - particularly when the art has the style of those Atomic Age children's books from the US: flat, four-colour printing, a hero with a sort of Charlie Brown squiggle for a quiff, everything thick and dash and aching of mimeo-ink. Jeepers!
So yes, The Other Side is a puzzle game for smartphones with a killer sense of art. And it's wonderful to play with, too: a game about getting characters - sometimes one, sometimes more - to the door in a level and then on to the next one.
You do this by pulling them along on conveyor belts that move them and everything else that's on the belt with them - trees, bushes, water towers, bits of fence and chimneys. The twist is that various belts overlay each other, so you move a guy left, then get him onto a down belt, them move him down and along and...and...and... man it gets tricky fast.
The belts are not just straight lines, basically. They take sudden right angles and form loops and whatnot. It's a bit head-melty, but only in the description. In the hands, it all clicks even before the sound track has given a sense of the taut finely-worked mechanism that allows everything to operate, even before the brain has found words for what you're up to.
All this, and look at the mauves, the lilacs, the bursts of orange and scribbles of hot pink. Puzzles grow in complexity, but they also shift you around - the woods one second, a rooftop in Brooklyn the next. This game is beautiful - just beautiful. I can't wait for more.
We're covering this game as part of Rezzed Digital, highlighting our favourite indie games from the delayed EGX Rezzed.