Gray Matter
Brain training.
If you thought Alan Wake took its sweet time getting out of the door, spare a thought for hardcore adventure gamers who have had to wait a patience-testing seven years for Gray Matter. Since the game was announced it has gone through various stages of development hell, switching publishers and developers multiple times before the point-and-clicker finally found a home - this time at German publisher dtp.
The interminable delays that the game has endured over the years could end up working in its favour. Riding on the back of renewed interest in the genre via Broken Sword and Monkey Island remakes, alongside the revival of Sam & Max, Gray Matter arrives at a time when the once-moribund adventure genre is in its healthiest state for more than a decade. Coincidentally, that's also roughly how long it's been since we saw an adventure title penned by the game's author Jane Jensen, the renowned creative talent behind the revered Gabriel Knight trilogy.
Set in the historic confines of Oxford, this supernatural tale focuses on the lives of neurobiologist Dr David Styles, and young American street magician Samantha Everett. Since his life was shattered by the death of his wife several years ago, Styles has become a virtual recluse. But when Everett shows up on the doorstep of his Dread Hill House country mansion, her timing proves to be spot on, with Styles in the market for a new assistant at his Centre for Cognitive Abnormality Research.
After sheltering the night from the swirling wind and lightning and exploring the grand opulence of Styles' far-from-humble abode, Everett's first major task is to find half a dozen volunteers from Oxford University to participate in a mysterious experiment planned by Dr Styles.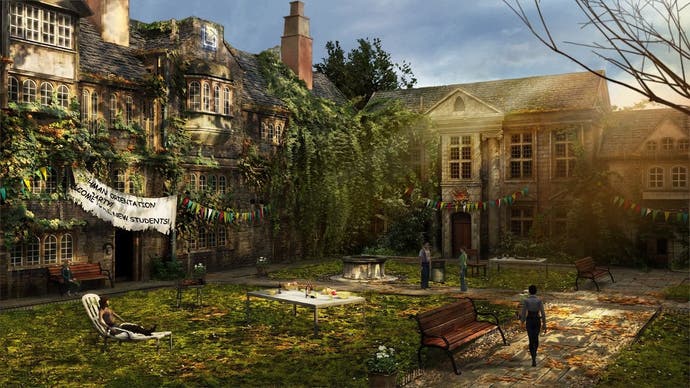 What's surprising about Gray Matter is how comfortable the game is not only with well-honed adventure mechanics but the uncompromising use of simple static backdrops and images for its locations and cut-scenes. This strict adherence to the pre-3D style favoured by the classic LucasArts, Sierra, Westwood and Revolution during the genre's heyday gives Gray Matter a reassuringly 'lived-in' look and feel. For many, booting it up for the first time will be like putting on an old pair of slippers.
The understated, static location backdrops and non-animated cut-scenes are beautiful and admirable in their own way, with a deft attention to detail and an intricate, crafted style which promises to make exploring the game's many atmospheric locales an absorbing experience in its own right.
Given a whistle-stop tour of the opening three chapters, it's noticeable that Jensen and company have been careful to ensure players are able to explore without getting bogged down in time-wasting nonsense, such as the traditional problem of having to scan the cursor over every pixel to make sure you've examined every possible object. As with other recent adventures, hotspots are revealed by default to minimise the possibility of missing crucial items.