E3: Gran Turismo PSP
Played and discussed with Kazunori Yamauchi.
EurogamerIn return, does it have any kind of knock-on effect on how GT5 is coming along?
Kazunori Yamauchi
I don't think there was a direct effect, but I do believe that the development team really gained experience in streamlining displaying graphics on a very small space and also how to manage memory when the amount of memory available is very small. That sort of experience is something that was gained by the team.
And you know, this is the first time we've developed a portable game, and I think there is an effect on how we see games, and how we understand videogames.
EurogamerCould you expand on that a little bit?
Kazunori Yamauchi
When you think of a game you have certain expectations for it, but we were going from a full HD screen to a screen this size [gestures PSP shape], and the dynamic range between the two experiences is very different and changes your thinking.
EurogamerHave you been thinking about other racing games? It seems that Forza is in the same space, but other racing games have gone into really quite strange areas with power-ups and weird effects and elaborate open worlds. How much do you take notice of what's happening in the wider genre?
Kazunori Yamauchi
I've created games before with power-ups and things like that - Motor Toon Grand Prix for example - but Gran Turismo is always just Gran Turismo. That's just the same as U2 is always going to sing U2 music - they're not going to sing hip-hop all of a sudden.
EurogamerCan I ask you a little bit about what motivates you as a game creator - is it cars or is it game design?
Kazunori Yamauchi
That depends on the time period actually. Right now creating the game system has my interest, because we're creating things like this, and when I'm creating GT5 I'm always thinking about how the system's going to be arranged. But at a certain point in time my heart goes out to cars, so it kind of swings back and forth!
EurogamerIn terms of GT PSP connectivity, is there downloadable content planned, and is there any plan for connecting with GT5 at all?
Kazunori Yamauchi
First off, for the PSP version we're not thinking of any downloadable content. And as for the link with GT5, we're hoping maybe to make it so you can share the garage with the PSP version so that cars you unlock on PSP will be available immediately on GT5.
EurogamerI appreciate you're not here today to talk about GT5, but is there anything you can say about how development's going?
Kazunori Yamauchi
I want to release it as fast as I can, but GT5 for us, when you talk about its status, it's at a point we can release it any time we want, but we can always keep working on it. It's very important for us to make sure everything is done perfectly and everything is done in detail.
EurogamerOne of the things that stood out in Microsoft's press conference was the Forza team saying it was the definitive simulation racer. How do you feel about that?
Kazunori Yamauchi
I don't exactly know what their announcement was about, but we've evolved over 10 years through our history, towards GT5, and I don't know if it's something that can be compared.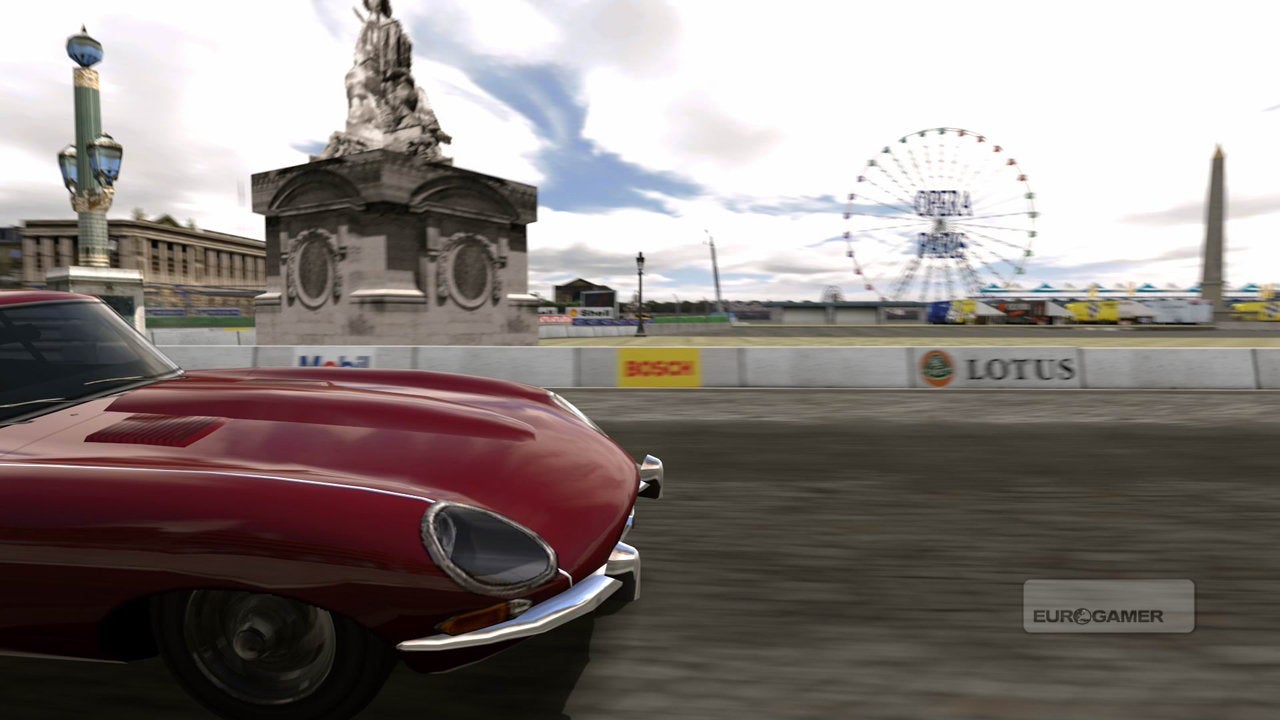 EurogamerAs a car fan, any thoughts on the troubles the car industry is going through at the moment?
Kazunori Yamauchi
My first and foremost concern right now is not about the game industry but it's more about the automobile industry. I'm very worried about it and I don't think it's a problem that's just limited to the United States. One of the reasons why we made this game now and are releasing it now is that we want teenagers to get into cars. That's something I had in mind when I created the game. Cars are fun and just wonderful to drive, and it's something we have to relay to younger generations and all over the world.
EurogamerAnd, with how exhaustive GT is and how detailed and specific it is about cars, is there almost a sense that as the economy steps away from building these elaborate, really exciting bits of technological brilliance, you're almost becoming a curator for the really great cars?
Kazunori Yamauchi
20 years, 30 years away, I think you're right - Gran Turismo will have that kind of effect where people look back and say, oh, cars back then used to be like this. But videogames doesn't have a very long history yet - they're just getting started. But cars have a hundred years of history, and when we read books about cars, we think these cars were created a hundred years ago, and we have something to gain from that. And that's also because the history of books is long as well. But I think in the future maybe videogames will have that kind of effect on people as well.
Gran Turismo PSP is due out on 1st October. Hands-on by Oli Welsh, interview by Christian Donlan.
Will you support Eurogamer?
We want to make Eurogamer better, and that means better for our readers - not for algorithms. You can help! Become a supporter of Eurogamer and you can view the site completely ad-free, as well as gaining exclusive access to articles, podcasts and conversations that will bring you closer to the team, the stories, and the games we all love. Subscriptions start at £3.99 / $4.99 per month.