Gran Turismo 7's wet weather racing could be some of the best in a game yet
Wet wet wet.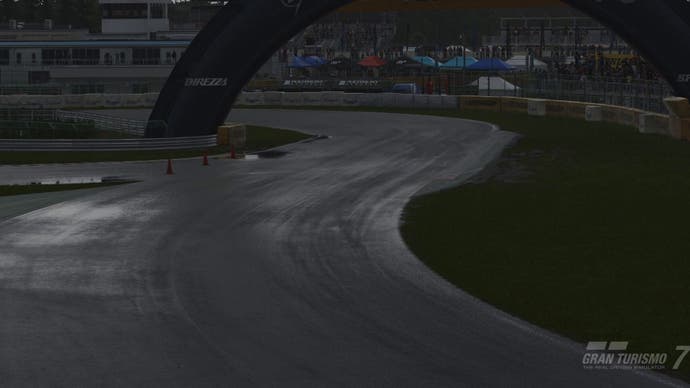 Proper weather implementation is something of a holy grail for racing games - it's why the feature bounces in and out of various series in the genre, why it's entirely absent in most and why we've been waiting for almost 14 years for it to make its debut in iRacing (can we really honestly get it this year please?)
Having had a brief glimpse at its implementation in Gran Turismo 7 in tonight's State of Play presentation, I think we might well have a new standard setter for the feature.
Weather isn't something new to the Gran Turismo series - we saw dynamic wet races in Gran Turismo 5, and a further refinement on them in Gran Turismo 6 before the feature sat out Gran Turismo Sport until a very late update - but it's been well implemented in Gran Turismo 7, with some neat ideas I don't recall seeing elsewhere.
First, there's some of that trademark Polyphony Digital eccentricity. As with Gran Turismo 6, accurately mapped starfields return, with enthusiast astronomer Kazunori Yamauchi ensuring the stars you see over somewhere like Laguna Seca will be in the exact same spot you'd find them in Californian skies at the corresponding time of day, with the moon rising and setting exactly where it should just as the sun sets and rises where you'd expect it to. The colour of those stars will change depending on how hazy it is, the atmospherics changing their hue.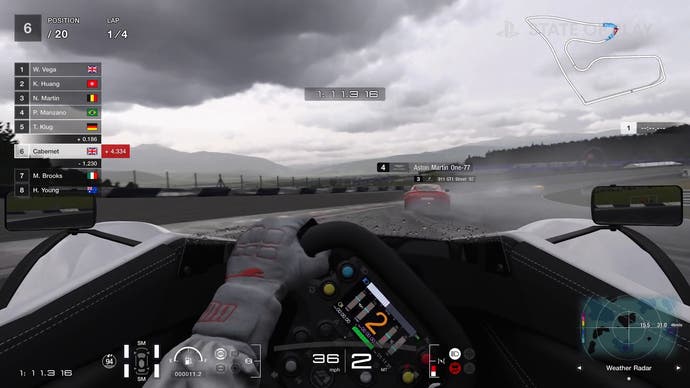 It's a fidelity that extends to Gran Turismo 7's cloud formations, their cover and density drawn from simulations that should ensure they're authentic to the skies seen over real-life tracks - so that Kentish stupour over Brands Hatch on an overcast day, or maybe the dense and hazy cover seen on hot afternoons at Interlagos. Okay, it doesn't look quite as amazing as something like DriveClub in all its overstated glory, but what's important here is it's authentic. It all translates to the track surface too - in a downpour puddles will form where you'd expect them to, a drying line will emerge once the rain stops and perhaps even more impressively the change in air density will impact things like slipstreaming and performance.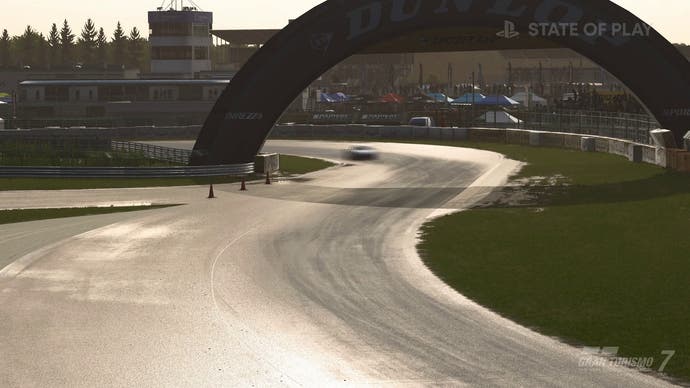 The best detail, though - or the one that impressed me the most, at least - is one of the more modest ones. As part of the in-game HUD there's now a weather radar, showing clouds forming and moving over the track and informing you of weather that's imminent. It means localised showers will be a thing, so at a track like the 12.9 mile Nordschleife it could be soaking on one side of the circuit and bone dry on the other - a challenge the real drivers often face, and one that's been replicated in other driving games before but never with this same amount of readability. It's really smart stuff.
As to the all-important dynamics, and to how Gran Turismo 7's wet weather implementation feels in the hands - well, that's a detail that's hard to get a grip on until we get the chance to play it for ourselves. Which, given Gran Turismo 7's March 4th release date, shouldn't be too far away.