Gran Turismo 7 credits farming and how to get easy credits fast
Where it's due.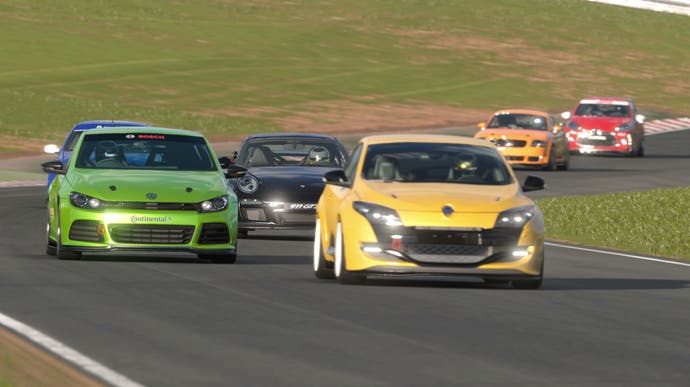 Gran Turismo 7 credits allow you to build your car collection and invest in upgrades to help you secure better times and win more cups.
You'll earn them from multiple sources - from winning races to licences - and there are a few things in mind to help you get credits easily.
As you complete Menu Books, credits won't be a huge focus as you aim to unlock everything the game has to offer, such as tracks.
But once you have wrapped the credits in the main campaign, you can start getting into several credit farming techniques to help you earn many of the best cars in Gran Turismo 7 faster - without having to resort to buying them with real world funds.
How to get credits in Gran Turismo 7
Credits are currency in Gran Turismo 7, and you'll earn varying amounts through standard gameplay, whether that's racing in World Circuits, passing the often-frustrating License Test minigames or completing Missions.
There are a few key things to know if you want to maximise your credit-earning efficiency as you play:
Races are credit-gated based on how you place, and you can revisit races that you've previously completed to earn more credits by placing higher on the podium.
If you race clean by avoiding other drivers and sticking to the track, you'll get a clean racing bonus at the end, which ups your prize money by a whopping 50%.
Missions and Licence Tests are credit-gated by your ability, and you can keep retrying them to achieve the gold trophy and take home more credits.
Another source of credits is Gran Turismo 7's Roulette Tickets. Players can earn Roulette Tickets by finishing Menu Books and completing their Daily Workout, by logging in and driving the length of a marathon (26.219 miles) each day. Then, there's a chance you'll earn a small, medium or large wad of credits, alongside special parts and cars.
Purchased with real world funds - which we'll discuss more in the next section.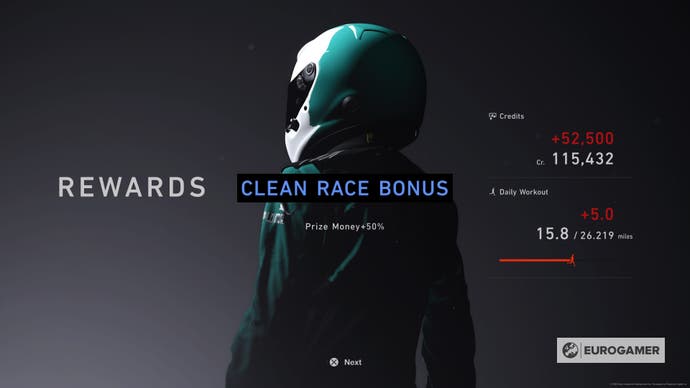 Remember, you can lower the in-game difficulty if you're finding a race with a huge payout too challenging, without a hit on the amount of money you will win.
Gran Turismo 7 credits price: How much do credits cost to buy?
You can also skip the grind and buy credits with real money using Gran Turismo 7's controversial microtransactions system. At the time of writing, the scaling is as follows:
100,000 Credits - £1.99
250,000 Credits - £3.99
750,000 Credits - £7.99
2,000,000 Credits - £15.99
Of course, you don't have to resort to this - instead, there are multiple ways to earn credits easily yourself...
How to get easy credits early in Gran Turismo 7
As players progress through Gran Turismo 7 they will raise their license rank and get access to better and more challenging circuits which offer greater rewards. This means your credit earnings will scale as you get deeper into the game. But what if you want to farm credits and grind towards an expensive car?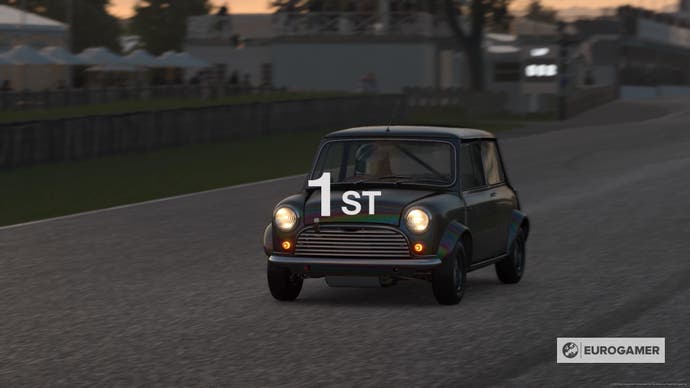 The best way to get credits is to complete events that suit your car and track tastes, but you can make it easier and more lucrative by considering the following factors:
Race Speed - The quicker the race, the quicker the payout, so focus on finding a circuit or championship with fewer laps and stages.
PP Efficiency - You want to find a balance between the race's PP requirements and the extent to which you can soup up or underclocked your car so that it can finish quicker.
Player ability - Is there a particular circuit that you're very comfortable with, and can breeze through without much effort? Prioritise it when farming.
For example, one farming circuit I liked to use early on is the Clubman Cup Plus at the Goodwood Motor Circuit in Europe. The race is 2 laps long, demands a Mini-Cooper 'S' '65 (which you get for free from an early menu book), and spits out 35,000 credits if you come in first place.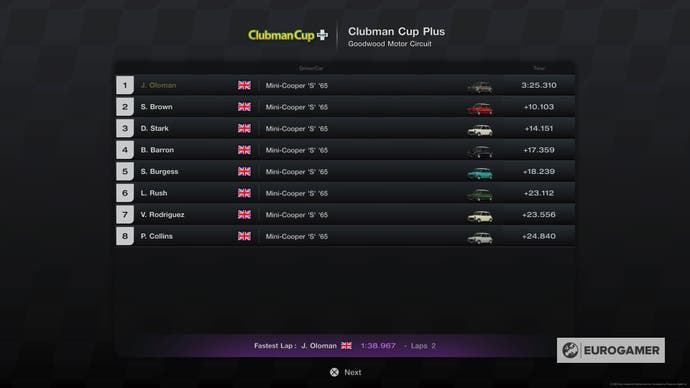 I've overclocked my souped-up Mini with nitrous oxide and it whips around the track in roughly 3 and a half minutes. If I manage a clean race then I'll receive 52,500 credits total. It's still an effort to save up, but it's hard to turn your nose up at this method if you're just looking to grind out expensive cars.
How to farm credits in Gran Turismo 7
Once you've completed all the menus and rolled the credits in Gran Turismo 7 there are a few spots more conducive to farming than others.
UPDATE (March 22nd, 2022): Following Update 1.08, many previously lucrative payouts have been reduced by as much as half. Though they are still the most viable ways to earn money in Gran Turismo 7 - we have reflected the changes below so you can see what they now pay - it means you'll have to put in more time to save up for the cars you need. The community has responded with a script exploit which those on a PS Remote Play app on PC, which can earn up to 550k credits per hour with minimal effort.
Dirt Champions can be found at Fishermans Ranch in the Americas, and it's a one-lap dash in dedicated rally machinery that nets you 65,000 for winning - or 97,500 if you keep it clean (UPDATE: The non-clean rate has been amended to 30,000 as of update 1.08). Even if you can't, with a payout of 39,000 for second place - or last, seeing as it's a two car race - this race is well worth your while.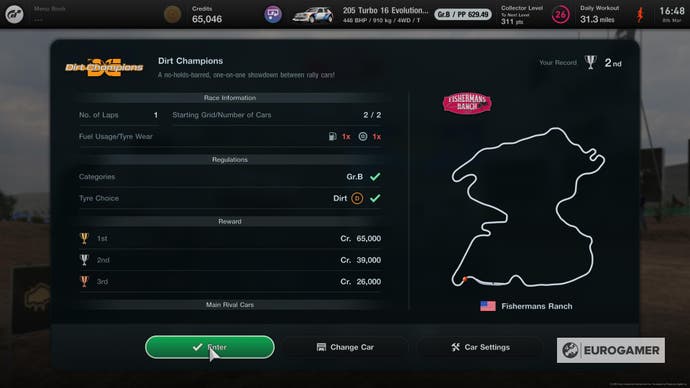 The GT Cup Gr. 4 race at Japan's High Speed Ring is a five lap blast that also pays out 65,000, or 97,500 if you can put in a clean race and come out on top (UPDATE: The non-clean rate been amended to 35,000 as of update 1.08). Given the fairly undemanding nature of the track, the speed of the cars you'll be entering in and the short length of the race it's another decent place to squat for an hour or two if you want some easy credits.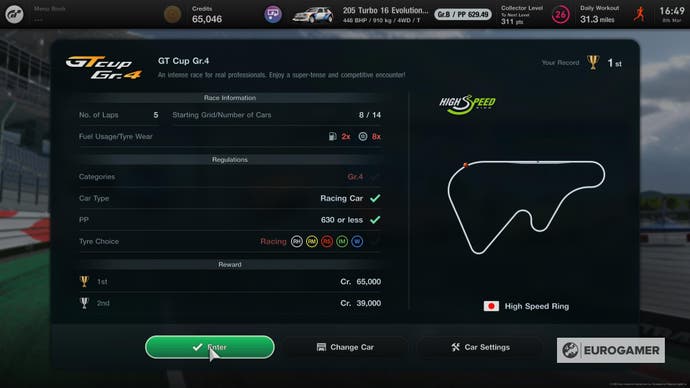 If that's a bit too much effort for you, however, you might want to turn to the American Clubman Cup 700 which takes place around a single lap of America's Special Stage Route X. If you've played Gran Turismo before you might be familiar with the track, which is effectively two very long straights connected by a couple of low radius corners which can easily be taken flat out - meaning this particular event requires no real input at all beyond stomping on the accelerator in a high performance car.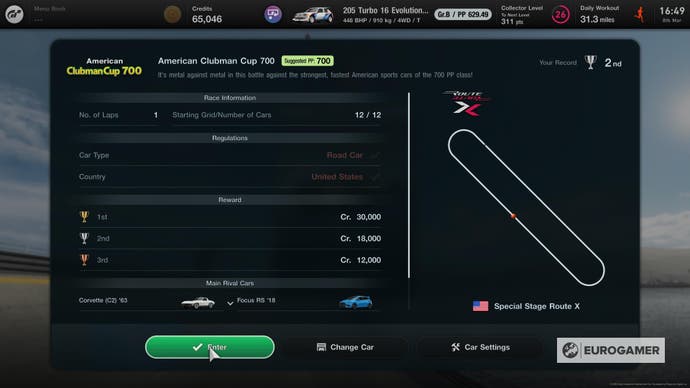 We haven't tested ourselves whether the old rubber band on the accelerator trigger trick works here - but either way it's a low-effort method to get credits fast, with a payout of 30,000 credits which scales up to 45,000 if you keep it clean (UPDATE: The non-clean rate been amended to 15,000 as of update 1.08) - and there's very little to hit at Special Stage Route X, so that's not such a tall order.