Gran Turismo 5 retrospective
If you like it then you shoulda drove the 'ring in it.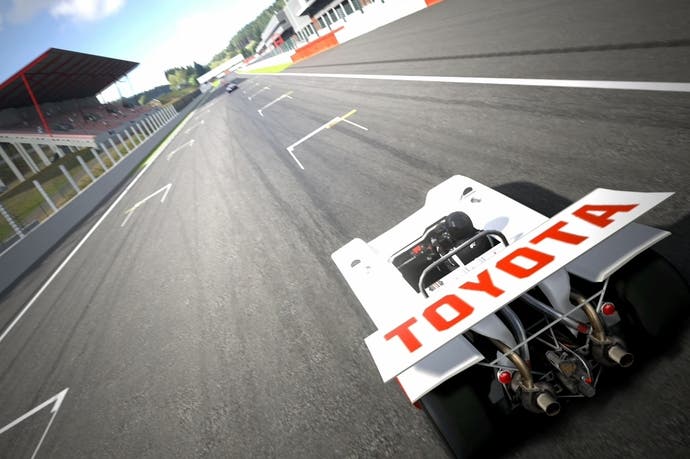 Always a halo product for the PlayStation brand, Gran Turismo's reputation as the top-tier console racer has remained the same since its debut. Developer Polyphony Digital's not shy of reminding you of its status either, subtitling Gran Turismo 5 as the "real driving simulator." It wasn't quite received as such at launch, but Gran Turismo 5 maintained its godlike aura by virtue of its peerless handling simulation and that staggeringly vast 1,083-strong car catalogue.
Its birth wasn't wholly smooth. The UI was an unintuitive, inefficient horror of loading screens and labyrinthine option menus. The career A-Spec mode harked back to the earliest days of Turismo, being a prescriptive and rigid collection of events providing scant rewards, drawing out a very, very long road for anyone wanting to build an encyclopedic car collection. License tests were now optional and sat alongside a suite of "special events", which were equally inflexible challenges in specific vehicles with specific conditions.
Alongside B-Spec mode, which put players in control of AI drivers, the game's launch content was largely a carryover from Gran Turismo 4 and barely qualified as a generational step forward. More derision was aimed at the cars themselves - the 1,083 entrants were a hotch-potch of insanely detailed premium models and immigrants from prior games, the majority being PS2 models from Gran Turismo 4 with slightly improved textures and a few taken - with astonishing shamelessness - from Gran Turismo Portable's PSP car list (another Turismo with a history of bafflingly giant delays).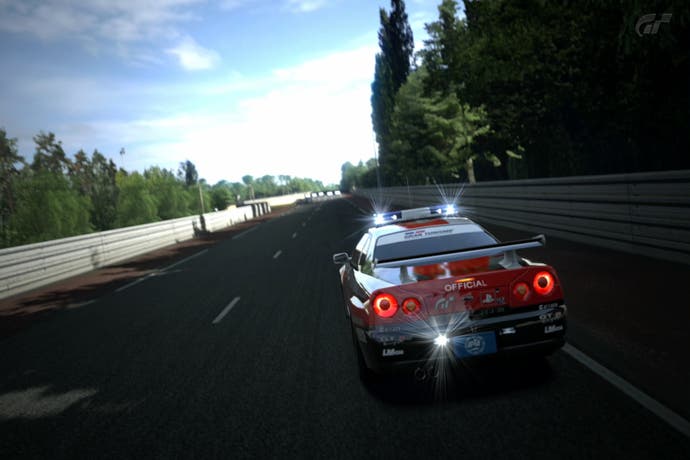 None of this really mattered in the end. With any simulator, the most important concern is the impression of authenticity, and Gran Turismo 5's tyre simulation delivers this with candour. Dubious AI and engine notes aside, any annoyance or sense of being short-changed evaporates when behind the wheel, with Polyphony's distinctively peerless translation of power, weight and dynamics coming together to provide a driving experience that competitors seem to grasp at, but never fully attain.
Each car's envelope of performance is tantalisingly explorable and individual to each car, even between varying types within a single model's family, and the sense of speed on the straights is matched by the sense of shifting masses and friction when diving into corners. Married with the sheer scope that over a thousand cars provides and a decent mix of real-world and fantasy tracks, it's an intoxicating brew that offers colossal potential for players to learn and perfect actual driving techniques.
Few players have obtained all 1,083 cars, but it's worth paying attention to how varied and exquisitely idiosyncratic that collection is. Undoubtedly down to the tastes of Kazunori Yamauchi, it's a fantastically quirky mix of road and race machines. It features, curiously, some of the most powerful cars on the 1989 Le Mans grid as well as a suite of Le Mans winners spanning four decades. There's a near-complete collection of Lotus sports cars and hilarious one-offs in the form of the Cizeta-Moroder V16 or Jay Leno's tank-engined roadster. There are deep curios like the unraced Jaguar XJ13 or the Suzuki Escudo dirt trial car (and its 1,000hp madness). The car list shows a profound love of the English two-seater sports car tradition, including spit-and-sawdust cult marques like Ginetta and Marcos alongside titans such as Jaguar and Aston Martin, with a Jensen Interceptor for good measure. It has a dizzying array of Nissan Skylines and Mazda two-seaters, going back to the 1960s and a set of hyper-cute Kei cars (the Mazda Autozam being a firm favourite) sits with an encyclopaedic collection of domestic Japanese motors of all types and configurations.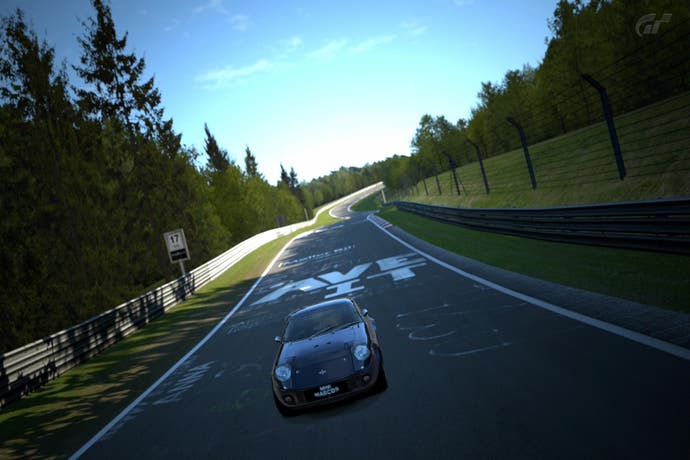 Then there's the Italian megabrands of Lamborghini and Ferrari, going as far as including not one but two Ferrari F1 cars to fry your brain with their insane capabilities, something that becomes nerve-jangling when flying through Spa Francorchamp's Eau Rouge/Radillon complex without lifting the gas. And then there's the WRC and Group B rally cars, the NASCAR stuff, the VW army cars, the US muscle cars and all the concept cars. It may be borrowing from previous versions but Gran Turismo 5's car catalogue never feels like a collection of tick-box branding exercises and more a rolling work in progress. It feels like a luxurious love letter to the automotive phenomenon. It's a set of must-drives, highlighting cars that would-be racers should love and learn to master as an induction into collecting and racing for real. I know I desperately want something as insane and cool (and attainable) as a Mini Marcos in my real-world parking spot.
Alongside the driving experience, Gran Turismo 5 offers up another unexpected success - its Photo Mode. With as much attention given to modelling a DLSR camera as the cars, it's perhaps the best in-game camera ever created and its rigour bore remarkable fruit, spitting out up-rezzed renders of (sometimes) astonishing realism and in the process, fuelling huge and dedicated communities of in-game car photographers. The sheer volume of output to be found on forums like the excellent GTplanet lead to Sony implementing the Gran Turismo 5 photostream on the official website. However, it didn't stop at stills - YouTube showcases Gran Turismo 5's finest qualities in impressive volume. You can see a madman taking a stock Ferrari F40 around the Nurburgring with a full clutch setup, demonstrating the arcane skill of heel-and-toe to keep his revs up, or someone lapping the Nordschleife in 3 minutes 19 in the speculative insanity of the Red Bull X2010. There are deranged Japanese drift races and simulation-abusing jump fests on custom tracks to marvel at too. While this kind of community-generated outpouring isn't in any way unique to Gran Turismo, the scope certainly feels special enough to warrant Turismo's legendary status.
With Gran Turismo 6 around the corner, it's commendable that Gran Turismo 5 is still a popular choice after three years on the market. While that's in part down to a lack of direct competition on the market, it's also true that Gran Turismo 5's quality makes it something no-one in their right mind would try to compete with. Polyphony's steady flow of new and varied weekly events, termed Seasonal Events, has certainly contributed to this longevity too (as well as offering far better cash rewards for collectors). There's a loyal online racing community every bit as feverish as Forza's (and perhaps larger thanks to a wider global reach), but it bears reminding that the game's A-Spec mode is the most demanding of any racing game on the market. At the upper tiers, it offers a full F1 season and endurance races that equal real-world events. Forza may think 10 laps of the Nurburgring or an hour at La Sarthe counts as endurance, but Gran Turismo 5 takes it seriously - there are 24-hour races for both tracks that are a real 24 hours long. It's a real test of commitment that very, very few racing games ever attempt, and evidence of the fine line between genius and madness that Kazunori Yamauchi walks with his games.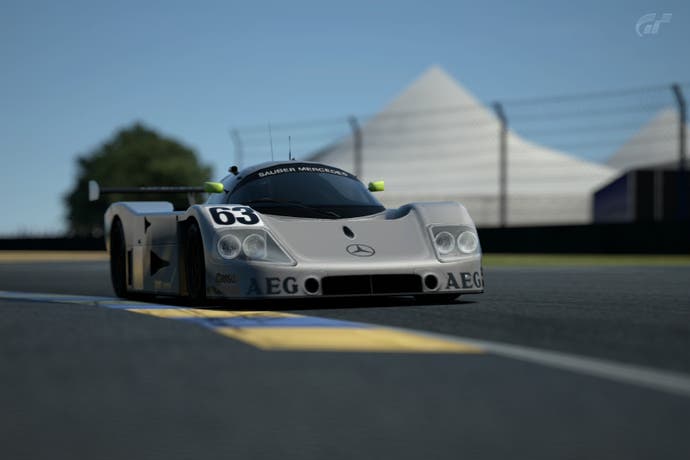 But it's the madness that makes the Turismo series so peerless. Gran Turismo 5 has an economy for racing outfits and car horn noises. It also has a massively controversial currency for colouring your cars in the form of paint chips. Infuriating for many, it gamifies the choice of car colour and in doing so, adds a unique reward. When you finally get a paint chip you really want, it's uniquely satisfying and makes complaining about the miseries of the workshop UI and not being able to freely select a shade from millions feel like petulant bitchiness. It feels like Kaz's way is the right way, even if it pisses you off.
In an era where upsetting the player is verges on a commercial war-crime, Gran Turismo 5's insistences make it stand out all the more and, in a way, make its glories all the more glorious. We see auteurs emerging across more and more genres as our fine artform matures, and as one of gaming's original strands, the racing sim doesn't have a vision more dedicated and passionately individual as Kazunori's Gran Turismo series. The Hausers, Cages and Spectors of video gaming may be wrapped up in progressing narrative, meaningful content, emotive manipulation and world-building but their visions are constrained along paths where the endpoint isn't really clear. Gran Turismo's ultimate goal is obvious - one to one parity with the real world. Each step has marked real progress along that path - and Gran Turismo 5's core driving experience felt like the greatest leap forward yet.