Gran Turismo 5 Prologue
Running rings around the PAL version.
Doing things in high definition takes longer. We all know that. The average car in Gran Turismo 4 was made up of over 4,000 polygons. The figure for GT5 Prologue is meant to be higher than 200,000. Being pretty goes a long way, but with 71 cars and just six tracks (High Speed Ring, Daytona, Fuji Speedway, Eiger Nordwand from Gran Turismo HD Concept, Suzuka Circuit and a section of central London), it will have to go a very long way, right? That's not a lot of content, even when you factor in a second variation of each track. GT4 had 721 cars. GT5 Prologue launches in Europe with 71. We may be 11 million polygons ahead, but we're 650 cars behind.
Fortunately, Prologue does a lot with the means at its disposal. 30 race events are split evenly across three classes. Initially you're hauling cheap Suzukis and Hondas to the front of 8 to 12-car packs for two or three laps, reinvesting the prize purse in faster cars. As the field thickens with Skylines, Imprezas, Mustangs and Ford GTs, you're asked to go further, the AI pushing you harder.
Complete A-Class and you unlock a Quick Tune feature - new for the European Prologue - that lets you adjust weight ratios, aerodynamics, ride heights, camber angles, torque balance, gear ratios and other performance-related settings, with your work graded against a performance index. You can make real-time performance adjustments during races by assigning custom configurations to buttons on the Sixaxis or Driving Force GT wheel, and a further run of ten S-Class events specifically for tuned cars pushes you harder still, penalising you for ramming or taking shortcuts, in a field of 16 cars just as if not more tricked out than yours. Even if you coast through A-Class, S-Class will force you to regroup and work out what all the dials do.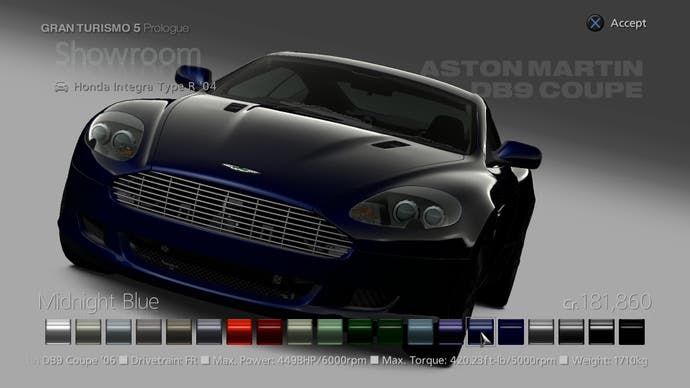 To get that far takes over a dozen hours, and you probably have fewer cars than that in your garage when you do. You can also race in Manufacturer-specific races, hidden away in the Dealership screens, for extra credits. Then there's Arcade mode, where you can tackle any of the game's tracks in whichever configuration you like, with any vehicle, either as a one-off race, a Time Trial, or a Drift Trial. Drift Trial is what kept us picking away at Gran Turismo HD Concept for so long, throwing the back out around Eiger Nordwand and watching videos of scarily dedicated Japanese gamers doing the same thing more effectively on YouTube and trying to copy them. Now you can do it with far more cars, and a range of tuning options, on six tracks. Also new to the European Prologue is two-player, horizontal split-screen racing, which works without any obvious dip in performance.
On the track, those 200,000 polygons glide through turns at 60 frames-per-second, a few slight dips excepted, in the promised 1080p resolution. A lot of them must have gone into the car interior, from where you can now view the action if you prefer, watching your driver's gloved hands gently correcting slides and reaching for the gear-stick, and looking over your shoulder past stupidly accurate rear spoilers. The weather is consistently bright and cheery, limiting track conditions but allowing you to gawp at reflections crawling realistically over the bodywork of cars ahead of you and in your mirrors. As you steer and brake through the first corner at Suzuka, the shadows move across your dashboard and body, and as you exit the tunnel on High Speed Ring the sunshine blinds you until the detail emerges from the glare.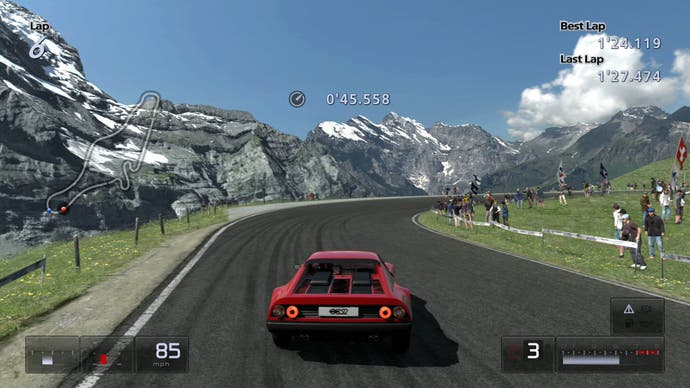 GT's visuals are sometimes accused of lacking personality - a perception reinforced by its robotic artificial intelligence. On the latter point, rolling starts do away with your ability to bully opponents out of the way on the first corner, although the cars remain completely invincible, so it's still an annoyingly useful tactic unless the foul-play penalties are active to throttle you back for a few seconds when you misbehave. On the whole though opposition defends the racing line more aggressively, and the combination of high speeds and unforgiving physics mean it's impractical to block using your rear-view. As for personality, few mainstream racing games - Forza now excepted - demand as much braking skill and obedience to the racing line.