Gorgeous melancholy platformer Gris coming to PS4 tomorrow
With 4K enhancements and more.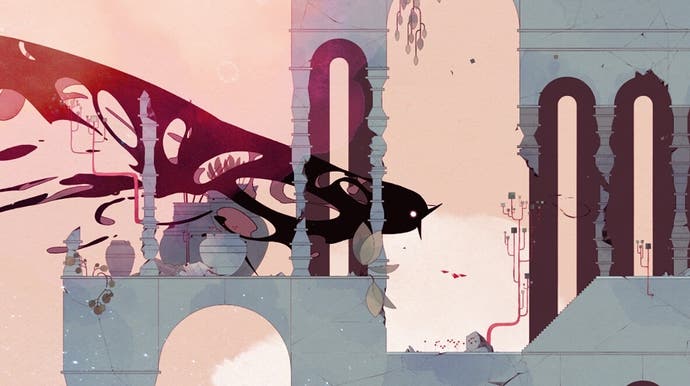 Developer Nomada Studio's sumptuous platform adventure Gris is, after a rather lengthy wait, finally making its way to PlayStation 4 tomorrow, 26th November.
Gris, which charts the tale of a nameless young woman, journeying across a strange, ethereal world of her own creation, made its critically acclaimed debut on Switch and PC last December.
It's a never less than beautiful experience, but while its immediately arresting art style and emotive musical score (by Spanish band Berlinist) undoubtedly do a lot of the heavy lifting, it's no slouch in the gameplay department either.
Gris might not be terribly difficult - Nomada elected to jettison death and combat in favour of accessibility - but its mix of gentle platforming and clever puzzling, both growing more complex as new abilities are revealed, is as rewarding as the overall journey is affecting.
Eurogamer contributor Vikki Blake liked Gris enough to award it a Recommended badge, calling it "gentle, whimsical, evocative, emotional, magical, ethereal, therapeutic" in her review last year. "If I've learned nothing else from Gris," she wrote, "it's the truth in that old adage, 'a picture paints a thousand words'. Do not miss it."
According to a post on the PlayStation Blog, Nomada Studio has "revamped" over 5,000 assets for tomorrow's PS4 release, increasing the resolution by two to four times in order to take advantage of the PS4 Pro and 4K displays. Additionally, Berlinist's score will feature less compression and a range of quality of life improvements are promised, as is a "PlayStation-exclusive secret homage to one of our favourite games".
Gris will be available on the PlayStation Store from tomorrow, 26th November, and a physical PS4 edition can be purchased from Limited Run Games' website right now.