Nifty Gone Home Easter egg adds official SNES cartridges on Switch
Blown away.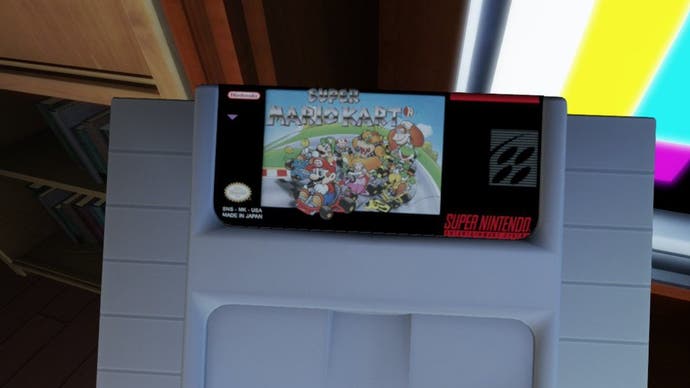 One of the great pleasures of developer Fullbright's seminal narrative adventure Gone Home comes, simply enough, from wandering around and soaking in its slavishly observed '90s period detail. And now, thanks to a rather sweetly unexpected little Easter egg in the new Switch version of the game, Gone Home's nostalgic world is just that little bit more authentic, having introduced a number of official Super Nintendo cartridges not present on other platforms.
Gone Home, for the uninitiated, sees players exploring a seemingly abandoned family home, circa the mid-'90s. It's a building rich in detail, and much of its bric-a-brac has been meticulously placed with absolute purpose, gradually revealing a plethora of interlocking familial tales about its inhabitants for those of a curious disposition.
Some of the mess, though, is pure period dressing - nostalgic knickknacks intended to transport players back to a bygone era of mix tapes, X-Files posters and excess flannel - and, in the original version of the game, that included a selection of wonderful faux Super Nintendo cartridges. These all sported labels for (disappointingly) fictitious video games such as Adventurous the Cat Returns, Journey of Crystal, and Super Spitfire - with cameo artwork provided by the likes of Double Fine's Lee Patty and Supergiant's Jen Zee. However, as spotted by Twitter user liamdohertee, Fullbright has made a few quiet changes for its Switch instalment of Gone Home, collaborating with Nintendo to blur the lines between the real world a little bit more. Now, perpetual perusers can stumble across cartridges for actual Super Nintendo games of the era, including Super Mario Kart, and Donkey Kong Country.
Fullbright co-founder Steve Gaynor confirmed in a response tweet that these (purely cosmetic) additions were officially sanctioned, thanking Nintendo of America for "being so cool about letting us include these in the Switch version of Gone Home". Obviously, it's a minor addition in the grand scheme of things, but one that's still quite lovely all the same, and a reminder of the kind of dedication to detail that made Gone Home such a thoroughly engrossing puzzle for the perpetually nosy in the first place.
And for those fans that kind of liked Gone Home's original, fictitious video game offerings, don't fear - they're all still in the Switch version, waiting to be uncovered.