Gone Home and Hob are currently free on the Epic Games Store
And so is Drawful 2.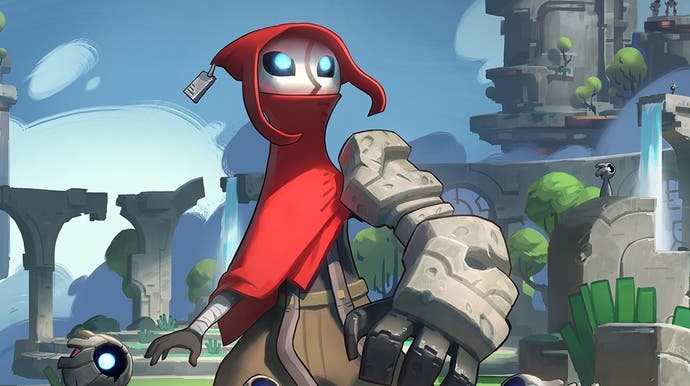 Given that your daily doses of shameless outdoor cavorting are likely fairly regulated right now, you probably won't object to more free stuff being bundled into your laps to keep those hours distractedly ticking by - and Epic Games is once again on hand to do just that, this time flinging Gone Home and Hob up onto its store's weekly freebie table.
Gone Home, of course, needs little introduction, having brought the so-called walking simulator genre crashing into the limelight back in 2013. Developed by The Fullbright Company, it tells the story of a young woman who returns to her family home after a year abroad, only to find it mysteriously deserted.
What follows is a frequently captivating, wonderfully authentic family drama that slowly unfolds as players piece together the clues and scraps of information strewn naturally around the expansive home. It's a little bit spooky, surprisingly moving, and should even managed to prod a few nostalgia buttons, given its keenly realised 90s setting.
"Gone Home stands apart from other narrative games in three respects," said Edwin Evans-Thirlwell when he revisited the game on consoles in 2016, "It understands that what we own both is and isn't who we are. It appreciates that characters are often most vivid, most solid in their absence. And it knows that the one thing you can't put back is time."
As for the Epic Games Store's other freebie this week, it's another cracker; developed by the sadly now defunct Runic Games, Hob is a wonderfully intricate, beautifully melancholy exploratory adventure, in which players, cast as a mysterious hooded figure, must uncover the secrets of a seemingly abandoned world. It's a treat for the perpetually curious, full of enticing corners to be explored and strange contraptions to master.
"The world is a lock that you are slowly picking, each tiny piece of hard-won progress sending new pins bouncing, or new tumblers turning," said Eurogamer's Christian Donlan in his 2017 review, "No wonder the sword you wield looks like a key."
"I will go back to try to better grasp the things that remain unclear and to rinse the map of heart fragments and upgrades," he concluded, "But I will also go back just to wander over the land I changed so much, and ponder how anybody could have made something like this."
Last up, then, is Drawful 2, the doodle-focussed crowdpleaser from Jackbox Games, developer of the much-loved Jack Box Party Pack series - which might prove a welcome distraction for households seeking additional amusements while holed up indoors.
Hob, Gone Home, and Drawful 2 can all be added to your Epic Games Store library for free right now, and the offer continues until next Saturday, 9th April. Drawful 2, incidentally, is currently also free on Steam.