GOG's Summer Sale is now live with up to 90% off and a free game
Plus: Eurogamer's own top picks.

This year's Summer Gaming Sale is now live over at GOG, featuring well over 1000 games, up to 90 per cent off the range and the chance of getting some extra games added when you spend over certain amounts.
Spend £3.59 or more and you'll get a copy of Sunless Sea added to your library at no extra cost. Spend £14.19 or more and you'll also get a copy of Rime, which is nice. In addition to that loveliness, for the next 48 hours you can get a free copy of Xenonauts, a top-down strategy game that'll be a great addition to any die-hard fans of the XCOM games.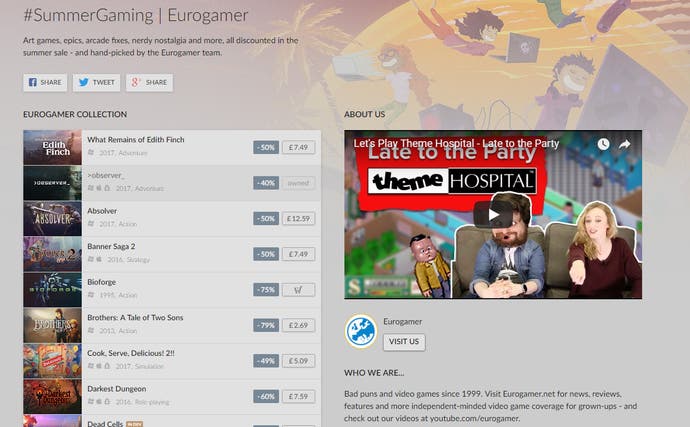 Better still, the folks from GOG got in touch with Eurogamer a little while ago and asked us to pick a few of our favourite games to add to our very own dedicated page as a part of GOG's Summer Sale. You can find our own choices for games you should play over at the Eurogamer Collection page.
If you'll allow me the indulgence of picking out some highlights from a selection of games already curated by Eurogamer, here's some of the best of this batch.
First off, we've got What Remains of Edith Finch, a title that almost made it to the top of Eurogamer's Best of 2017 list, so that should be fairly self-explanatory. Darkest Dungeon also makes an appearance, costing £7.59 alongside Dead Cells, which is down to £11.39. The gorgeous narrative adventures Firewatch and Tacoma are both discounted (to £6.09 and £7.49 respectively) and what list would be complete without a mention of Grim Fandango Remastered - it appears here with a discount of 80 per cent, bringing the price down to £1.99.
My personal favourites, though? Bioforge and Tender Loving Care for £1.09 apiece. Both of these games are magnificent examples of the lunacy that permeated some sections of 90s video game making. Bioforge was one of the first 3D adventure games (tank controls and all) while Tender Loving Care is a somewhat baffling FMV adventure starring the late, great John Hurt. I'd recommend both of these experiences if you've got the time.
The entire Eurogamer Collection is live for the duration of the sale, which ends on June 19th.
Elsewhere on the internet, you can head over to check out Jelly Deals' guide to today's best deals, which includes even more PC game discounts, pre-order bonuses on Captain Toad for Switch and more.