GOG's Back To School sale features over 400 games
Plus: Hourly Flash Deals with big discounts.

For the next week, head over to GOG and you'll find what the site has dubbed the Back To School sale, offering up over 400 titles with discounts of up to 90 per cent on the set. There's also a brand new set of GOG Connect titles, allowing people who own Steam versions of select games to get DRM-free copies at no extra cost.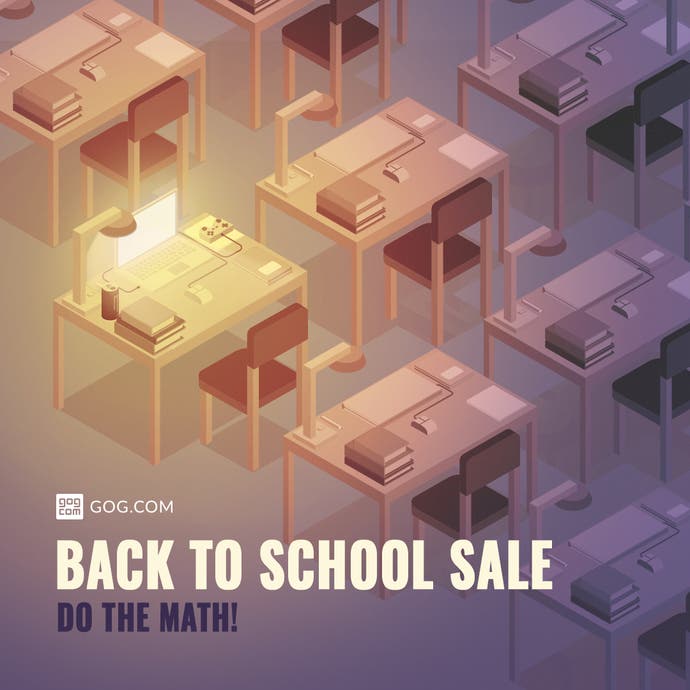 The sale is live right now and lasts until 10pm UTC on 10th September, so you've got just about a week to scour the site and see what you can find. GOG's also offering brand new Flash Deals on the hour, every hour the entire way through the campaign, so you'll need to keep checking back to make sure you don't miss out on a bargain. At the time of writing, the Flash Deals include FrostPunk for £18.79, Shadow Tactics: Blades of the Shogun for £13.99, Samorost 3 for £3.59, and more.
If timed-offers aren't your thing, you can pick up some of the week-long offers at some very decent prices. Highlights include Wizard of Legend for £10.59, Torment: Tides of Numenera Legacy Edition for £25.09, Chuchel for £6.49, Battletech for £24.49, Darkest Dungeon for £7.59, Theme Hospital for 99p, and even the Disney triple bill of Aladdin, The Jungle Book and The Lion King for £3.89 each.
The newly added GOG Connect games that can be redeemed as DRM-free copies are as follows:
Mirror's Edge
Jagged Alliance 2: Unfinished Business
MDK
Toonstruck
Knights of Pen and Paper +1 Edition
Tempest
For The Glory
King of Dragon Pass
Of course, with over 400 games involved in the offer - and the hourly Flash Deals changing things every now and then - you'd be best heading to GOG and having a look for yourself.
Over at Jelly Deals, you can take a look at some of today's best deals, including a Logitech G433 7.1 gaming headset for £70.42, Mario + Rabbids Kingdom Battle Gold Edition for £29.95, and a whole bunch more.