God of War, Retro City Rampage discounted in latest PlayStation sale
BioShock Infinite DLC hits EU Store.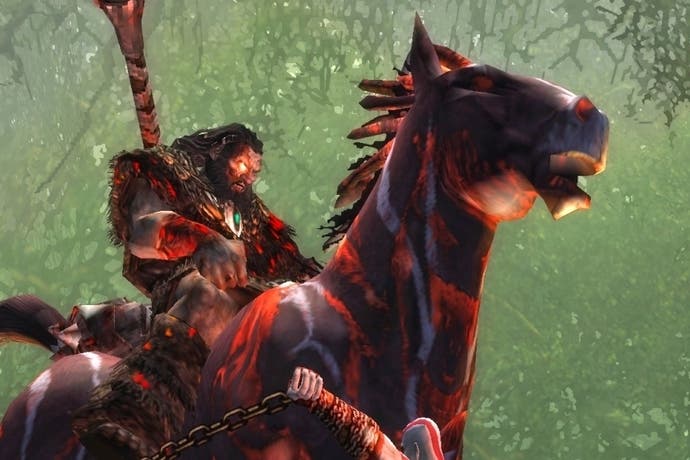 Sony has announced another huge sale of PlayStation 3 content - and now with some Vita and PSP discounts thrown into the mix.
You can download the remastered versions of God of War 1 and 2 in a bundle for £15.99, Sly Cooper: Theives in Time for £10.99, or Rayman Oranges for £7.99.
Cartoon racer Joe Danger is £3.99, while arty physics platformer Trine 2 is £4.49.
You can nab the excellent Retro City Rampage as a cross-buy title on both Vita and PS3 for £3.99, meanwhile.
The sale makes up for another quiet summer week on the EU PlayStation Store - this week's sparse offerings include new BioShock Infinite DLC Clash in the Clouds (£3.69) and Call of Duty: Black Ops 2 DLC Vengeance (£11.59).
See the full list of sale prices below, courtesy of the EU PlayStation blog. Most also have at least an extra 10 per cent discount for PlayStation Plus subscribers.
PS3 games:
Injustice: Gods Among Us - was €59.99/£47.99, now €39.99/£29.99
The Walking Dead - Survival Instinct - was €59.99/£49.99, now €29.99/£19.99
Sniper Ghost Warrior 2 - was €39.99/£31.99, now €24.99/£19.99
Trine 2 - was €11.25/£8.99, now €5.49/£4.49
Dirt 3 - was €19.99/£15.99, now €9.99/£7.99
3 on 3 NHL Arcade - was €7.99/£6.49, now €3.49/£2.79
Deathspank - was €12.99/£9.99, now €4.99/£3.99
Joe Danger - was €12.99/£9.99, now €4.99/£3.99
WRC 3 FIA World Rally Championship - was €49.99/£39.99, now €19.99/£15.99
Sonic the Hedgehog 4 Episode I - was €7.99/£39.99, now €3.99/£3.19
Fat Princess - was €9.99/£7.99, now €4.99/£3.99
God of War Collection - was €29.99/£19.99, now €19.99/£15.99
LittleBigPlanet - was €14.99/£10.99, now €7.49/£5.99
Lemmings - was €4.99/£3.99, now €2.49/£1.99
Sony 3D Game Collection - was €29.99/£23.99, now €19.99/£15.99
Sly Cooper Thieves in Time - was €29.99/£19.99, now €14.99/£10.99
Malicious - was €7.99/£6.49, now €3.99/£3.19
Super Stardust HD Complete - was €9.99/£7.99, now €4.99/£3.99
Linger in Shadows - was €2.99/£2.39, now €1.49/£1.19
MotorStorm 3D Rift - was €12.99/£9.99, now €6.49/£5.19
Castle Crashers - was €13.99/£10.99, now €7.99/£6.49
Rocksmith Metal Rock - was €19.99/£15.99, now €12.99/£9.99
Rocksmith Alternative Rock - was €29.99/£23.99, now €19.99/£15.99
Rocksmith Rush - was €11.99/£9.69, now €7.99/£6.49
Rocksmith Queen - was €11.99/£9.69, now €7.99/£6.49
Rocksmith Foo Fighters - was €11.99/£9.69, now €7.99/£6.49
Rocksmith Fall out Boy - was €11.99/£9.69, now €7.99/£6.49
Rayman Origins - was €19.99/£15.99, now €9.99/£7.99
Retro City Rampage (Cross-Buy) - was €11.25/£8.99, now €4.99/£3.99
Planet Minigolf - was €7.99/£6.49, now €3.99/£3.19
PSP/PS Vita games:
Shin Megami Tensei: Persona Full Game - was €9.99/£7.99, now €4.99/£3.99
Persona 2: Innocent Sin - was €29.99/£23.99, now €14.99/£11.99
Persona 2/Persona 3 Portable bundle - was €49.99/£39.99, now €21.99/£17.99
Persona 3 Portable - was €29.99/£23.99, now €14.99/£11.99
Retro City Rampage (Cross-Buy) - was €11.25/£8.99, now €4.99/£3.99
Drawslasher - was €4.99/£3.99, now €2.49/£1.99
WRC 3 FIA World Rally Championship - was €34.99/£29.99, now €14.99/£11.99
Urban Trial Freestyle - was €9.99/£7.99, now €4.99/£3.99
Star Wars Pinball - was €9.99/£7.99, now €4.99/£3.99