Ghost Recon and ShootMania developer sessions at Rezzed
Ubisoft Singapore and Nadeo join packed schedule.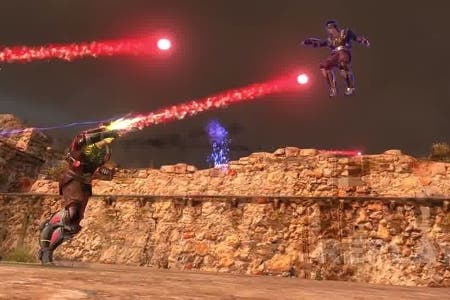 Not content with Peter Molyneux, Randy Pitchford, Dean Hall and Paul Wedgwood (plus all the others), we're happy to announce today that Ghost Recon Online and ShootMania Storm will also be on next week's Rezzed developer session schedule.
Developers working on the two Ubisoft titles will take the stage on day two of the show, Saturday 7th July, to update you on development of the games, demonstrate them and take questions from the audience.
As you probably know, Ghost Recon Online is a free-to-play take on the classic Tom Clancy series geared towards a mass audience, while ShootMania is a fast-paced competitive multiplayer FPS with eSports in its sights.
Members of famous British pro-gaming team Dignitas will also be present throughout the show to demo ShootMania, both on stage and on the show floor. Both games will be playable for attendees.
All of that means that - with one slightly wacky exception which we'll unveil next week - we've now announced pretty much the whole developer session schedule for both days of Rezzed, which takes place on Friday 6th and Saturday 7th July at the Brighton Centre in Brighton.
Friday 6th July
12pm - Project Zomboid - How (Not) To Make A Game
1pm - The Creative Assembly - 20 Years of CA, first look at the future of Total War
2pm - Randy Pitchford - Live Borderlands 2 stage demo and Q&A
3pm - Stainless Games - Carmageddon Kickstarter post-mortem
4pm - Peter Molyneux - On 22 Cans and experimental app Curiosity
5pm - Natural Selection 2 - Live stage demo and Q&A
Saturday 7th July
12pm - Splash Damage's Paul Wedgwood - "Independent or Bust!"
1pm - Introversion - Prison Architect
2pm - Day Z designer Dean "Rocket" Hall
3pm - Ghost Recon Online - Live stage demo and Q&A
4pm - Rock, Paper, Shotgun's Gamejam - Making a game live on-stage
5pm - ShootMania Storm - Live stage demo and Q&A, featuring members of Team Dignitas
Amazing scenes. Head over to www.rezzed.com for more information on games playable at the show, tournaments and other attractions, and of course to pick up your ticket. Love you!