Ghost of Tsushima: Director's Cut is official, out in August on PS4 and PS5
Upgrades from original version also available.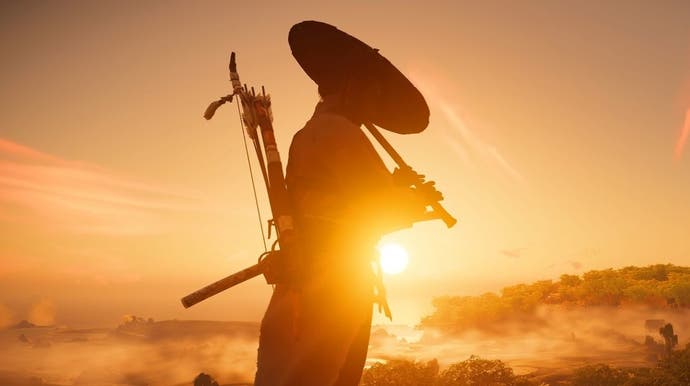 Having spent some time percolating in the rumour pool (and occasionally leaking onto various ratings boards around the world), developer Sucker Punch's "director's cut" of its acclaimed open-world stealth-action game Ghost of Tsushima is now official, and coming to PlayStation 4 and PlayStation 5 on 20th August.
Ghost of Tsushima: Director's Cut, as the new edition is formally known, features all the content from the original release, alongside a new chapter in protagonist Jin's story, which will see him travel to Tsushima's neighbouring island of Iki.
"In this new story," Sucker Punch explains on the PlayStation Blog, "Jin travels to the island to investigate rumours of a Mongol presence. But soon, he finds himself caught up in events with deeply personal stakes that will force him to relive some traumatic moments from his past."
The Iki storyline will add new characters and environments, new horse armour, new enemies to murder, new animals to pet, new mini-games, new techniques, new Trophies, and more.
While the new Iki chapter will be available on both PS4 and PlayStation 5, the Director's Cut also brings a few PS5-exclusive features. All content (including Ghost of Tsushima: Legends) will, for instance, support haptic feedback and adaptive triggers. PS5 players can also expect 3D audio enhancements, "drastically" improved load times, 4k resolution options, frame rates "targeting" 60fps, and lip sync for the game's Japanese voice over.
Ghost of Tsushima: Director's Cut will be available as a full-price digital and physical release, costing $59.99 USD on PS4 and $69.99 USD on PS5. Those that pre-order via the PS Store can download the existing PS4 version of the game immediately, and all progress will transfer to the Director's Cut on release (this is also the case if you already own the original game).
Additionally, owners of the original edition have the option to upgrade to the Director's Cut at any time from 20th August. It'll cost $19.99 USD to upgrade from the original version to the Director's Cut on PS4 and $29.99 USD to do so on PS5. Those that purchase the PS4 Director's Cut can upgrade to the PS5 version for $9.99.
20th August will also bring a free update for all players, introducing new photo mode updates, new accessibility options for controller remapping, the option to enable a target lock-on during combat, and the ability to hide your quiver during gameplay. Sucker Punch is also teasing more Ghost of Tsushima: Legends additions, including an "all-new" mode, which it'll be detailing in the coming weeks.