Get 50 games for £50 / $50 and benefit GamesAid
From Green Man Gaming.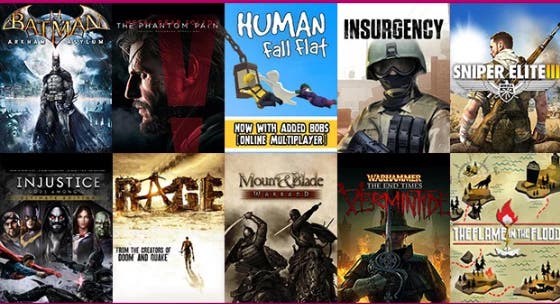 Good news if you've got some cash burning a hole in your pocket, prefer to play your games on PC, and happen to like giving to charity - this week, Green Man Gaming is offering up a giant bundle of games with the proceeds going to GamesAid. The charity, in case you don't already know, is a UK-based charity aiming to help disabled and disadvantaged children and young people.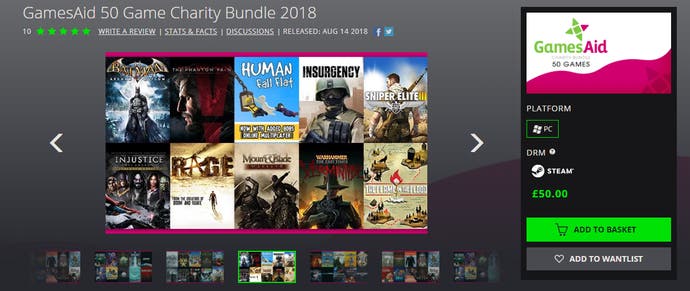 If you've got £50 / $50 / €50 to spare, you'll get 50 games on PC and we're not even talking an entire list of obscure indie titles. You'll find games from Bethesda, Konami, Codemasters, Curve, WB Games, Rebellion, Team 17 and more, all up for grabs.
Some choice highlights from the list include both Metal Gear Solid 5: The Phantom Pain and Ground Zeroes, the Dungeon-Keeper-meets-Bond classic that is Evil Genius, indie murder cleanup sim Serial Cleaner, The Little Acre - a point-and-click adventure from the creator of Broken Sword, maudlin but poignant survival game This War of Mine, the original Rage, one of David Cage's more questionable creations Fahrenheit and more.
Here's the full list:
Metal Gear Solid V: The Phantom Pain
Injustice Gods Among Us Ultimate Edition
Batman: Arkham Asylum
Human Fall Flat
Killing Floor
RAGE
Bomber Crew
Warhammer: Vermintide End Times
Mount and Blade Warband
Mount and Blade
Mount and Blade: With Fire and Sword
Metal Gear Solid V: Ground Zeroes
Insurgency
LEGO Batman the Videogame
This War of Mine
Crusader Kings II
Sniper Elite 3
InnerSpace
Metal Gear Rising: Revengeance
Castlevania: Lords of Shadow Ultimate Edition
Castlevania: Lords of Shadow 2 Digital Bundle
Castlevania: Lords of Shadow Mirror of Fate HD
The Little Acre
The Flame in the Flood
Serial Cleaner
Manual Samuel
Beat Cop
Evil Genius
Tower 57
ADR1FT
Quarantine
The Black Death
War Tech Fighters
Dead Age
Beyond Eyes
Toybox Turbos
F.E.A.R. 3
Biozone
Puzzle Chronicles
Rocket Knight
Stable Orbit
Peregrin
Magicka
Teleglitch Die More Edition
Frozen Synapse Prime
Super Cloudbuilt
Ballistic Overkill
Next Up Hero
Fahrenheit: Indigo Prophecy Remastered
Mystery Game
The 50 for 50 bundle is available now and GMG reckons it's a total saving of £611.81, with the proceeds going to charity as previously mentioned.
Meanwhile, over at Jelly Deals, you can find a roundup of today's best deals - from discounts on Rick & Morty Cluedo (which is a thing, apparently) to PS Plus memberships. There's also the brand new guide to the best Dragon Ball gifts and merch 2018 has to offer so far, if you're so inclined.