Games of the Year 2019: Manifold Garden is a game designed with memory in mind
"We had half a Slinky..."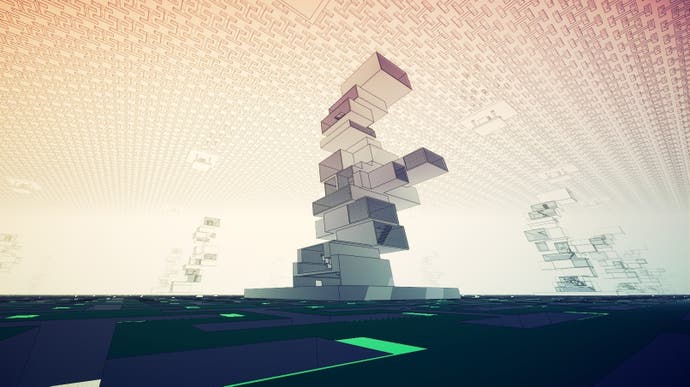 Over the festive break we'll be running through our top 20 picks of the year's best games, leading up to the reveal of Eurogamer's game of the year on New Year's Eve. You can find all the pieces published to date here - and thanks for joining us throughout the year!
I can't remember anything about Ghostbusters 2, except for one line from Egon Spengler that I will never forget. "We had half a Slinky. But we straightened it."
Okay, I'm not sure that's exactly the line, but anyway. He's talking about his childhood. God I miss Harold Ramis.
I thought about having half a Slinky - and having straightened it - when I played through Manifold Garden earlier this year. And at the time I also thought: one day I am pretty sure I will have forgotten a lot about this game, the same way I've forgotten a lot about Ghostbusters 2. But certain bits will remain.
Memory is where all games live. They are like little pieces of flaming magnesium. The time that they are alight is short but crucial, because we live for the most part with the ash and that memory of blinding brightness. Even so, Manifold Garden seems to be particularly well suited to life in the memory. It's a puzzle game and an exploration game, but really it's an architecture game. You wander through magical, impossible architecture which is itself a memory of architecture, really - Roman temples, something more North African, something Mid-Century and almost plate glass university-like in its flatness, its sudden sheers. This architecture is both extremely solid - there is a real thock! when you hit the ground after a drop, and a wall is a wall is a wall here - and seemingly entirely penciled in. It's just a few lines meeting or a gentle brush of shading, pulling forms from the bloomy, bruisy, cocktail colour of the wider air.
In other words, the game itself, its world, seems to be retreating into abstraction and memory even as you play through it. And it works like memory too, some bits very sharp and detailed, while other bits - the transitions - are sort of, well... You walk far enough in Manifold Garden, or you fall far enough, and you will pass again the things that you have already passed. The world wraps around, loops, but it does this without actually looping. No curves, the repetitions are all on the same line somehow. They had half a Slinky...
What lingers now are bits of business that I struggle to explain to anyone else. A valley between Aztec temples where I realised that the only way to cross the gap was not to fly but to find a way to fall. A room with a tree and a river in it and two doors in one wall - two doors next to each other - both of which took me on impossible journeys. One of which, I think, led back to the room I had just left but from an impossible angle.
Some of this will fade a little more, some of it will remain. Eventually there will be a few snapshots, I think, and I will finally understand - I am starting to understand it already - that the architecture is important, but what the architecture really allows for here is a framing and contemplation and appreciation of and an experience of space. This game is wide open. It is wide open.