Games of 2009: Uncharted 2: Among Thieves
All change.
It's not hard to imagine a less confident, less able developer introducing the creature with all the stylistic restraint of Michael Bay directing Graham Norton. Instead, Naughty Dog understands the power of understatement, and so a fleeting glimpse that registers just long enough for the player to recoil in shock (well, I certainly did) casts a heady backdrop of fear, suspense and uncertainty to the following playable section of which, at that precise moment, the protagonist is only dimly aware.
It's a standard cinematic device but, crucially, one the interactive experience enriches: as Drake emerges from the cave, full camera control is restored to the player whose first instinct is likely to look around nervously, trying to eyeball the creature somewhere in the dark crevices of the frozen, gusty canyon.
But that's just a flash of artistic self-assurance. Naughty Dog's growing mastery of the medium and the action-adventure genre is most fully expressed, perversely, in the game's least intensive scene. Tom captured the elegance and structural import of the mountain village stage wonderfully in his review, so I won't labour the details.
Revisiting the sequence for this article, I was reminded that while Uncharted 2 is unashamed popcorn entertainment, it is popcorn entertainment that allows the player time to breathe, to reflect, to absorb the most glorious vistas rendered in a videogame.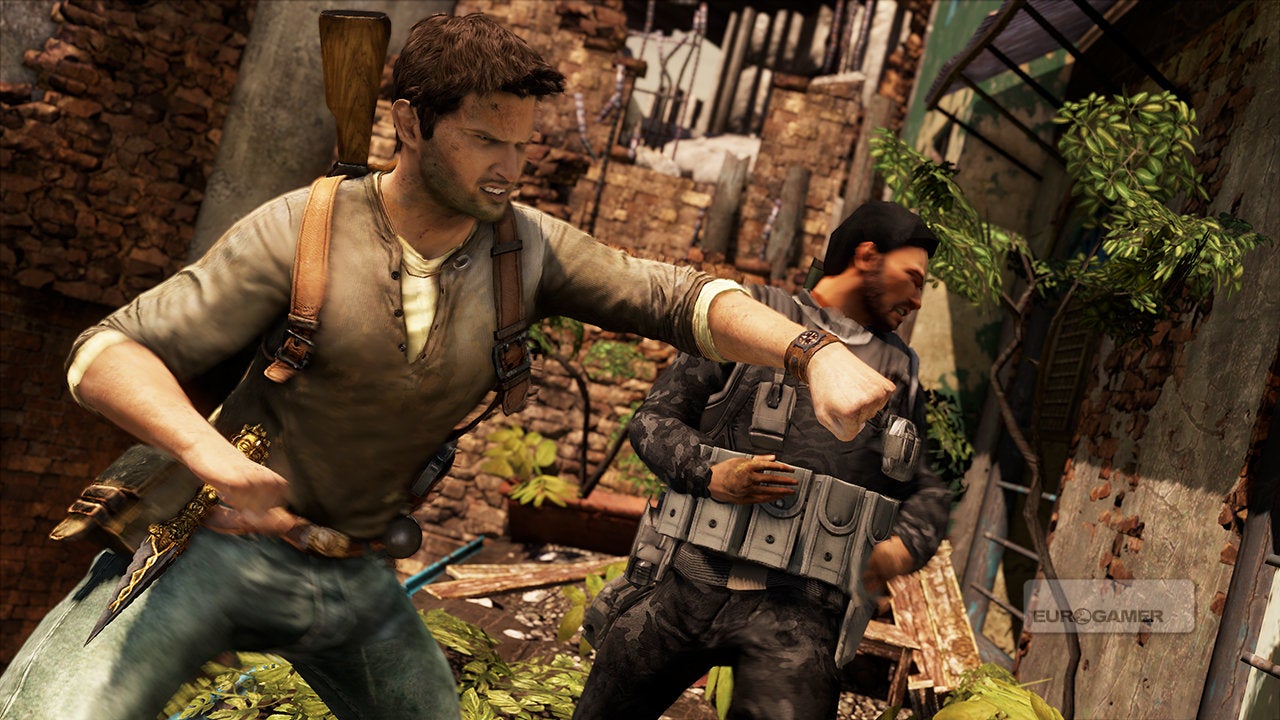 Amongst the many stats the game tracks is the time Drake spends 'standing still'. At completion, I had stood still for precisely one hour, 22 minutes and 39 seconds. Most of which was spent just looking.
You could argue all of this is just window-dressing. But Uncharted 2 is also an exceptional game, brilliantly conceived and superbly executed. It isn't perfect. It sags a little in the middle during the inner-city sections; some of the pitched battles towards the end are frustratingly imbalanced; its run-and-gun mechanics aren't as refined as, say, Gears of War 2; and it suffers the same curious affliction that also struck BioShock and Batman: Arkham Asylum - Rubbish Final Boss Syndrome.
Yet none of these flaws prevents Naughty Dog's sequel being by a (draw) distance my favourite game of 2009. Above all it reminds me why I continue to play and love videogames, a feeling captured best by a handful of gaming moments down the years: Space Harrier's immortal: "Welcome to the Fantasy Zone! Get Ready!"; the mountainside run in level two of Strider; the first time I made Mario fly in Super Mario World; the freedom of Mario 64.
In Uncharted 2, I felt it climbing to the roof of Hotel Shangri-La and gazing out at the mountains of Nepal. A sense of wonder.
Uncharted 2 is gaming's Avatar moment in 2009. It won't be for James Cameron's straight-to-DVD dialogue that people remember the most expensive movie in history. But as a 3D spectacle, once you've seen it, everything changes. Uncharted 2 is a watershed moment in videogames that redefines what can and should be expected of cinematic interactive entertainment. I have a feeling Nathan Drake will be ruining other games for a while yet.
Check out the Editor's blog to find out more about our Games of 2009.
Will you support Eurogamer?
We want to make Eurogamer better, and that means better for our readers - not for algorithms. You can help! Become a supporter of Eurogamer and you can view the site completely ad-free, as well as gaining exclusive access to articles, podcasts and conversations that will bring you closer to the team, the stories, and the games we all love. Subscriptions start at £3.99 / $4.99 per month.