Games of the Decade: Stardew Valley is a fantastic achievement
[Insert The Archers theme tune.]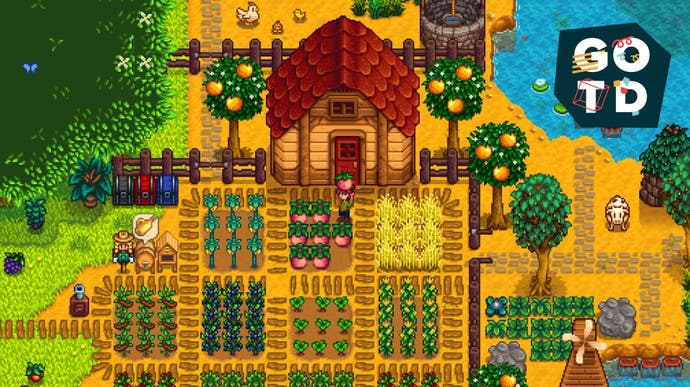 To mark the end of the 2010s, we're celebrating 30 games that defined the last 10 years. You can find all the articles as they're published in the Games of the Decade archive, and read about our thinking about it in an editor's blog.
---
Developed solely by Eric Barone, known as ConcernedApe, Stardew Valley is an embodiment of what one game developer can achieve through hard work, dedication and a lot of determination. For four years Barone didn't just program the game, but also created every sound effect, music track and piece of art. Inspired by the Harvest Moon series, now known as Story of Seasons, Barone wanted to create a game that not only paid homage to the series, but fix several problems he had with the series.
At times Stardew Valley can feel like a nostalgic trip, taking you back to the days of classic Harvest Moon games, like Back to Nature and A Wonderful Life, but Barone's desire to innovate always shines through. The multiplayer mode works fantastically well, allowing you to create a thriving farm, or simply chaos, with your friends. You can marry partners of the same sex, which, as a lesbian, I personally love - playing as a male character purely to romance the ladies gets boring after a while. Stardew Valley even manages to avoid becoming a repetitive slog, where you follow the same self-made routine day in, season out.
There is a large amount of freedom to how you create and manage your farm in Stardew Valley. You can spend your time carefully constructing a highly profitable farm, finding the perfect mixture of livestock and crops, or you can use it as a side business to support your adventures in the monster infested mines. The multiple farm maps allow you to add an extra layer of complexity to the game; encouraging you to adapt to new space confines and experiment with different business models. The Wilderness Farm, my favourite map, even allows monsters to roam your farm at night.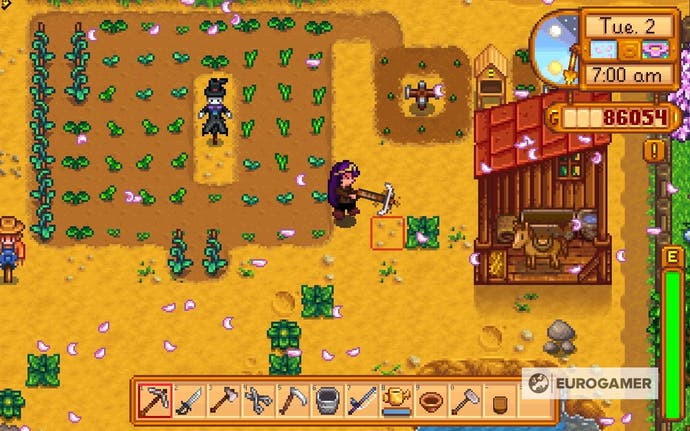 As a location, Stardew Valley itself is enchanting; Barone's clever use of the simple graphics style creating some beautiful scenes, especially during the winter season. Every villager you meet has a detailed personality, with their own hopes and friendships within Pelican Town. As you befriend them, you learn about their past and secrets - some they want you to know and some, like the relationship between Marnie and Lewis, they don't. You feel like you could buy a bus ticket and actually visit the valley in real life.
There is also a touch of magical realism to the game; magical spirits called Junimos live in the abandoned community centre and a member of the Shadow People can be found in the sewers. Slowly, you'll uncover hints that there is a deeper magic at play in this world, which you catch glimpses of, but never really touch. What you do know, however, is that, in Stardew Valley, people and magic beings live together peacefully. This helps create a sense of community within the valley, which, you come to learn, must be protected.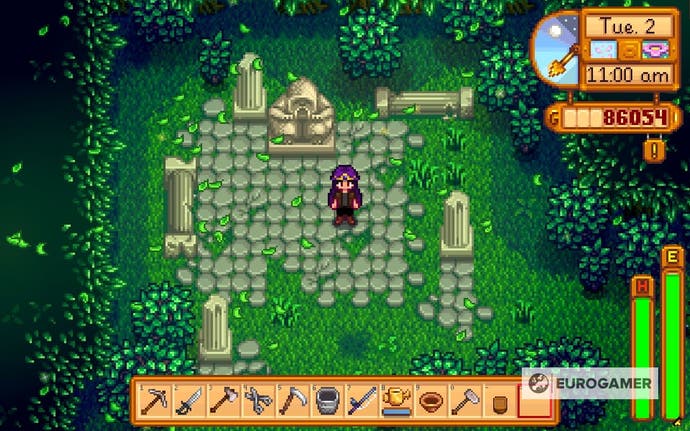 The closest Stardew Valley has to a main storyline is restoring the abandoned community centre. Rebuilding the community centre takes time, as you have to complete item bundles for the Junimos, with many of these items either being seasonal or deep within the mines. In return, the Junimos will reconstruct part of the valley, from a broken bridge to the greenhouse on your farm. There is, however, another option.
On the eastern side of Pelican Town, you'll find JojaMart. Here you can buy a Joja Membership, transforming the community centre into a sterile warehouse. Instead of completing item bundles, you simply pay for the various upgrades. Yet, if you take this part, there's something missing. Your character first came to Stardew Valley to escape their job at the Joja Corporation and, if you buy that membership, they never escape it. Rather than protecting the community of the valley, the Joja Corporation stifles it. Protecting Stardew Valley may be the harder choice, but it's always the moral one.
Barone's work on Stardew Valley continues to this day; multiplayer, the additional farm maps, bug fixes and even more new content has been added to the game, for free, since its release. This has helped cultivate both a enthusic player community for the game and the knowledge that, while Barone may have set out to create an alternative to the Harvest Moon series, what he actually created is an elevation above the works that inspired him.