Game jam reality show cancelled as indies wouldn't put up with its s***
"Do you think the teams with women on them are at a disadvantage?" Last week a YouTube reality show about game jams starring several notable independent game developers was being produced with a reported budget of $400,000, but never made it off the ground due to a host of schlocky product placements, poor attempts at forcing drama, draconian contracts, and the indie community ultimately deciding it didn't need to put up with this s***.
The show's code name was Game_Jam, and was to star Davey Wreden (The Stanley Parable), Mark Essen (Nidhogg), Zoe Quinn (Depression Quest), Tom Jackson (Surgeon Simulator 2013), Adriel Wallick (Rock Band Blitz), Robin Arnott (Deep Sea), Cale Bradbury (the Dezert), the Arcane Kids (Zineth), and a three-man student team from USC with judges Joe "AngryJoe" Vargas and Kellee Santiago. It was being produced by production company Polaris along with Maker, Mountain Dew and Pepsi.
Indie developer Adriel Wallick described the pitch on her blog as the following:
"Green Label Game Jam seeks to provide viewers with insight into the technical and artistic process of developing a game, in the format of a reality competition show. We seek to do for indie games what 'Top Chef' did for cooking."
Sounds fair, right? Not so fast. Given the corporate sponsors, some amount of product placement was to be expected, but things quickly turned much uglier than that.
"The product placement and forcing of the brand onto us was over the top," Wallick continued. "I understand who was sponsoring it and where the money to produce this event was coming from, but when I am no longer allowed to have easy access to water in order to hydrate myself after sweating under bright lights for hours because it wasn't Mountain Dew, then we have a problem."
The treatment of the contestants became increasingly aggressive with bewildering demands made of the developers. "Davey was forced to take off his nail polish because he couldn't hold the can with it on," wrote freelance journalist and Polaris contributor Jared Rosen in his harrowing expose on the fiasco for IndieStatik. "Zoe had to take off the buttons she usually wears on her jacket, but shouted down a PA who tried to make her cover her tattoos. The Arcane Kids were screamed at for not holding bottles right, while the entire group was lectured on how to properly smile like you're enjoying the product - a product that everyone was enjoying less and less."
The final nail came at the end of the first - and only - day of filming when CEO of brand energy company Protagonist, Matti Leshem, badgered them with such idiotic questions as "Do you think you're at an advantage because you have a pretty girl on your team?"
Wallick, frustrated and angry, explained "we were at an advantage because I'm a damn fine programmer and game developer. We were at an advantage because my skills allowed us to be at an advantage - not my 'pretty face.'"
Lesham reacted by turning to the other two teams and asking them, "Do you think the teams with women on them are at a disadvantage?"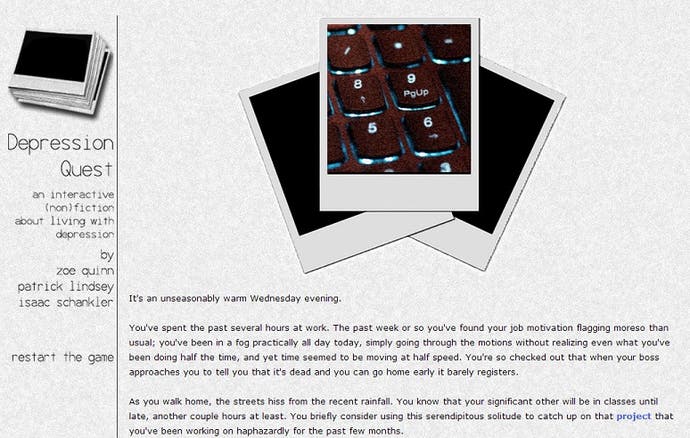 It's okay to facepalm here.
"Mark [Essen] answered diplomatically that the teams actually had a huge advantage by having more viewpoints, though everyone was strong regardless because of their skill," Rosen wrote. "Matti cut him off, pulled back the camera, and coughed, 'Stop filming. We're not getting a story here.'"
"I cannot begin to impress upon you the psychological effect this line had on everyone," he continued. "The idea that these professionals, who stake their livelihoods on code and design, might be reduced to 'pretty faces' and antiquated gender stereotypes, an idea perpetuated by the guy who was ostensibly in charge, was like hitting the biggest nerve in the history of nerves with a pneumonic drill."
It's worth noting that the devs were given contracts stating they could be misrepresented "for dramatic effect."
Rather than stick with this soul-sucking ordeal, every developer decided they'd had enough and decided to walk. The grand prize of a year's supply of Mountain Dew, a trip to a Mountain Dew sponsored extreme sports event Colorado, and access to ID@Xbox - something the devs either had or could get anyway - simply wasn't worth it.
"I came into this event expecting to make a game, show people a glimpse into game development, and possibly have some fun," Wallick lamented. "Instead, my intelligence, my legitimacy, and my integrity were all pushed and questioned. We, as developers, were being treated as desperate stereotypes, and we, as women, were treated worse than that." The terrible ordeal still has a happy ending, however, as the developers all united to essentially say f*** this.
"That community that I hold so dear banded together. As individuals, we were insulted and hurt, but as a group we were able to stand up and support one another in a way that I truly appreciate," Wallick concluded.
Quinn, who unfortunately signed the contract and can't discuss her actual experiences on the set, was at least inspired by the nightmare and its after party. "There was this amazing thing that happened after the production was over. Without any organization or prompting, we acquired and shared some refreshments around, set up some multiplayer games, invited production staff to just come be people and play with us, and had a spontaneous pop up party more or less. It was the first time I had started to feel like myself at all since landing in LA.," she wrote in a blog post at Gamasutra. "It reminded me of what I love about game jams and the indie community in general."
As such, she said she'd like to run a game jam. She's still sorting out the details, but it looks like some good has come of this for her.
Robin Arnott said that though the Game_Jam filming was a clusterf****, he believes that director Aaron Umetani and producer Jason Serrato genuinely had good intentions, but let their vision get compromised and hired the wrong people to carry it out. "When those compromises were manifest on set as the unsafe and unfriendly environment the four of us have described, they were as horrified as anyone else," Arnott said on his blog.
"Over the course of the weeks leading up to the shoot, the single shooting day, and the days since, these two were the only beacons at Maker/Polaris who I believed I could trust. They have assumed personal responsibility for what went wrong and repeatedly demonstrated their integrity. I would happily work with them again, and sincerely hope that one day Aaron's baby will be realised as it was imagined."