GAME could face £2.5m of lost profit by not stocking Mass Effect 3
"The focus very much remains on pure survival."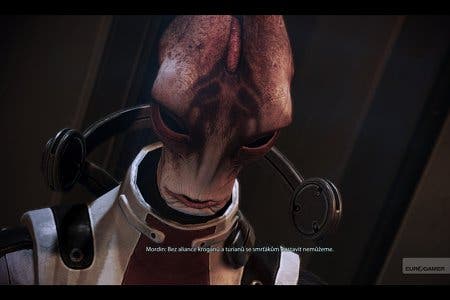 GAME could miss out on £2.5 million in profit by not stocking Mass Effect 3.
The struggling high street shop is missing out on a potential £7 million in revenue by not selling the biggest game of the year so far, an analyst has calculated.
"Working on the assumption that a decent triple-A title sells 0.8m-1m titles in the first few weeks of release in the UK and assuming GAME has around 20 per cent share, we calculate that by not stocking Mass Effect 3, GAME is potentially missing out on around £6m-£7m of revenues in the UK given the title will retail for £39.99," analyst Mark Photiades at Singer Capital Markets told The Guardian.
"With new software margins of around 24 per cent this could result in £1.5m-£2m of lost gross profit in the current year.
"It is also worth noting that margins will suffer as a result of the reward card points being offered in compensation. We estimate this could amount to another £0.3m of forgone gross profit as typically pre-orders account for around 30 per cent of initial sales.
"So in total there could be £2m-£2.5m of lost UK profit in a year where we are already forecasting losses of £8m."
Photiades' mention of Reward Card points is in reference to GAME's £5 voucher compensation offer to customers who have seen their Mass Effect 3 pre-order cancelled this week.
Eurogamer broke the news that GAME would not be stocking Mass Effect 3. This extends to all EA games due out in March, save SSX, out today.
Additionally, GAME will not stock Wii exclusive Mario Party 9 - yet another Nintendo title to miss out on store shelf space in the biggest specialist video game retailer in the UK.
GAME's last-minute cancellation of pre-orders could, Photiades said, force gamers to shop elsewhere.
"With the well documented issues that the business is currently facing customers may look to other channels and retailers to make pre-orders in the future to avoid a similar inconvenience," he said.
"This latest development is further evidence of just how tough the situation is for GAME right now. We continue to see short term earnings risk from a challenging market and medium term structural pressures give limited comfort in our forecast return to profitability in outer years. The focus very much remains on pure survival as opposed to revival at this stage."
Peel Hunt's John Stevenson was more upbeat, pointing to GAME's upcoming strategic plan - expected to result in the sell-off of some international business - and the impending launch of next-gen consoles as evidence the business could turn around.
"The potential for new major console releases (Wii U confirmed for 2012, speculation regarding the next generation X-Box) will be a significant source of future revenue and cash generation for the group, which will be critical to underpinning any recovery plan," he added.