Galak-Z lets you transform into a mech
Bangai-oh my!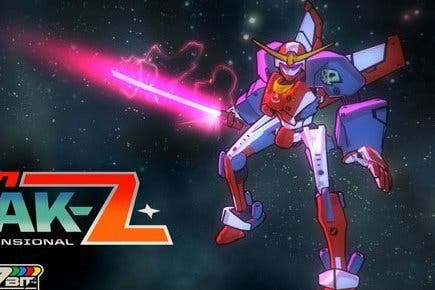 Space shooting roguelike Galak-Z is secretly also a mech combat platformer-thing, developer 17-Bit has revealed less than two weeks ahead of its 4th August launch on PS4.
Switching into Mech form radically alters how you play the game. Your humanoid Mech can slice through foes with a laser sword, block incoming attacks with an energy shield, and grab/throw objects with an extended robot arm. Seriously, you can snag asteroids and chuck them at your enemies.
There's even a parry mechanic where a well-timed block will deflect attacks coming towards you.
"Rather than fighting from afar whilst dodging like a pro, the Mech is all about turning the tables and pressuring the bad guys instead," explained senior producer Raj Joshi on the PlayStation Blog. "One on one, especially versus smaller zippy enemies, the Mech is vicious. It can grab an enemy even from a distance, pull them close and beat them to death without resistance or mercy."
Mech form won't be limited either, as players will be able to swap between a spaceship and a Mech at the touch of a button. Better yet, the Mech will begin with all the skills noted above, so it's a solid weapon of choice to use in the early game while you're still upgrading your ship.