G and Sagat hit Street Fighter 5 today
Here's a first look at gameplay.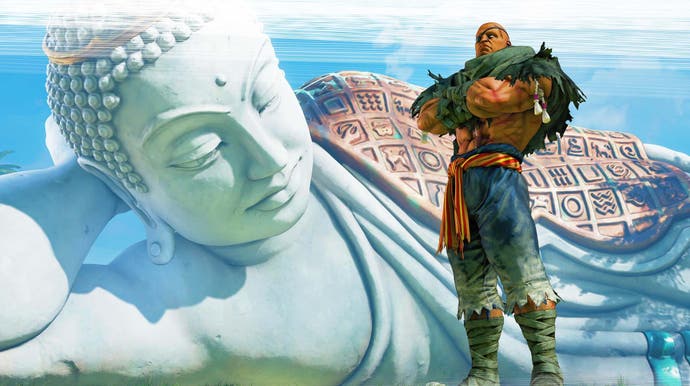 Two new DLC characters hit Street Fighter 5 today: G and Sagat.
G, nicknamed the Man of Mystery and self-proclaimed President of the World, is a new character who wants to unify the world as its leader. According to his official blurb, to do this he wants to use social media. That sounds like a silly idea, but, well, it's worked for some, hasn't it?
G is unique in that he can absorb power from the earth to increase his Presidentiality level up to three. The higher it is, the more powerful his special moves are. However, if he's knocked down, the Presidentiality level goes down.
G also has a move called Message to the People, during which he delivers a speech "meant to unite all citizens of earth". During the speech, G gains EX Gauge but is vulnerable. His V-Skill, called G Barrier, absorbs projectiles and if it hits launches opponents into the air for a juggle. Usefully, G Barrier can be used in the air.
Sagat, on the other hand, needs no introduction. Video games' most famous kickboxer returns with battle scar and eye patch intact. He's still on at Ryu for a rematch, by the way, although in Street Fighter 5 he's become a hermit in a secluded village "and must overcome his inner demons".
Based on the gameplay footage below, Sagat will be a projectile demon - as is usually the case. His iconic moves such as Tiger Shot, Tiger Uppercut and Tiger Knee are all present and correct (although Tiger Knee is called Tiger Knee Crush in Street Fighter 5).
With the arrival of Sagat, Street Fighter 5 gets a new stage called King's Court. This is a reimagining of Sagat's classic stage from Street Fighter 2, and has the iconic reclining statue.
G and Sagat are available individually for $5.99 or 100,000 Fight Money or as part of the Season 3 character pass for MSRP $29.99, which also unlocks Sakura, Blanka, Falke and Cody. For a more detailed breakdown of G and Sagat's moves, check out Capcom Unity.