Full Mortal Kombat roster revealed
Boon: DLC fighters "not on the disc".
A leaked image has revealed the full roster of playable characters in upcoming fighting game Mortal Kombat.
The image, below, which fansite Mortal Kombat United has claimed responsibility for, includes many yet to be officially revealed fighters and more than a few surprises.
Spoilers may follow.
The list of playable characters:
Scorpion
Liu Kang
Kung Lao
Sub-Zero
Sindel
Ermac
Reptile
Kitana
Johnny Cage
Jade
Mileena
Nightwolf
Cyrax
Noob Saibot
Smoke
Sektor
Sonya
Jax
Kano
Stryker
Shang Tsung
Baraka
Kabal
Raiden
Extras/DLC - Sheeva - Quan Chi - Extras/DLC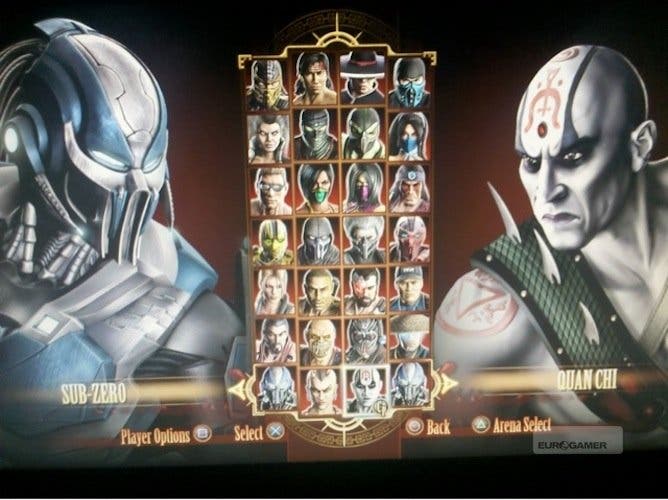 The PlayStation 3 version includes exclusive playable character Kratos, from the God of War series. The image also shows an image of a character fans are calling Cyber Sub-Zero.
Meanwhile, two downloadable characters have been confirmed.
Scans of the May issue of US magazine Gamepro reveals the first two DLC characters, the Lady in Red (known as Scarlet by the Mortal Kombat community), and blind samurai Kenshi from Mortal Kombat: Deadly Alliance.
Four-armed monster Kintaro was also rumoured to be a DLC character, although developer NetherRealm Studios has denied this.
The emergence of the DLC characters ahead of the game's release sparked anger from some gamers, but in a tweet Mortal Kombat head honcho Ed Boon said, " DLC characters are NOT on the disc."