Fruit Ninja is getting a series of "fast to play" tabletop games
Currently Kickstarting.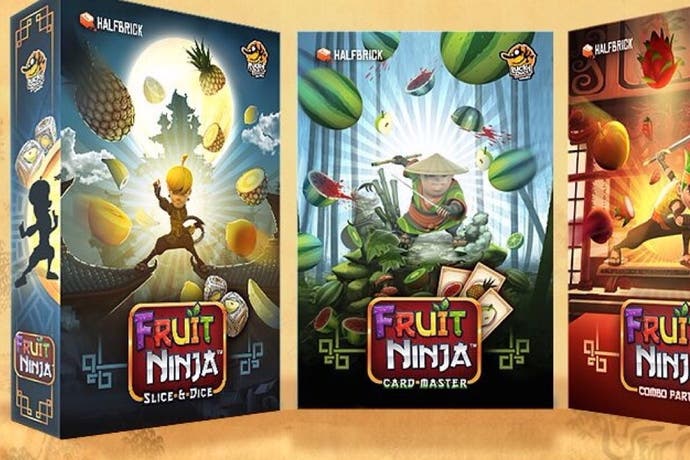 Beloved melon-massacring mobile game Fruit Ninja is making the transition to the tabletop, via a recently launched Kickstarter campaign from board game maker Lucky Duck - and it's already surpassed its $10,500 goal.
Lucky Duck's Kickstarter is raising money to launch three different tabletop games themed around developer Halfbrick's fruit-pulping mobile classic. All are designed to be fast, fun, and accessible, and each offers a notably different, although equally frantic, style of play. They're due to release late next year and early 2019.
First on the launch list is Fruit Ninja: Card Master, described as "a fast-paced deck building game". It's scheduled to launch in Q3 2018, and is designed by David Cicurel and Pierre Compain. That's closely followed by "energy-packed party game" Fruit Ninja: Combo Party, designed by Julien Vergonjeanne and Benjamin Ravetwhich, due in Q4 2018.
Last but not least is Koen Hendrix's Fruit Ninja: Slice & Dice - a "dice game of strategic fruit slashing" - which is planned to release in Q1 2019. There are videos demonstrating how each game plays over on the official Kickstarter page, should you wish to know more.
Each game is planned for a full retail release, but if you want to get involved in the Kickstarter campaign, pledges are listed at $29 USD for one game, $54 USD for two games, and $69 USD for all three.
The campaign has already raised over $20,000 - nearly double its $10,500 target - with 16 days still to go. From this point on, all money will go to unlocking new stretch goals.
Of course, if you don't fancy backing the Fruit Ninja Kickstarter campaign, you can always create your own tabletop version of the game using four close-facing chairs, four steak knives, a catapult, and a bag of lemons. What could possibly go wrong!