Frontier cans its own $100,000 Elite Dangerous tournament
Is everything okay?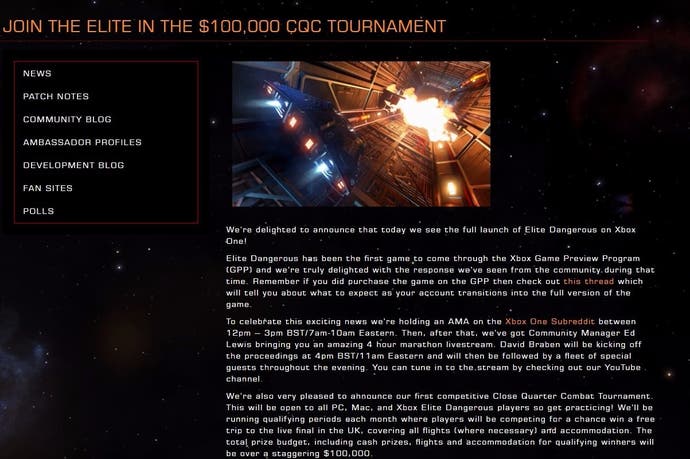 Frontier has cancelled its own $100,000 Elite Dangerous tournament - upsetting some players who spent many hours preparing for it.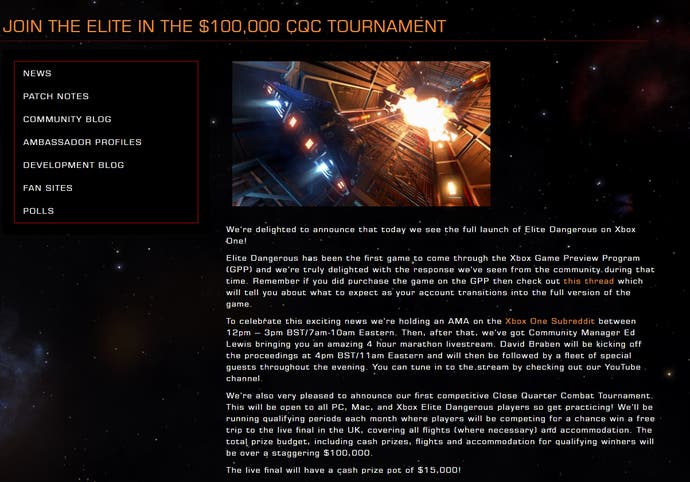 In November 2015, the Cambridge-based developer announced a new competitive community close quarters combat (CQC) tournament. It excited players because it would revolve around PvP - considered by some to be a neglected part of the space game.
"Phase one" of the tournament began alongside the announcement. This, the developer said in a post on the forum, would involve some preparation from players.
"Players need to be sharpening their skills and unlocking the upgrades they want to use on their accounts," read the post.
"You will be using your own accounts for the qualifying periods, so getting the unlocks you want for then is going to need to happen now. In addition, to help you out we'll be running a series of community events to get you ready for the tournament."
Elite Dangerous players excited by the prospect of the tournament took Frontier on its word and put hours into the game by way of preparation. But players began to notice something was up when the promised community events failed to materialise.
Phase two of the tournament was supposed to involve qualifying heats, which Frontier said would start early 2016. They never did.
16 PC/Mac players and 16 Xbox One players were supposed to be settled on by the end of the qualifiers. The top four of each section would win a seat at the live final, travel to and from the event, accommodation during the stay, food and drink and a winner's goody bag.
None of that's going to happen.
Now for the money. Frontier announced a live final, which would see two separate tournaments, with a $15,000 prize pot split between the two. It sounds like Frontier had big plans for this event. It mentioned a live crowd, tickets, and a partnership with video game charity Special Effect.
Players were worried about the fate of the tournament, and upset over Frontier's lack of communication. One player, CyberChaosCrew, explained the situation in an email to Eurogamer:
Now, over half a year after the tournament was announced, Frontier has finally confirmed it's been canned.
In a post on the Frontier forum, head of community Zac Antonaci said delays to game features had led to the cancellation of the tournament.
The Engineers 2.1 update launched on 26th May for those who own the Elite Dangerous: Horizons season of expansions. The 1.6 update was released to all who own the base game at the same time.
Frontier has said more content will be coming for the Horizons season of expansions, including multi-crew gameplay, avatar creation and ship-launched fighters.
Meanwhile, Frontier released a version of Elite Dangerous that revolves around CQC gameplay, called Elite Dangerous: Arena (it was free to download over the weekend).
Frontier's Antonaci said there would be a CQC tournament at some point in 2016, an in-game PVP tournament called The Icarus Cup.
This requires players organise themselves into squads of eight, and Antonaci suggested those interested start forming their squads now in anticipation of registration opening.
"The winners will not only be crowned the most skilled group of PvP pilots in the galaxy but they will also walk away with an extremely exclusive Icarus Cup Decal and dashboard trophy, which is due to arrive with our 2.3 update," Antonaci said.
Reaction to this new tournament has been mixed. People have pointed out that the $100,000 headline figure was misleading because it related to the budget for the tournament, as opposed to the amount of money up for grabs as prizes.
One person on the Elite Dangerous forum wondered whether the tournament cancellation signalled financial difficulties at Frontier. Antonaci stepped in to counter that.

Antonaci's mention of a "public statement" relates to Frontier's full year trading update, issued on 6th July.
In it, Frontier said its self-published revenue grew year-on-year by 13 per cent, and was over 99 per cent of its total revenue in its first full financial year of self-publishing of the Elite Dangerous franchise. That revenue was £21.3m.
Earnings before interest, taxes, depreciation and amortisation (EBITDA) are expected to be £6.1m, with an operating profit of £1.2m, but there's a curious note in the financials that mentions that this EBITDA figure is "stated before the deduction of £8.9m of capitalised R&D in the period". Surely taking this deduction into account, Frontier's financials wouldn't appear so rosy?
Countering this, Frontier said its balance sheet remains strong, and that by the end of 31st May, it had net cash of around £8.6m.
Frontier added its long-term strategy is to "transition to self-publishing multiple revenue generating franchises". That includes the launch of the promising Planet Coaster, set for the fourth quarter of 2016.
Meanwhile, total Elite Dangerous franchise unit sales increased by over one million during the financial year, and are currently around 1.7m. Now, it's worth noting the use of the term "Elite Dangerous franchise unit sales", here. That doesn't necessarily mean games, only. There's plenty of Elite Dangerous add-ons, such as the second season expansion pass, and merchandise, including T-shirts, caps and books, available to buy.
Elite Dangerous has launched on PC, Mac and Xbox One, as well as on virtual reality systems Oculus Rift and HTC Vive. But it is yet to launch on PlayStation 4. Frontier has indicated the game will launch on Sony's console at some point, and I expect it will make a decent amount of money when it does.
As for Planet Coaster, Frontier said it has already "exceeded" expectations, with around 34,000 unit sales to date during the alpha stage of development, generating over £1.5m.