Free cel-shaded pop art skating game Zineth is absolutely insane
Student game recalls a surrealist take on Jet Set.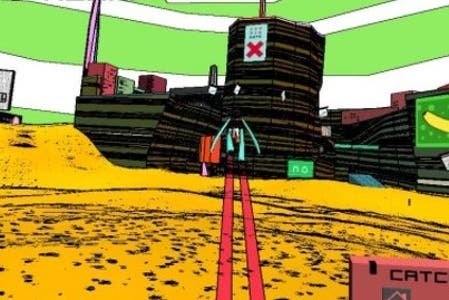 Can't wait for Jet Set Radio's impending HD rerelease? We've got just the thing for that. Arcane Kids' Zineth is "a student game made over a few months meant to celebrate speed, movement, and twitter."
Skating, gliding and grinding your way through eye-popping colourful backgrounds you must zip around an open environment accepting missions on your cell phone. You can even play cat-based mini-games on it.
Zineth has a terrific sense of speed and while the learning curve is sharp, it's a laid back experience without time limits. You can just cruise around collecting stuff and accepting missions as you see fit. You can also rewind almost indefinitely, so falling off a mountain is never more than a minor inconvenience.
It's utterly ridiculous and absolutely free on PC and Mac.
Watch the trailer below, be sad you can't do any of that in real life, then lift your spirits back up by downloading Zineth here.