Forza Motorsport 7 is delivering something few other driving games offer anymore
Forza everyone.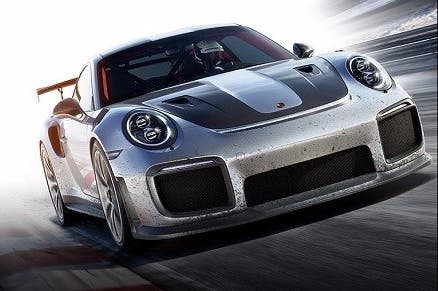 Editor's note: We've only recently taken receipt of final retail code for Forza Motorsport 7, so our review will be with you early next week. Before then, here's some early impressions culled from a couple of hours' play.
Forza Motorsport isn't exactly showing its age - even if that '7' at the end of the latest title displays a seniority that few other series have ever enjoyed - but it's been around long enough to be considered a grand old dame of driving games. This isn't the spunky young upstart anymore, and now - three games into its tenure on Xbox One - it doesn't feel like it's got that much left to prove. It's a brilliant, varied and polished driving experience, and Forza Motorsport 7, as you may well expect from an iterative series, is possibly the best it's ever been.
And it's doing something that no other driving game really does anymore. Gran Turismo Sport looks to have moved on to focus on the more competitive element of its game - or, if you want to be a bit less charitable, has narrowed the series' once sweeping focus in order for Polyphony Digital to make its long overdue debut on PlayStation 4 - while Project Cars 2 puts an emphasis on the motorsport part of the equation. In Forza Motorsport 7, it's still perfectly possible to take a regular sedan and trick it out until it's an ungodly beast, and it's all the better for it.
There's a bit more structure here, though, and an awful lot more finesse than ever before. I played my first hour of Forza Motorsport 7 on an Xbox One X and a pukka 4K TV and - while it still looks splendid on a vanilla Xbox One and a 1080p TV at home - the experience is something else. I'll admit to having a bit of a moment upon first seeing Eric Broadley's earth-shatteringly beautiful T70 in motion in 4K and HDR, looking even more vivid than the model I slavered over in the Brands Hatch paddock at last year's Masters Historic event.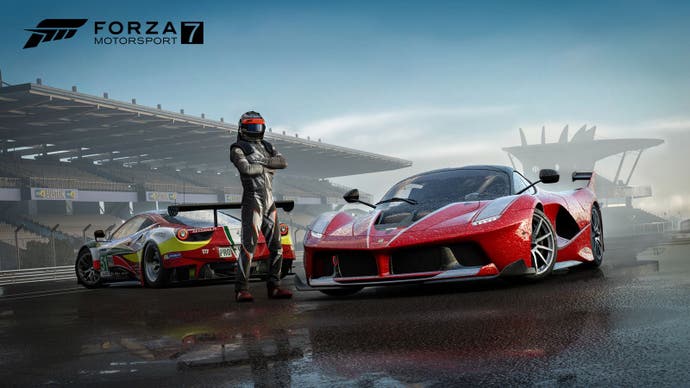 Turn 10's smart not to put such delights under lock and key, and within minutes of starting the new career I was able to indulge in my own particular passion, sitting on the sloping Brands grid surrounded by a full field of period F1 cars culled from the late 60s. A Ferrari F-158, a Honda RA300, a Brabham BT-24, a Lotus 49 and - my own particular steed - Dan Gurney's Eagle-Weslake, still the most aesthetically pleasing grand prix car to ever grace the track, all proudly purring together. Having such machinery together in a game is a phenomenal feat, and I don't think there's any driving game that's collated pedigree like this since Papyrus' Grand Prix Legends.
So it's a bit of a shame that the race itself is a three-lap farce where Forza Motorsport 7's AI doesn't seem to have toned itself down to fit the more deathly attributes of 60s F1 cars, the field aggressively knocking each other this way and that, while the slightly melodramatic handling model also seems to struggle to meet the task at hand. When you're aiming to please as broad a crowd as Forza there's always going to be a casualty or two along the way, so know this; if it's serious racing you're after, this might not be the ticket.
Forza Motorsport has never really had any pretensions of challenging the likes of iRacing, though, so it's no surprise to see that number seven in the series doesn't make any changes there. What it does instead is tie together its broad offering exceptionally well, with a career that's got a bit more purpose than what's gone before. There are now tiers, each one acting like a mini-campaign with small championships governed by a points table. Given that's on top of Forza's usual grab-bag of systems, with XP, mod cards, credits and marque loyalty all playing their part (never one to turn down whatever the current fad in games design is, I wouldn't put it past Turn 10 to introduce a PUBG-inspired multiplayer mode to Forza Motorsport 7 before too long), it's a bit of a mess, but at least it's a compelling one.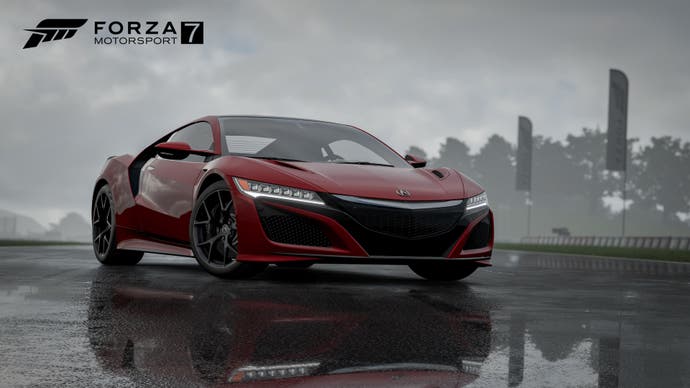 It's a pretty spectacular one, too, and Forza Motorsport 7 can lay claim to being the prettiest driving game there is right now - whether you're playing on the Xbox One X or not. The introductory races, which you may have already sampled in the demo that's currently live, are as good a showcase as you'll get. In Dubai there's the chance to sample the Porsche 911 GT2 RS - the same car that just broke the rear-drive record around the Nordschleife - and witness Turn 10's track designers at their most unhinged. In a truck race at Mugello you'll realise that Euro Truck Simulator wasn't a one-off, and that driving track-churning juggernauts at speed can be an absolute blast.
And, a little later in my own play session, there's the thrill of driving a Super GT car around a sodden Suzuka, hanging on to the back of a Bentley as we tear through 130R and the sun begins to peer through the clouds. It looks like nothing I've ever seen or played before. As a go-to to showcase for the capabilities of the inbound Xbox One X, Forza Motorsport 7's a no-brainer - but even if you jump in before that console's release next month, you're in for something pretty sublime.
It might not have the feature set of something like Project Cars 2 (that weather, while improved from what was featured in Forza 6, doesn't allow for truly dynamic around the clock races, unfortunately). It might not have the hard edges of more sim-based material like Assetto Corsa and iRacing on the PC market of which it's now a part. But, as ever, this is the driving game for everyone, and when it comes to approachability, consistency and polish, nothing else comes close.