Forza Horizon Rally Expansion due 18th December
Costs 1600 Microsoft Points (£13.60), or part of £34 Season Pass.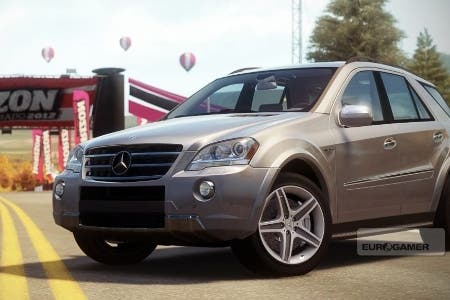 Forza Horizon's first major slice of DLC will be the Rally Expansion Pack, developer Playground Games has announced.
The add-on will be available to download from 18th December, priced 1600 Microsoft Points (about £13.60).
Alternatively, it comes free when you stump up 4000 Microsoft Points (£34) for the game's DLC Season Pass.
The pack includes off-road racing with "deeper ruts, higher jumps and new surface types", Forza Horizon community manager Brian Ekberg explained on the game's official site.
More details on the Season Pass have also emerged. It'll offer six monthly car packs, with the first offering half a dozen vehicles available alongside the game's release. The six motors include the 2012 Ferrari 599XX Evoluzione, 2012 Gumpert Apollo Enraged, 2012 Alfa Romeo 8C Spider, 2012 Ford Mustang Boss 302, 2012 Lamborghini Aventador J and 1957 Chevrolet Bel Air.
If you don't have the Season Pass you can nab the car packs separately for 400 Microsoft Points apiece (£3.40).
Five additional cars will be available exclusively to Season Pass owners. These will individually rear their heads on the third Tuesday of the month from November through until March. The first is the 2006 Lamborghini Miura Concept.
Players who buy Forza Horizon during its week of release will unlock a free 2010 Saleen S5S Raptor. Those who have played the demo will also unlock a 2013 SRT Viper GTS with a custom livery.