Forza Horizon 4's Edinburgh versus real-life Edinburgh
Photo-wheelistic.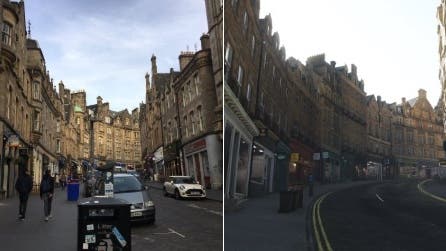 If you're putting your foot down with Forza Horizon 4, you'll have noticed it does a cracking job of recreating Edinburgh.
The developers at Playground Games set their racing game in the UK, and Scotland plays a star role in the virtual recreation (for more, be sure to check out our Forza Horizon 4 review).
But just how accurate-looking is Forza Horizon 4's Edinburgh?
Chris Trentham, an environment artist at Playground, visited Edinburgh recently and took a number of photographs of locations built in the game. Then, in a series of tweets, compared those photographs to screenshots he took of the game he helped create (real life on the left, Forza on the right). The results are impressive indeed.
Forza Horizon 4 is about more than Edinburgh, of course. If you've read our big interview with Playground's chief creative officer Ralph Fulton, you'll know our Ian did a double-take when he drove past the Uffington Horse, which is right next to where I grew up. (It's also worth watching Ian's video on Forza Horizon 4, in which he invariably gets up to no good while trying to run over sheep.)