Forza Horizon 4 brings the long-awaited route creator to the series this week
Plus a new story, bug fixes and more.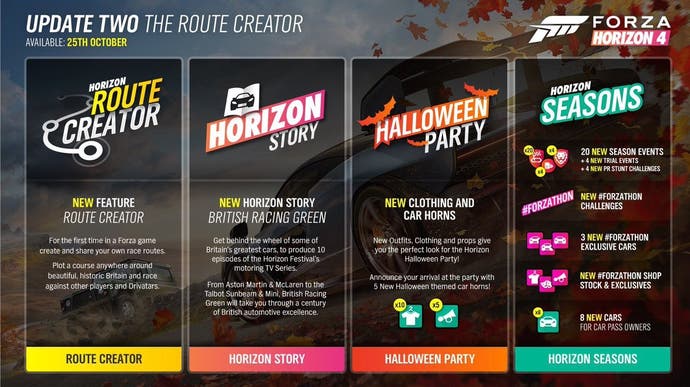 A route creator has been one of the most requested features for Forza Horizon since the open-world racing game series launched in 2012. Those requests are finally answered this week: Forza Horizon 4's route creator is added in a patch this Thursday, 25th October (as previously announced by Playground Games and confirmed in fresh patch notes today).
The route creator will allow players to create point-to-point and circuit racing routes simply by driving them, "painting" them onto the map with their cars. You can drop checkpoints wherever you like and adjust them for width, and rewind to redraw your route if you're not happy with a section. You will have to start your route from an existing event start point in the game, but aside from that it can go wherever in the game a car can go - including on top of buildings.
It's a perfect match for the series' freeform philosophy, which is one reason players have been asking for it for so long. You can see it working and hear more details from creative director Ralph Fulton in the video below.
Also coming in Thursday's update is the game's first new Story since launch. Stories are event suites based around a distinctive theme, such as performing stunts for a movie production or recreating moments from classic racing games like OutRun and Ridge Racer. This week's new Story has you filming 10 episodes of a TV series about classic British cars, "from Aston Martin and McLaren to Talbot Sunbeam and Mini". It's unlocked at level 50 and rewards for completing it include the Bentley 8 Litre, a vintage limousine that sells for over a million credits in-game.
A raft of bug fixes will also be implemented in the update, including a much-needed fix for occasional loss of progress on the daily and weekly Forzathon challenges. Since these challenges have included grinding out up to seven million skill score, losing your progress in them can be pretty aggravating.
Last but not least, the arrival of the Summer season this week completes Forza Horizon 4's first four-week seasonal cycle. 28 new seasonal events, co-op championships and PR stunts will be added to keep the game fresh on a week-by-week basis as it runs through its second seasonal sequence. That's on top of new Forzathon challenges and store items, some Halloween-themed cosmetic items and, of course, eight new cars added to the game in weekly pairs for Car Pass owners.
It all adds up to a very impressive update schedule for what's already a brilliant racing game. Keep it up, Playground.