Forza 5 dev open to adjusting economy based on feedback
As debate over microtransactions rages on.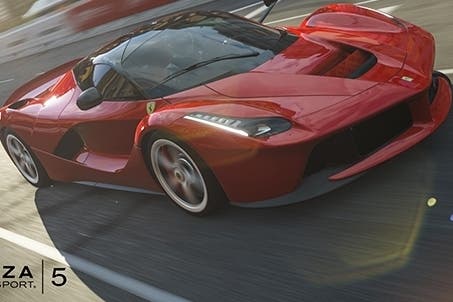 Forza 5 developer Turn 10 has indicated it is open to tweaking the racing game's economy following the controversy surrounding its micro-transactions.
In an interview with Shacknews, Turn 10 creative director Dan Greenawalt said the developer is monitoring feedback to the in-game economy and highlighted the fact it can make adjustments on the fly.
Turn 10 has been accused of altering the series' economy to make way for microtransactions. As pointed out by Eurogamer's Martin Robinson in an opinion article titled, "What happens when free-to-play games aren't free?", unlike in older Forza games, in Forza 5 cars aren't offered as rewards for success: instead, the only option is to buy them in a grind that can be augmented by pumping in real-world money.
After pointing out it would take a very long time to earn enough in-game cash to be able to buy the game's top cars, Shacknews asked Greenawalt: what is the expectation for someone who wants to "play" their way to the top?
"The expectation is that different cars are more expensive and that makes them more rare," Greenawalt replied.
"Because of the classification system, there is no 'top' to the production classes. Currently, we have some players earning lots of credits and some players earning not nearly as much. This is a skill and strategy-based economy with rarity provided by in-game price, not locking mechanisms.
"Players can receive +65 per cent payout for playing against the hardest skill level Drivatars, up to +50 per cent bonus credit payouts for turning off the assists, and up to +35 per cent payouts for sticking with a favourite manufacturer. That's +150 per cent bonus based on skill and strategy.
"When you couple that with Drivatar rewards, UGC payouts, and Forza Rewards (our franchise-based loyalty rewards) there are plenty of ways to earn credits in Forza 5.
"However, the fact remains: racing, skill, and strategy are the engine of the economy. Of course, we continue to monitor the economy via customer feedback as well as in-game telemetry and we have the ability to make adjustments should it be warranted."
The issue of microtransactions was raised in a recent Kotaku interview with Phil Spencer, boss of Microsoft Studios. Spencer, who oversees development of first-party games such as Ryse: Son of Rome, Killer Instinct and Forza 5, said Microsoft is "still learning" when it comes to microtransactions.
"I want to be able to learn from what we put in," he said.
"So let's make sure we are crafting the game and the analytics so we can see what the consumers - the gamers - like and don't - if you assume buying habits are a reflection of what people like. So that we can craft the experience better for the gamer."
Spencer indicated Microsoft is yet to decide where to draw the line on microtransactions.
"It's easy to say something like, 'I'll never allow somebody to buy the win of the game, I won't let them buy victory,' but that's kind of a trite answer," he said. "I'd say, 'Yeah, I guess I have that line, that [we wouldn't have] 'pay five bucks and get 1000 achievements', or something stupid like that.'
"I'm always pushing against that. But, in reality, that's not what the gamers are looking for. They're usually looking for customisation and their gameplay style opening up."