Fortnite's latest update introduces vending machines, easter egg launchers and more
Plus the new High Explosives v2 limited-time mode.
Epic has launched Fortnite's new 3.4 content update, introducing Vending Machines, an Easter Egg Launcher, and a new limited-time event in the form of High Explosives v2.
According to Epic, today's 3.4 update marks a change in the way that it will release new Fortnite content moving forward. From now on, the developer will alternate between content-focussed updates and larger patches that include new content alongside more complex fixes and changes - with one or the other arriving every week.
Update 3.4's new additions include a Vending Machine for Battle Royale mode - "Materials go in, loot comes out", as Epic puts it. Vending Machines can be found all across the map, and each offers three random item and rarity combinations for purchase.
There's one offer available for each in-game material type, with the cost dictated by the rarity of the item. Common items costs 100 materials, Uncommon items cost 200 materials, Rare items costs 300 materials, Epic items cost 400 materials, and Legendary items cost 500 materials.
Over in Save the World mode, meanwhile, update 3.4 adds the new Easter Egg Launcher. This, as you might expect, flings explosive eggs at the ground - up to a maximum of six at a time - which will then detonate once an enemy is in close proximity.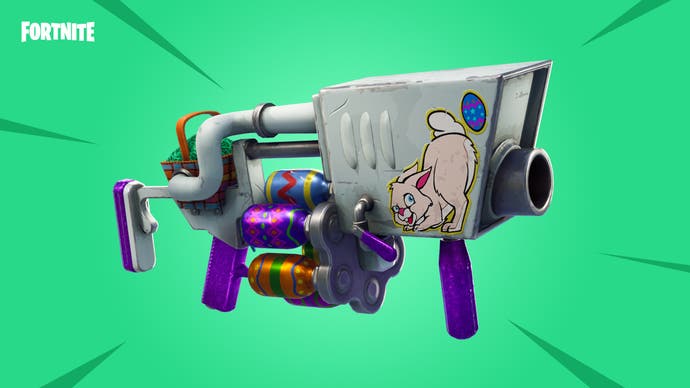 Fortnite's newest update is accompanied by the new High Explosives v2 limited-time mode, which removes all items except explosives - including Remote Explosives and Guided Missiles - alongside a number of other nips and tucks to the familiar Battle Royale formula.
Full details on Fortnite's 3.4 content update can be found on Epic's website.