Fortnite Vehicle Timed Trial locations explained
Looking for specific Vehicle Timed Trial locations? This Fortnite page can help.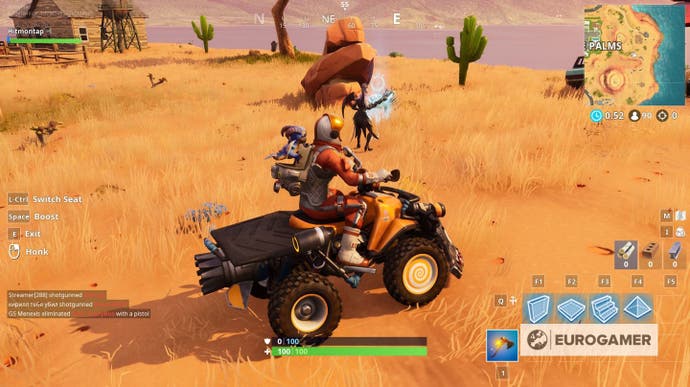 Completing Vehicle Timed Trials, and finding their multiple respective vehicle timed trial locations, is one of Fortnite's many Weekly Challenges.
Completing it will give you additional XP to help go towards your many Season 6 rewards. Note you'll need to be a Battle Pass holder in order to undertake this challenge.
---
Note this particular challenge is no longer able to be completed. What's new? Chapter 4 Season 2 has arrived! New additions include the Grind Rails and Kinetic Blades, along with the new Battle Pass, character collection and Eren Jaeger skin. It's a good idea to know how to get XP fast in Fortnite.
---
On this page:
Fortnite Vehicle Time Trials locations
Though you only need to complete a total of three Vehicle Timed Trials (not to be confused with the very similar, regular Time Trials) there are a total of five Vehicle Timed Trial locations to find in Fortnite: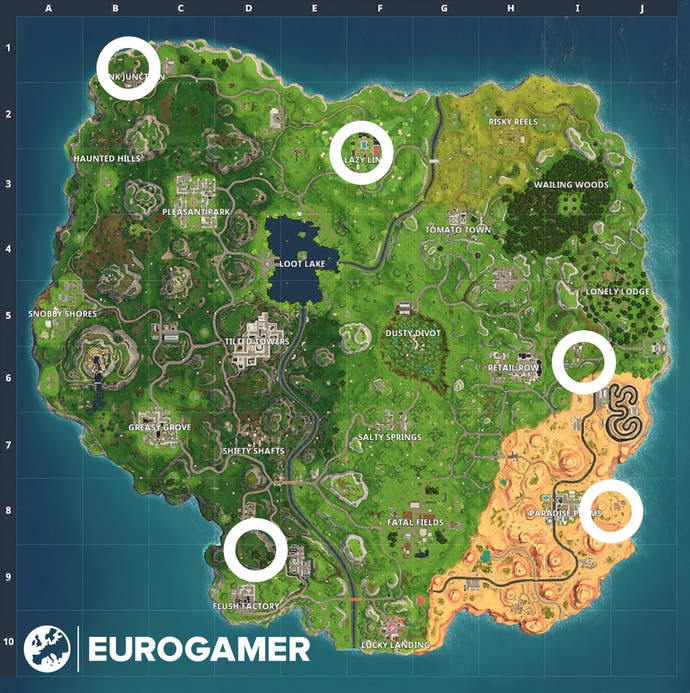 Specifically, they are found:
North of Junk Junction, up on the hill by the giant llama:
In Lazy Links, on the north-western side of the settlement: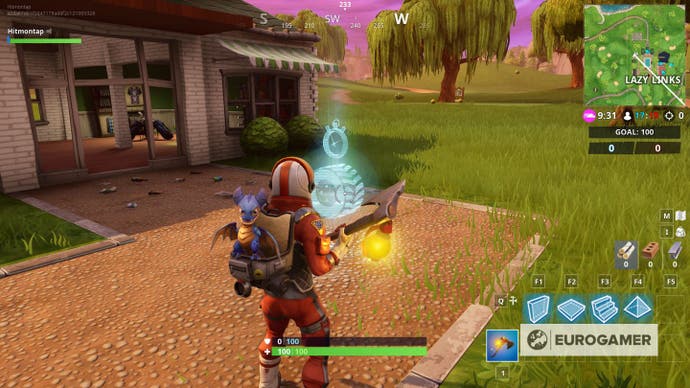 East of Retail Row, just before the grassland turns to desert: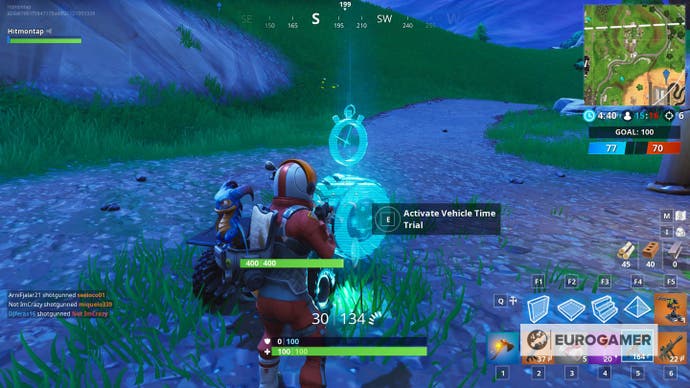 East of Paradise Palms, on the north side of a drop into a canyon: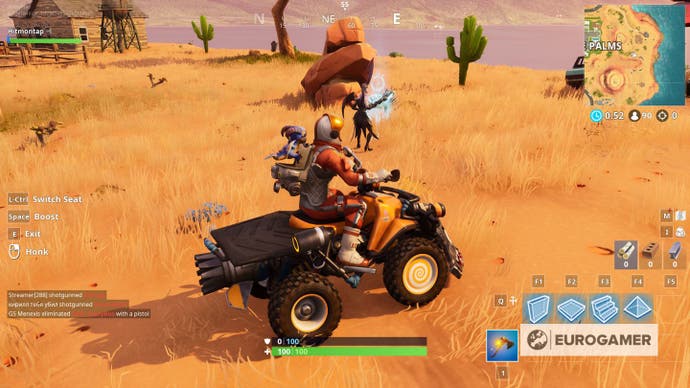 North of Flush Factory, on top of the mountain that overlooks it: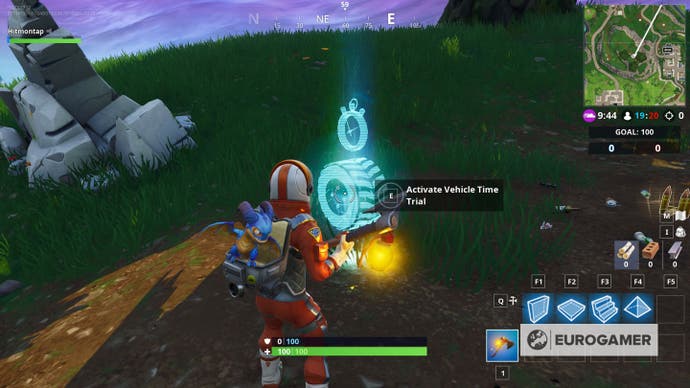 Finding these tough to complete? The following section on how Time Trials in Fortnite work in generalcan help.
Otherwise, once you are done, there are plenty of other Challenges to take on this week - so keep playing!
How Time Trials in Fortnite work
For the Week 10 Challenges, you are tasked with the following:
Complete vehicle timed trials (3 total, 10 Battle Stars)
Owners of the Season 5 Battle Pass will recognise this challenge, and it's pretty similar (and actually easier - you only need to complete three compared to five, and you also get 10 Battle Stars instead of five. Rejoice!).
So what does it involve? Several Timed Trials have appeared throughout the map, represented by a holographic-style stopwatch. They're pretty hard to spot from a distance, so knowing each Time Trial location will come in handy.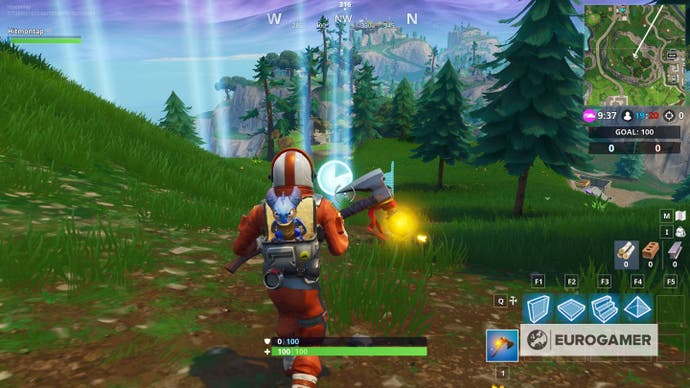 To activate a Time Trial, you need to find the stopwatch, then interact with the prompt.
---
Fortnite Chapter 4 Season 4 is here! To help you get started with this heist themed season, we have guides on how to alert a Securitry Camera, secure data from Forecast Towers and destroy weakened walls or security gates. There's also a new Victory Umbrella! Meanwhile, learn what the best weapons are, the current Augments, how to get XP fast, use the best PC settings and earn a Victory Crown.
---
This will immediately start a Time Trial. The difference however is that these are specifically for vehicles. To complete it then, you need to drive a vehicle through each of the blue markers that appears nearby. It's pretty easy, in our experience, as unlike the on-foot time trials there's no building required, and the vehicles available are more than fast enough to make it through them in time.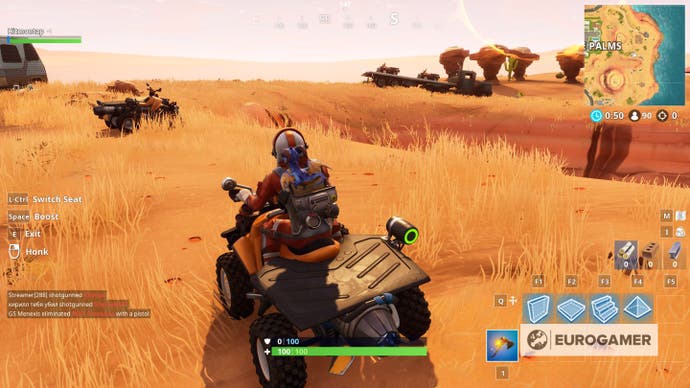 Our advice is to first activate the trial, then look at where you need to drive, then wait for the trial to expire and start it again, so you can restart it and know exactly where to drive with plenty of time.
Once it's complete, be sure to actually finish the match, even if the in-game tracker says it's counted - just to be fully sure it's properly added to your challenge total.
We recommend doing this in the big 50v50 mode if you're struggling - it should make life much easier! If you're on the hunt for vehicles, meanwhile, the Vehicle Timed Trial by Paradise Park often has vehicles right there ready to be used, and you can just drive those to each of the required locations.