Fortnite - Phone booth locations: How to use a phone booth as Clark Kent explained
Enkrypted.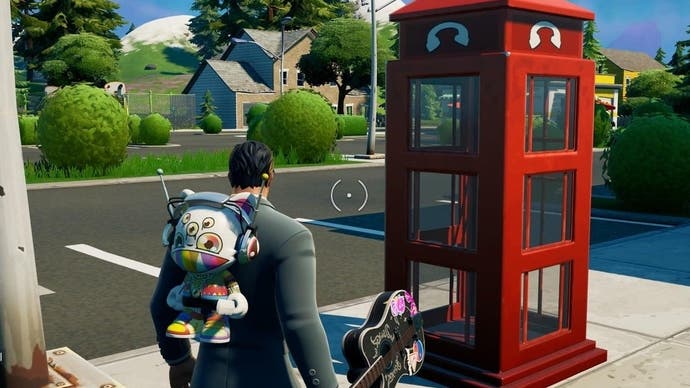 Superman needs to make a quick call. Here's how to use a phone booth as Clark Kent to complete one of the Superman challenges in Fortnite.
Use a phone booth as Clark Kent is one of the Superman challenges in Fortnite Chapter 2 Season 7.
Alongside the tasks to complete quests from Clark Kent, Armored Batman, or Beast boy and glide through rings as Clark Kent, you will have to wear the cape once more and use a phone booth as Clark Kent.
Completing this challenge won't reward you with XP to help you unlock more Battle Stars for the Season 7 battle pass. Instead, you will receive a unique Superman built-in emote and the suit itself.
---
Note this particular challenge is no longer able to be completed. What's new? Chapter 4 Season 2 has arrived! New additions include the Grind Rails and Kinetic Blades, along with the new Battle Pass, character collection and Eren Jaeger skin. It's a good idea to know how to get XP fast in Fortnite.
---
How to use a phone booth as Clark Kent in Fortnite explained
First of all, if you want to get the Superman skin in Fortnite, then you must first buy the Fortnite Chapter 2 Season 7 Battle Pass. Without the Battle pass, you won't be able to take part in the associated challenges.
Once you're settled, you'll have to complete a total of five quests from either Clark Kent, Armored Batman or Beast Boy, who are all part of the Character Collection. Then, after suiting yourself as Clark Kent, you'll search use one phone booth around the Fortnite map.
There is a total of five phone booths to find. At a glance, they can be found in the following locations: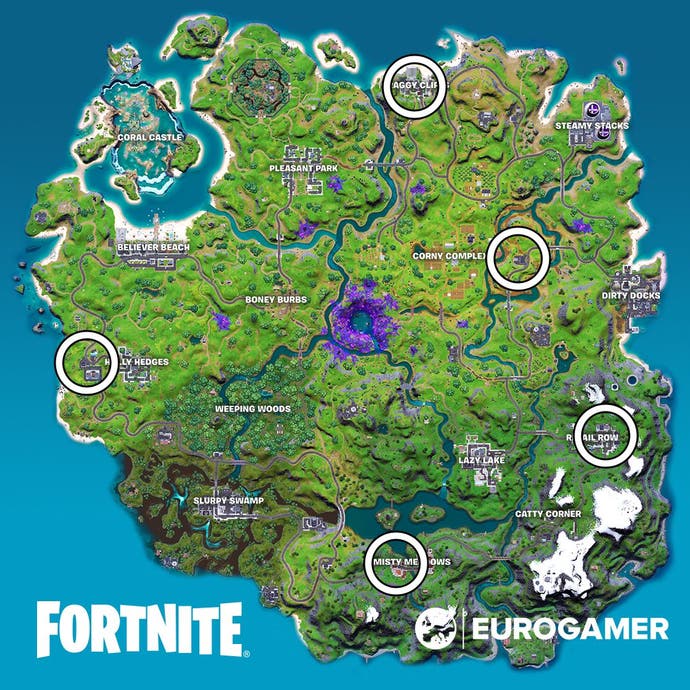 Over at Holly Hatchery, there is a phone booth turning around the corner of the gas station, facing south.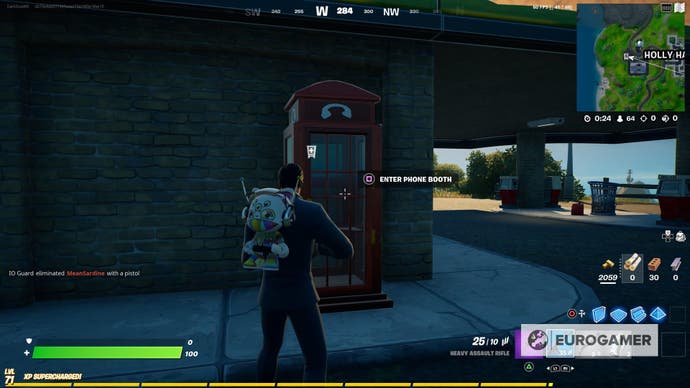 A second phone booth is located right next to the payphone in Misty Meadows. If you take the western road into the area, you can't miss it.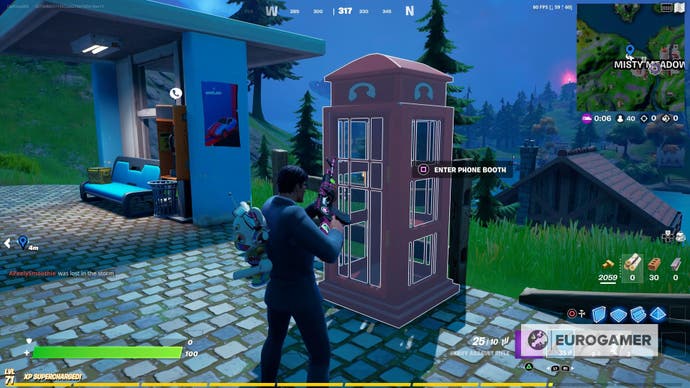 There's another one in the gas station east of Corny Complex, just at the side of the mending machine.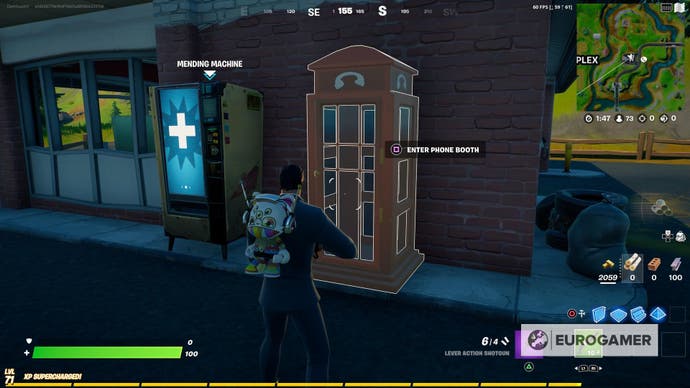 In Retail Row, next to the mending machine found northeast of the area, lies another phone booth.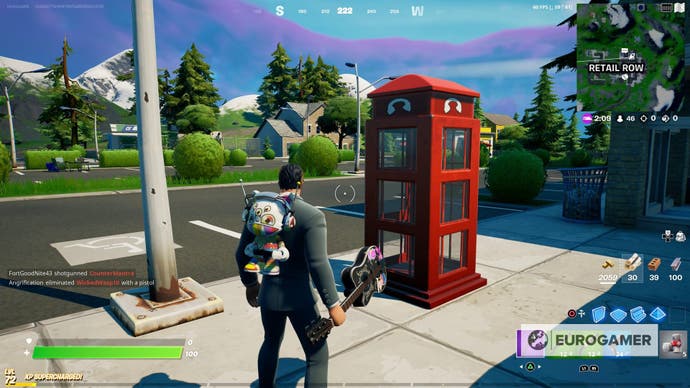 Lastly, there's another phone booth in Craggy Cliffs, just on the southern corner of the map, next to a billboard.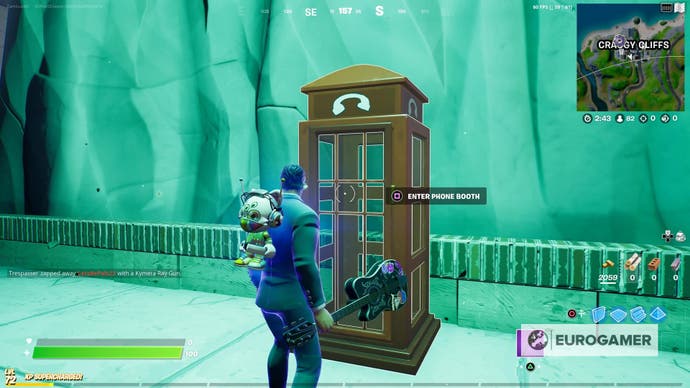 From here, all you have to do is interact with any of these phone booths once, and the challenge will be over. This will automatically change Clark Kent's look to Superman, and will remain as is during the rest of the match.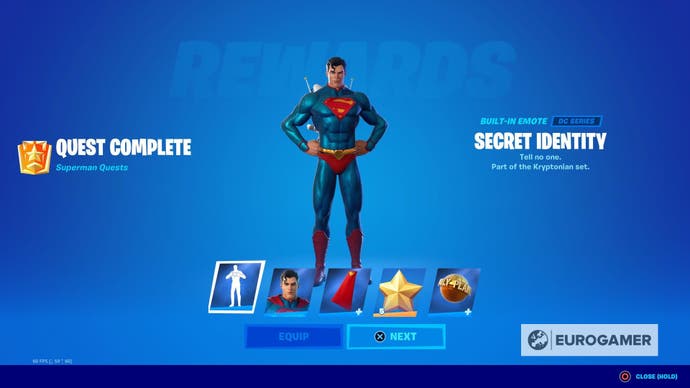 Of course, the emote actually gives you the Superman skin, which has some cool effects (try skydiving and you'll know what we're talking about!).
---
Fortnite Chapter 4 Season 2 is here and with it comes Force Abilites and Lightsabers in the Star Wars 2023 event and a new selection of Battle Pass skins! Take a look at the Eren Jaeger skin too! If this is something you want, take a look at our challenge guides that show you the Jaeger's Family Basement location, plus how to find and use ODM Gear. Don't forget to complete the new challenges, including winning arcade games, knocking back players with the Kinetic Blade, shooting targets while on a Grind Rail and restoring health or shields on a Grind Rail. Meanwhile, learn what the best weapons are, new map changes, how to get XP fast, use the best PC settings, earn the Victory Umbrella and earn a Victory Crown.
---
Now that you have wrapped this up, make sure to glide through rings as Clark Kent to unlock a new back bling themed as The Daily Planet, which is one of the many cosmetic items you can earn from Superman quests.
As you complete the Superman-themed challenges, make sure to keep track of your Character Collection as well as legendary quests throughout the rest of the season.