Fortnite map changes - Dusty Divot, Risky Reels and other Fortnite Easter eggs and secrets explained
Compare changes big and small in Fortnite's map, including additions Dusty Divot and Risky Reels.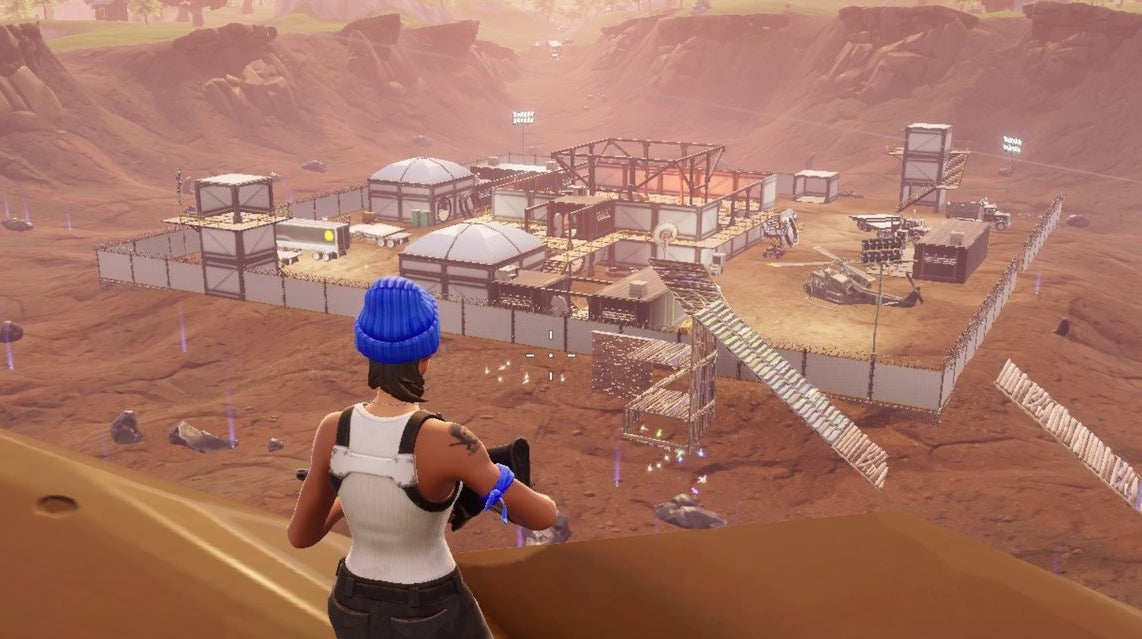 There have been a number of Fortnite map changes with the arrival of Fortnite Season 4.
The game has teased these changes over the past few months - with a comet looming overhead and the hint it will hit the map and take out Tilted Towers.
Some of these have come to pass (the comet did indeed hit the map, creating Dusty Divot) and others haven't (Tilted Towers is still there).
We've also seen lots of other changes, including a whole new area - Risky Reels - and some new Fortnite secrets and Easter eggs spring up on the map.
If you're just getting started with the game, by the way, our Fortnite Battle Royale tips and tricks can provide some helpful hints.
A close look at the new Fortnite map changes
With the arrival of a comet hitting the map, impacts big and small have been felt across the map. Here's what the map looks like now: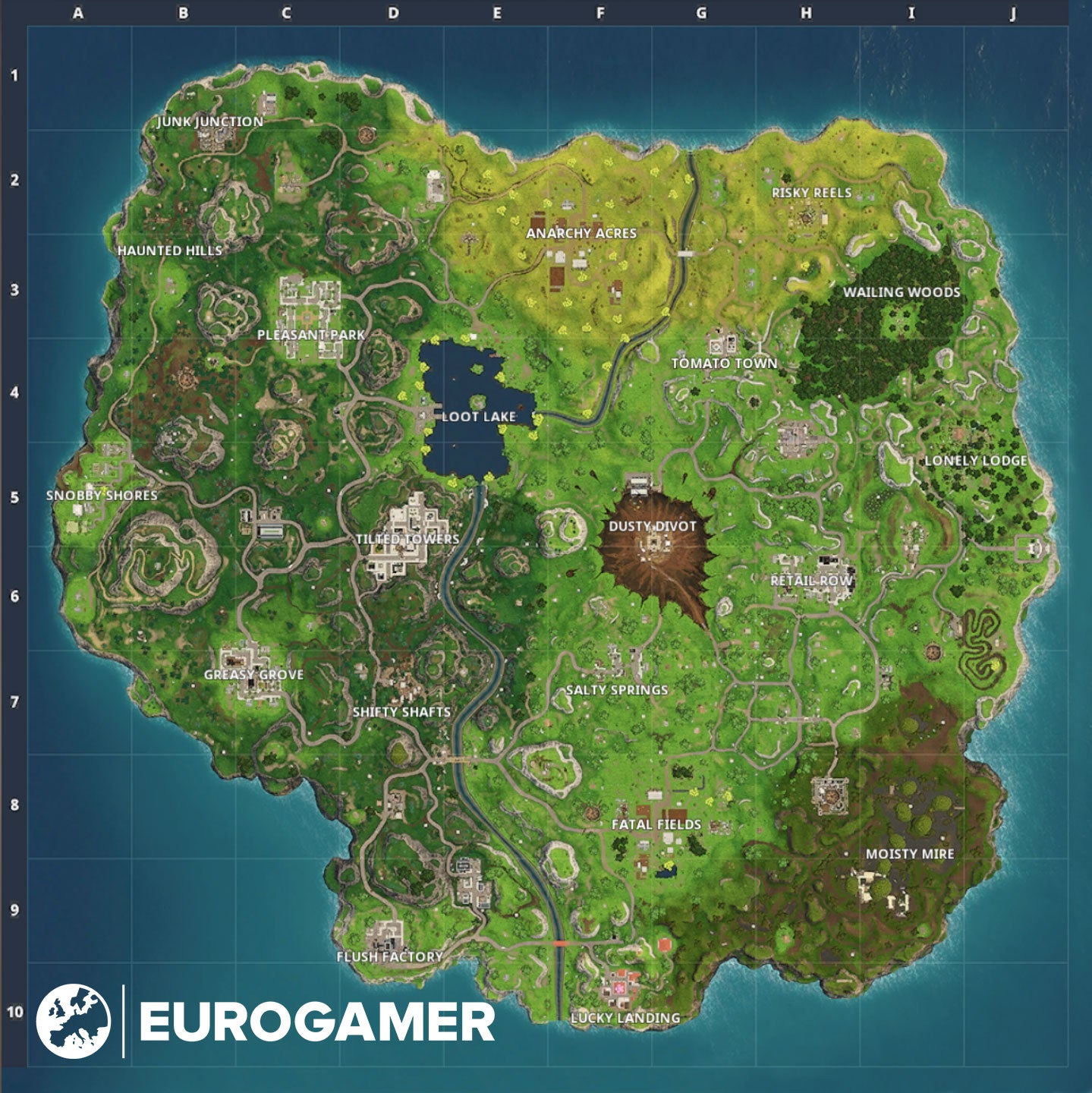 By comparison, here's what the old map looked like: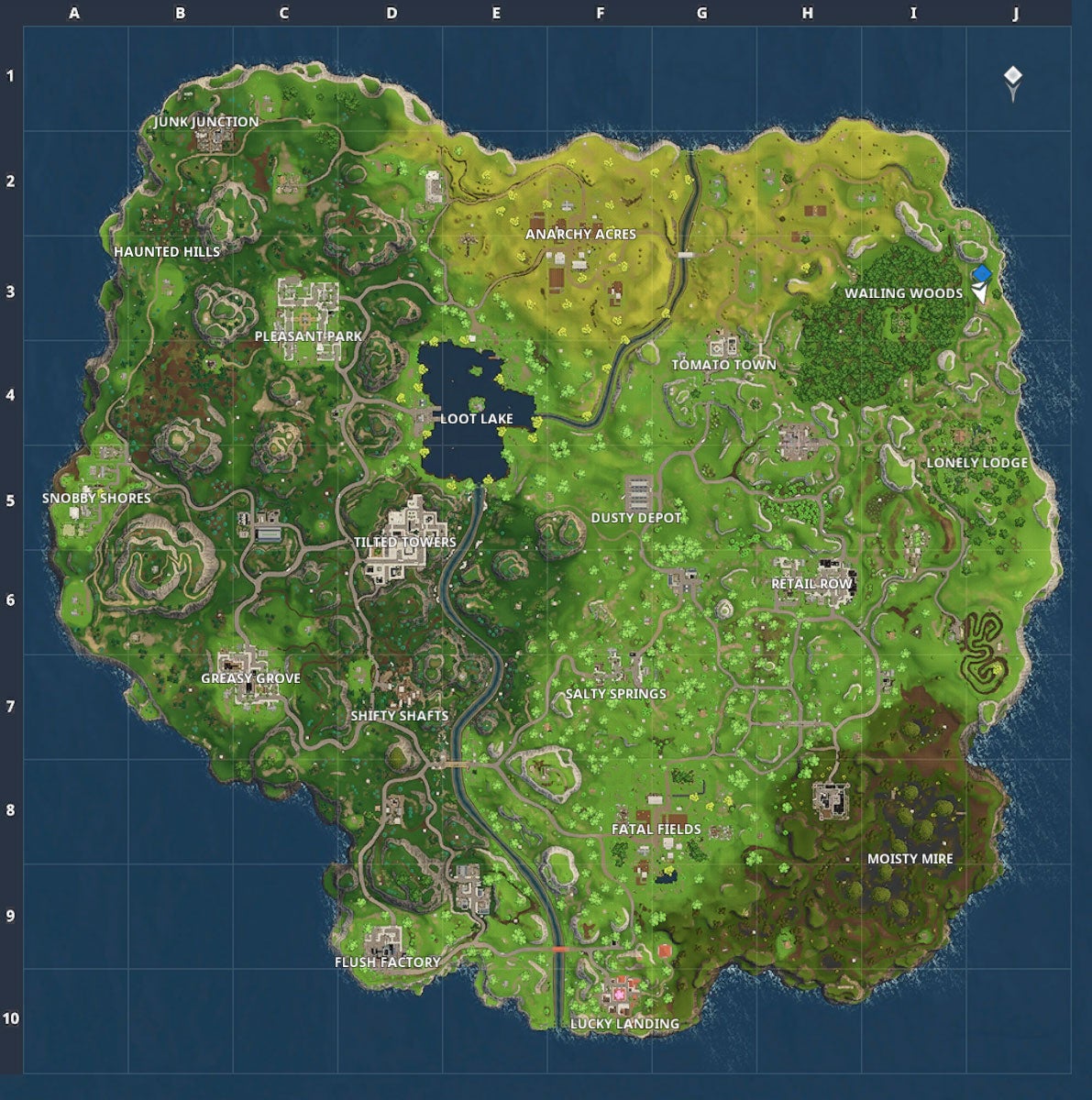 A bit different, isn't it? Broadly speaking, everything on the left side of the map - if you draw a line down the middle - has no major changes, though there are differences big and small throughout that are easy to overlook.
Primarily, you'll notice two new areas - Dusty Divot in the middle, and Risky Reels in the north-east. Dusty Depot - where the comet landed and created Dusty Divot - is gone. Let's discuss these first.
Dusty Divot and Risky Reels in Fortnite
The big changes are these two new additions to the map - Dusty Divot and Risky Reels.
Dusty Divot
The comet crash landing on Dusty Depot has seen the creation of Dusty Divot, a giant crater with a huge research base in the middle. Half of Dusty Depot still exists to the north, with the hangers suspended on the lip of the crater. There's still chests and loot, so continue to pay it a visit.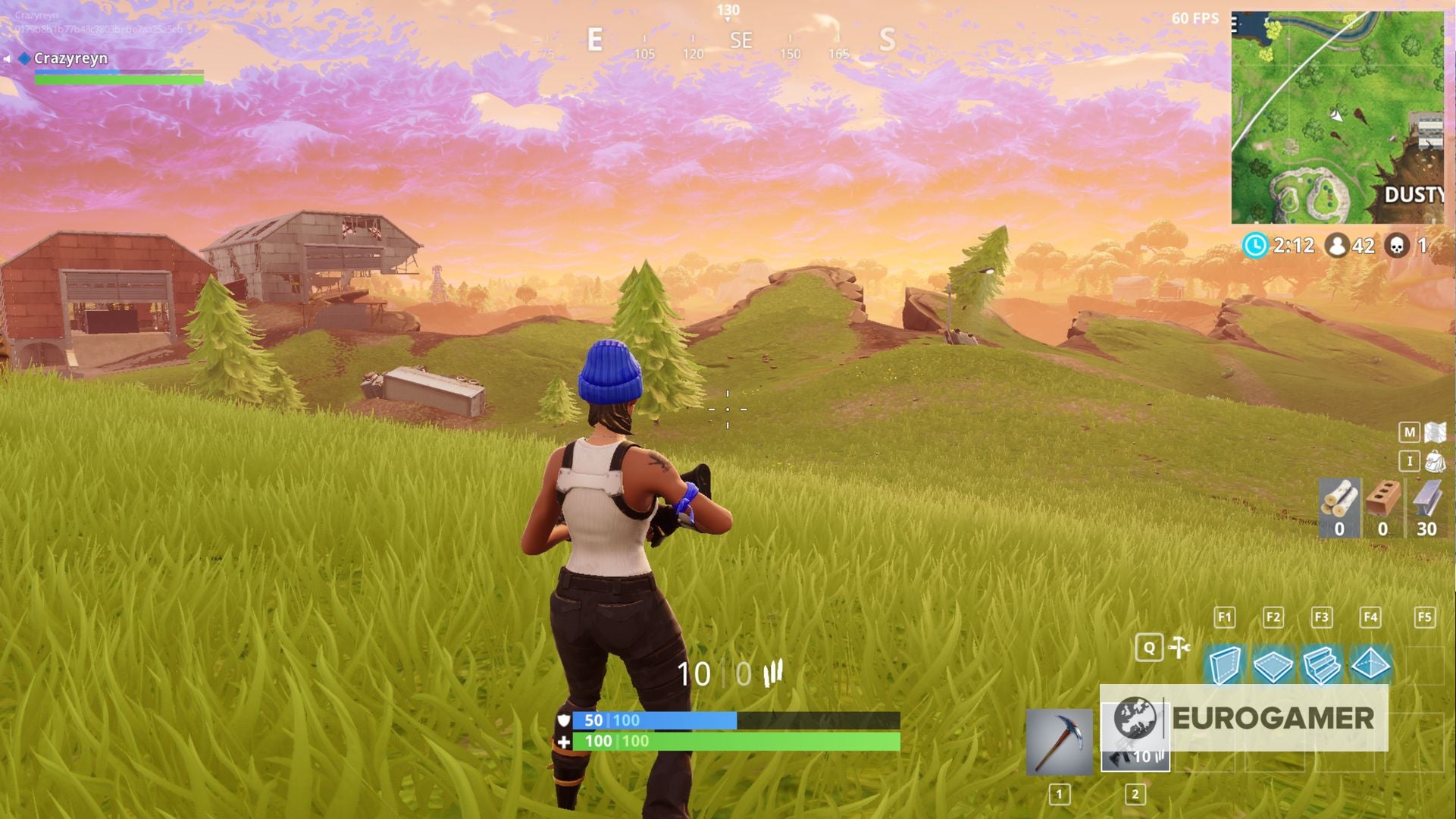 A make-shift research base sits in the middle of the crater, with small white clinical rooms containing loot, and little cover from fire as you go from one to the next. It's surrounded by a fence, but you can easily get through from the south.
Also surrounding the research base are glowing blue rocks. These are Hop Rocks, which when consumed give you low gravity for a few minutes, allowing you to leap about higher than usual, and discount any fall damage.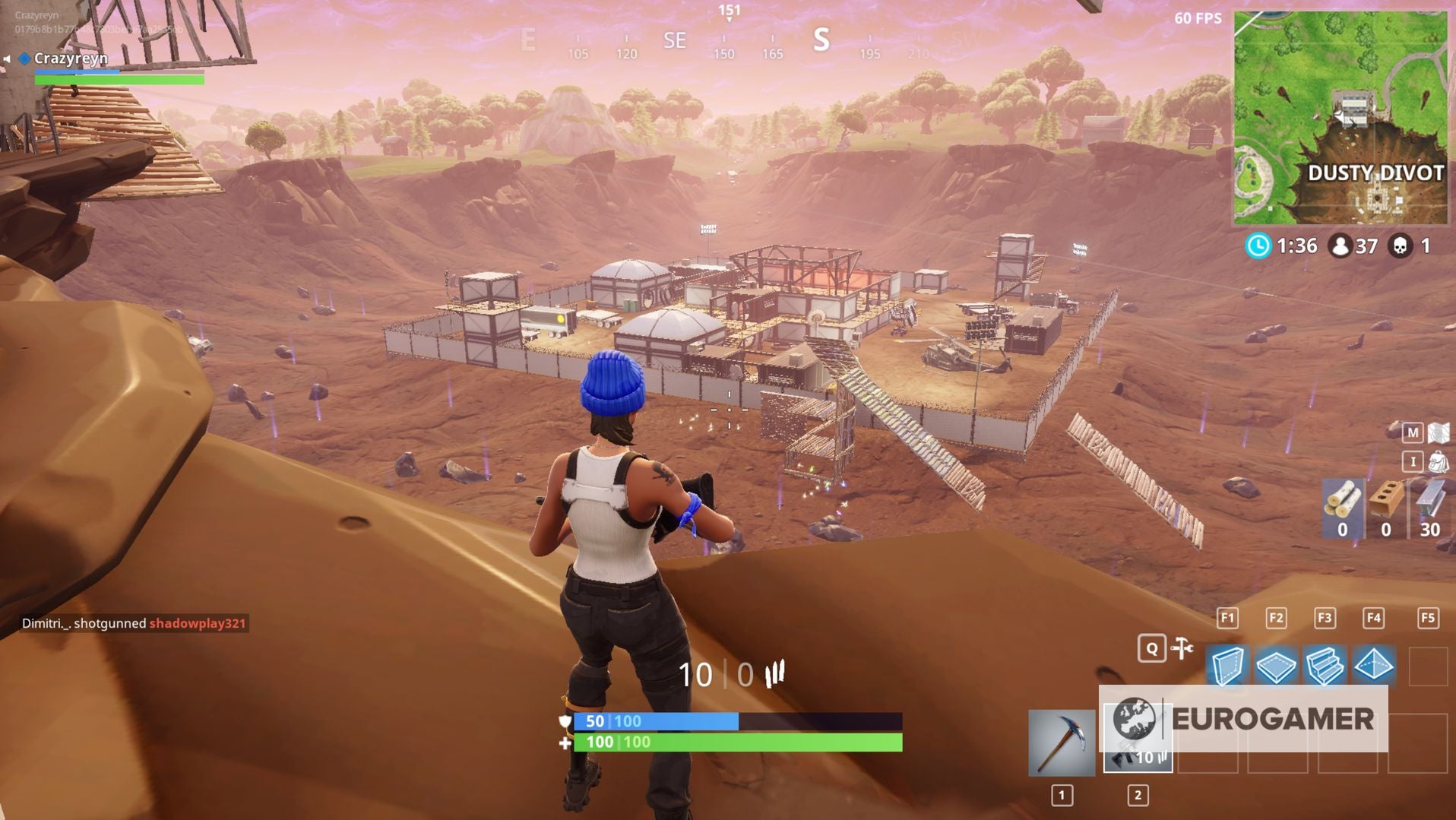 Risky Reels
Risky Reels is decidedly less exciting. It's essentially a square lot surrounded by a fence, with cars, lorries and a crater in the middle. There are buildings on the outskirts worth checking out for loot.
There's also a giant projector screen on the south side, that's partly destroyed. If you're paying a visit, it's well worth going here first to get the Fortnite letter that rests here.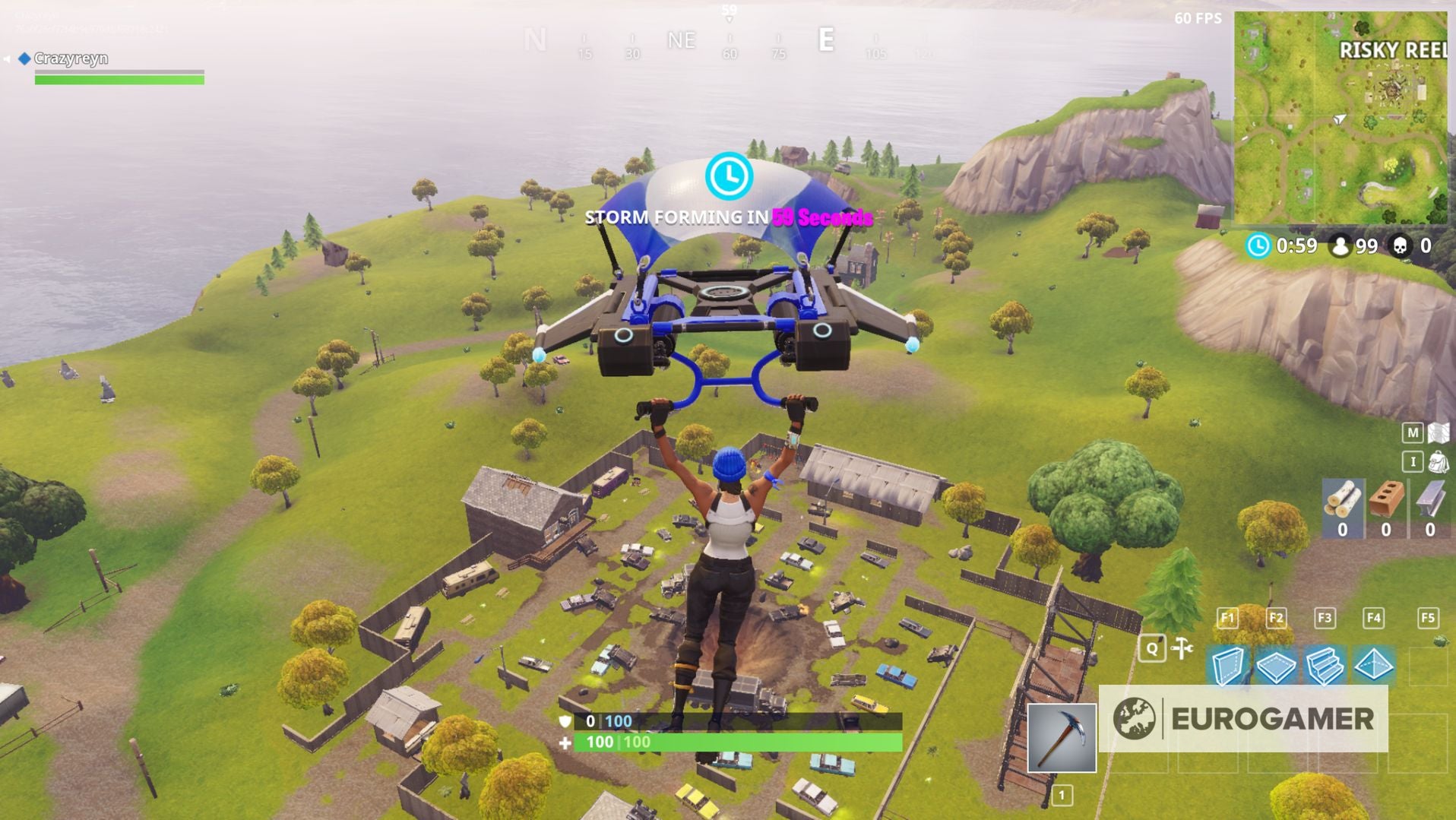 There is, however, a green screen on the north side (as well as in Moisty Mire's film set) which you can use to throw images onto with a little chroma key know-how.
---
Chapter 3 Season 2 has arrived! New additions include the Prowler skin, along with the return of jetpacks and Choppas. As we enter Season 2's final month, it's a good idea to know how to get XP fast in Fortnite. You can also complete Resistance challenges, including collecting signal jammers and finding an energy fluctuation. Don't forget about the Seasonal challenges, which include planting saplings and call an Air Strike on a tank. Meanwhile Victory Crowns and the character collection have returned, along with a new Victory Umbrella to earn.
---
Other Fortnite map changes, Easter eggs and secrets explained
As well as two new areas, there are plenty of smaller changes too.
Moisty Mire film set
There's a film set within Moisty Mire, complete with a helicopter and other props. It's worth visiting for the Fortnite letter there alone.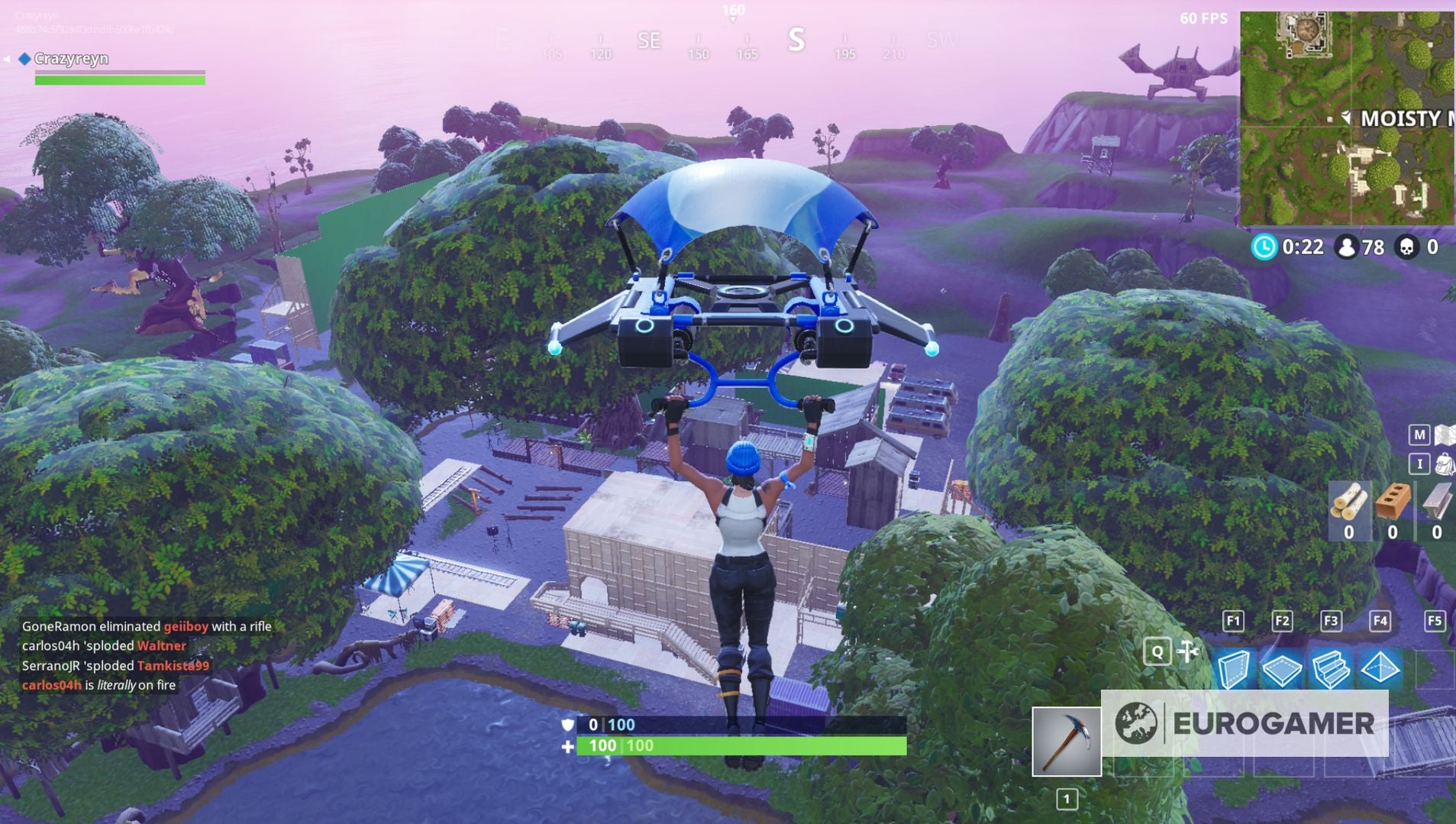 Craters
As well as the huge crater in the centre of the map, smaller ones are potted all over in the following locations, and are visible both on the map screen and from the Battle Bus if you look close enough:
East of Junk Junction
North-west of Snobby Shores
East of Fatal Fields
Compound north-west of Moisty Mire
West of the 'race track' north of Moisty Mire
Within Tilted Towers
And there's an actual meteor chunk in Loot Lake (near the Tomato Town treasure map destination)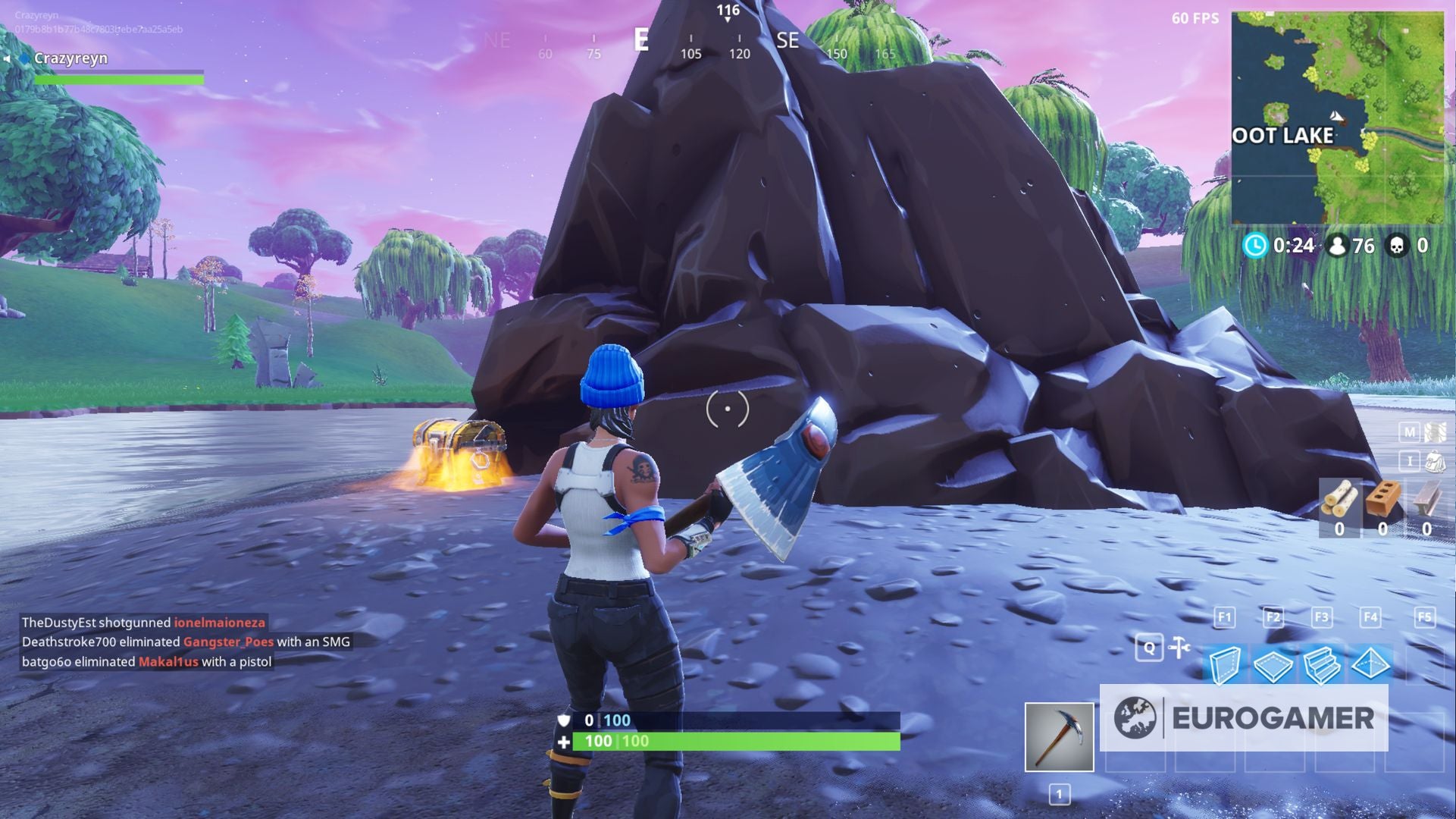 There's not a great deal you can do in these craters - it's mainly a cosmetic change - but they might act as useful reference points when exploring with team mates.
Hidden superhero and villain lairs
Hidden below ground, however, hides more secrets. There's a hidden lair on the mountain north-east of Snobby Shores, as shown in this video from Chaos:
There's another underneath a house in Salty Springs:
And one more at Lonely Lodge:
Dinosaur footprint
Finally, there's a giant footprint on the map west of Greasy Grove, suggesting a huge dinosaur stomped its way through a building. A clue of something to come, perhaps?
There's bound to be more out there that players have yet to uncover. If you see anything, be sure to let us know in the comments!
Will you support Eurogamer?
We want to make Eurogamer better, and that means better for our readers - not for algorithms. You can help! Become a supporter of Eurogamer and you can view the site completely ad-free, as well as gaining exclusive access to articles, podcasts and conversations that will bring you closer to the team, the stories, and the games we all love. Subscriptions start at £3.99 / $4.99 per month.