Fortnite flaming hoop locations: Easiest flaming hoops with a cannon to find explained
Where to find flaming hoop locations - and nearby cannons to launch from.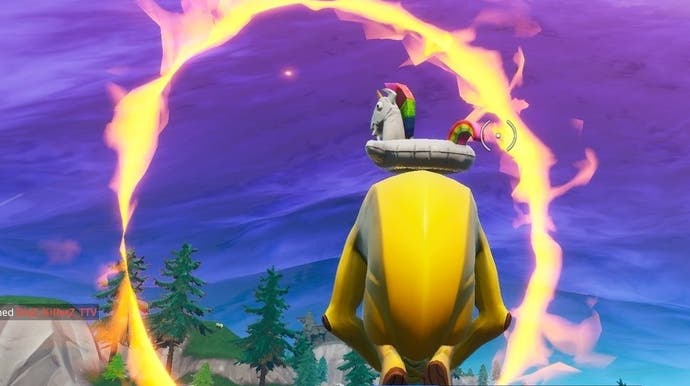 Launching through flaming hoops with a cannon is one of Fortnite's many Weekly Challenges.
Completing it will give you additional XP to help go towards your many Season 8 rewards.
---
Note this particular challenge is no longer able to be completed. What's new? Chapter 4 Season 2 has arrived! New additions include the Grind Rails and Kinetic Blades, along with the new Battle Pass, character collection and Eren Jaeger skin. It's a good idea to know how to get XP fast in Fortnite.
---
On this page:
Fortnite Flaming Hoop locations
Though you only need to jump through a total of three Flaming Hoops, thankfully there are many more across the map.
Here are the Flaming Hoop locations you can find: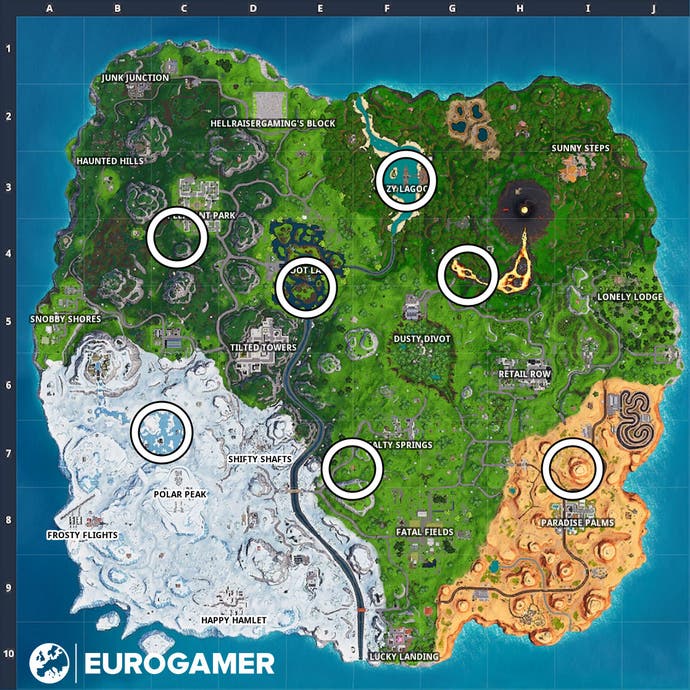 Flaming hoops cannot be easily spotted from the Battle Bus, but they can be sighted from a short distance on the ground, thanks to their elevation and, well, burning blames that make them stick out like a sore thumb on the horizon.
Since they require cannons to launch from, they tend to appear near Pirate Camp locations - which is where you'll find cannons in question.
Here are their specific locations:
Lazy Lagoon, above the pirate ship in the middle of the named location. You'll find cannons on the ship itself - you may need to move them into the town to get the right vantage point.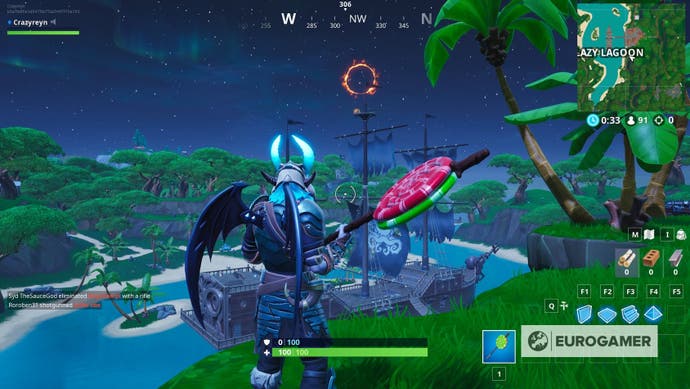 South-west of Pleasant Park, surrounded by some trees. Cannons can be found to the west, at the pirate camp location there: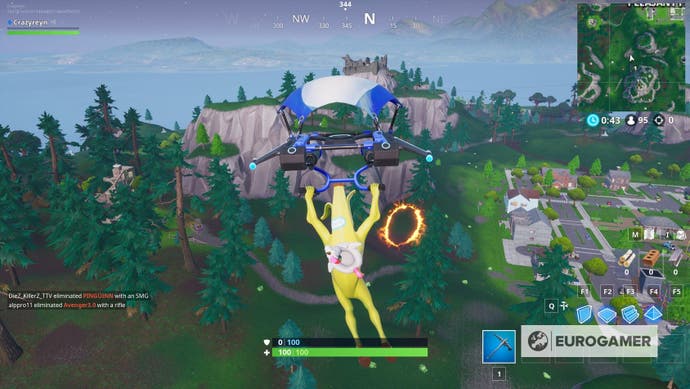 Frozen Lake, in the south-east part of the map. You'll find a pirate camp location just to the north-east you can wheel a cannon from: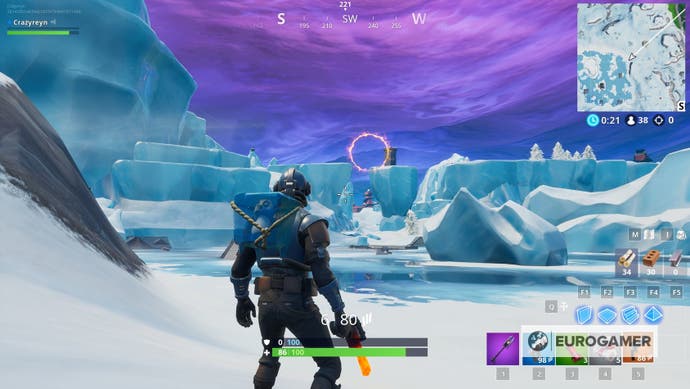 Loot Lake, above the south side of the named location. There is a pirate camp location just to the east - though since you have to get a cannon over water, we would recommend avoiding this location and opting for another!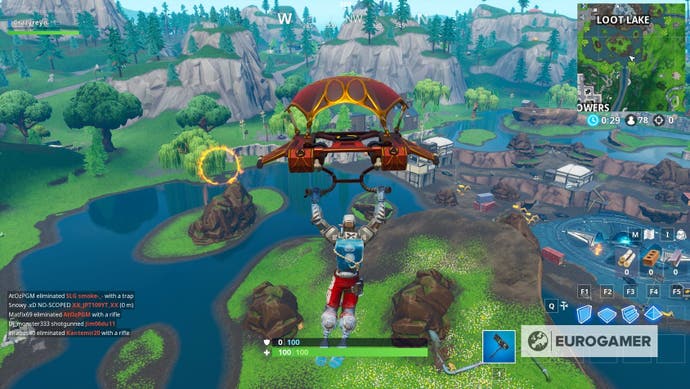 West of Salty Springs, just north of the mountain with the pirate camp location on top: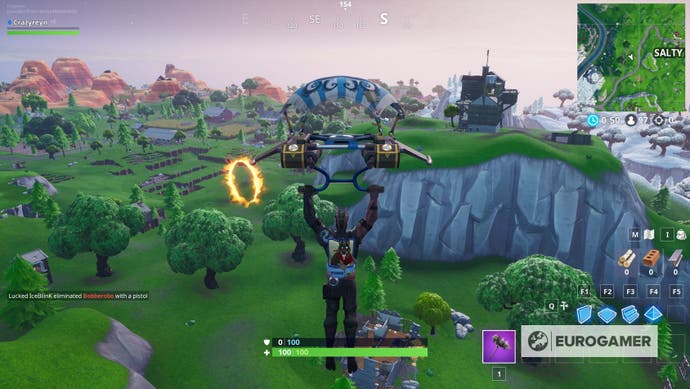 Base of the volcano, to the south of the pirate camp location that's there: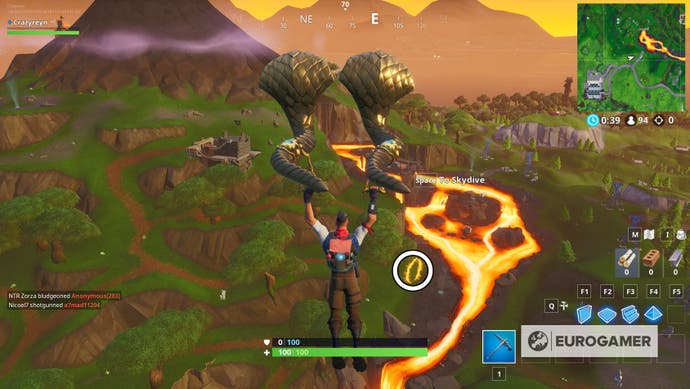 North of Paradise Palms, next to the mountain and east of the pirate camp location that's right at the edge of the desert: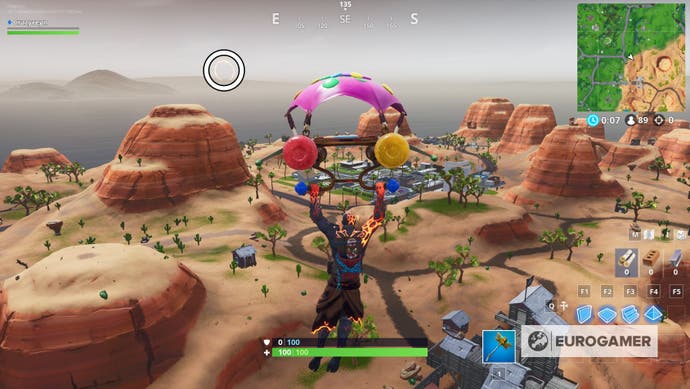 Easiest Flaming Hoop locations
With the above in mind, which are the three easiest Flaming Hoop locations to do? Here are our picks:
West of Salty Springs, since it's not only isolated from other players, but because the pirate camp location nearby is level with the flaming hoop. Find a cannon at the top level, move it outside facing north, aim above and fire through it.
Lazy Lagoon, since there are cannons very close by, on the ship and the port. You'll need to move a cannon a little to get the right height, but you don't have to move it as much as other locations.
Frozen Lake, since it's a less popular location than others, and the pirate camp location nearby is awash with cannons, which you can safely move to the edge of the lake's ridged heights and fire across.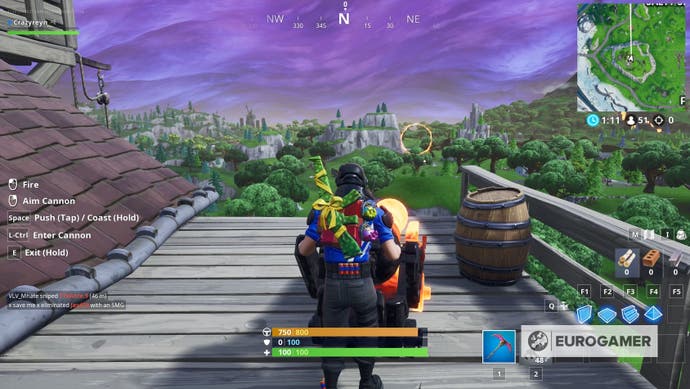 ---
Fortnite Chapter 4 Season 2 is here and with it comes Force Abilites and Lightsabers in the Star Wars 2023 event and a new selection of Battle Pass skins! Take a look at the Eren Jaeger skin too! If this is something you want, take a look at our challenge guides that show you the Jaeger's Family Basement location, plus how to find and use ODM Gear. Don't forget to complete the new challenges, including winning arcade games, knocking back players with the Kinetic Blade, shooting targets while on a Grind Rail and restoring health or shields on a Grind Rail. Meanwhile, learn what the best weapons are, new map changes, how to get XP fast, use the best PC settings, earn the Victory Umbrella and earn a Victory Crown.
---
How to launch into Flaming Hoop locations
For the Week 10 Challenges, you are tasked with the following:
Launch through flaming hoops with a Cannon (3 total, 5 Battle Stars)
Those who played Fortnite last season will recognise this challenge - and it's much the same, with flaming hoop locations appearing throughout the map, instead this time you have to use cannons.
Because of this, it's a much more difficult challenge. Though in every case cannons are close by - there's usually a Pirate Camp location within sight - the cannons won't launch you into the hoop from where they are.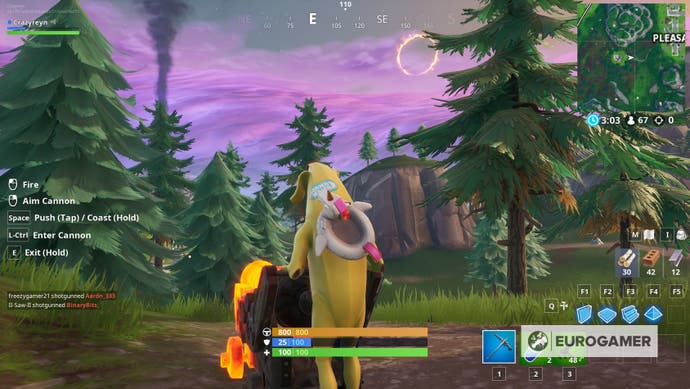 Instead, you have to move them closer to the hoop. They aren't the easiest to manoeuvre, and when you enter the cannon to launch yourself, you'll find any sloped ground will see the cannon move out of place.
Since cannons cannot aim all the way up, you cannot plant them underneath either - so you have to find a close enough distance to place them, without being too close or far away.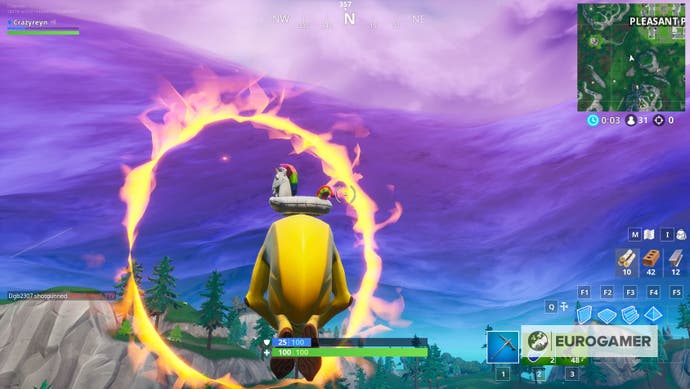 We recommend three things to help. One is building a structure to put it on, giving you a bit of elevation and stability, like with this flaming hoop location in Pleasant Park: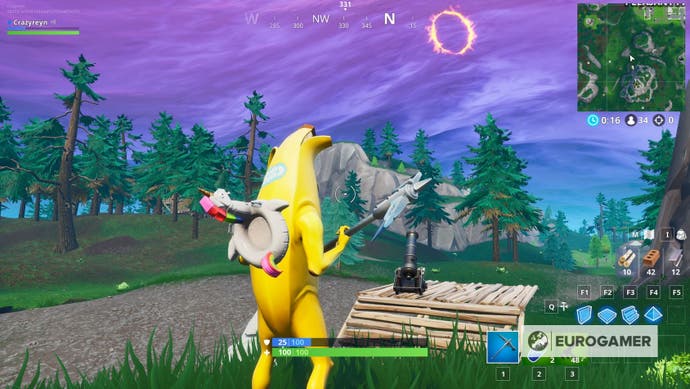 The second thing is because it's fiddly work - finding a cannon, moving it, and making it stable - you might want to do this in LTMs (limited time modes) where you are up against less adversaries that might hamper your progress.
Third, work in a team. If you can have a friend moving the cannon while you are inside and can communicate whether you need to move back here or a little to the right there, the work will be much easier.
If you are doing this, remember to have Party Assist enabled so you can all share in the challenge progress!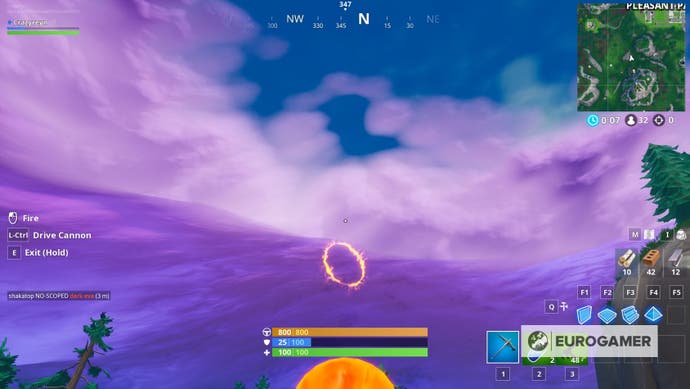 However you do it, remember to aim well above the flaming hoop, otherwise you'll sail right underneath - it's always higher than you need it to be, so if in doubt, aim as high as possible.
Good luck!