Fortnite Drive a car from Retail Row to Pleasant Park in under four minutes explained
Time to press the accelerator to the floor.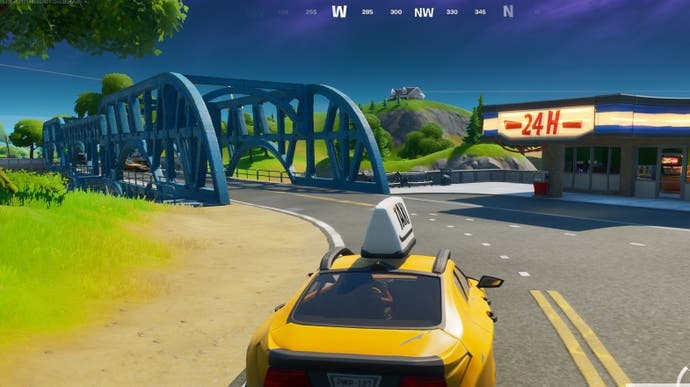 Driving a car from Retail Row to Pleasant Park in under four minutes is the first challenge in Fortnite Chapter 2 Season 3 to utilise the release of cars and gas stations.
This challenge not only tests your driving abilities, but your knowledge of the Fortnite map, as you race from one corner to another.
Completing this challenge will reward you with some XP, which will help you unlock the new Season 3 Battle Pass skins.
---
Note this particular challenge is no longer able to be completed. What's new? Chapter 4 Season 2 has arrived! New additions include the Grind Rails and Kinetic Blades, along with the new Battle Pass, character collection and Eren Jaeger skin. It's a good idea to know how to get XP fast in Fortnite.
---
On this page:
Retail Row and Pleasant Park locations in Fortnite at a glance
Retail Row and Pleasant Park are two of the main named locations on the Fortnite map; with Retail Row spanning G6 and H6, while Pleasant Park can be found in both D2 and D3.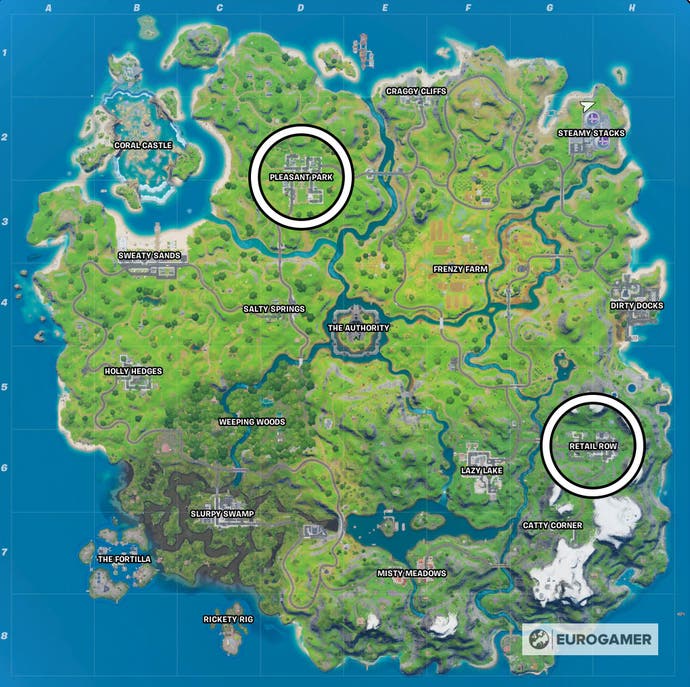 Successfully completing this challenge relies on your speed to navigate the map and evade other players, so avoid the temptation to get in a brawl, even if you'll win the fight.
You'll also want to keep a close on your gas tank as you navigate the roads in your car. Thankfully, the route you need to take goes past two gas stations, so remember to refuel your car at least one station or else you won't reach Pleasant Park.
Just remember - you must land at Retail Row to begin this challenge; it does not work if you land at Pleasant Park and then drive to Retail Row.
---
Fortnite Chapter 5 Season 1 is here! It brings a free Lego Insider skin and redemption codes with it, along with a new Victory Umbrella. We've also got pages on new features like Medallions, Weapon Mods, and how to complete a Train Heist. Meanwhile, learn what the best weapons are in the current season, how to get XP fast, and what the best PC settings are to help earn a Victory Crown.
---
How to drive a car from Retail Row to Pleasant Park in under four minutes in Fortnite
The best way to complete this challenge in Fortnite is to ensure that you land in Retail Row as early on into the match as physically possible. This will not only ensure that you can grab one of the available cars before the other players, but will also give you more time to reach Pleasant Park before the circles begin to close.
To do this we recommend getting the battle bus route before the beginning of every match and, if it doesn't allow you to reach Retail Row quickly, you either try another match or wait to complete this challenge.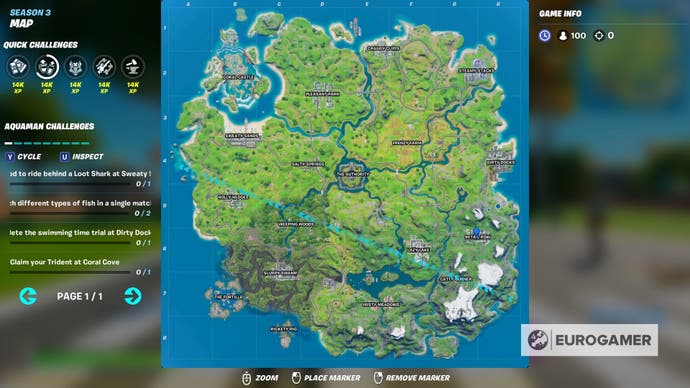 Once you've landed in Retail Row, you'll want to grab one of the small cars, which are your typical road cars or taxis. This is because this type of car is, at the time of writing, the fastest available in Fortnite, which is ideal for reaching Pleasant Park before the time limit expires.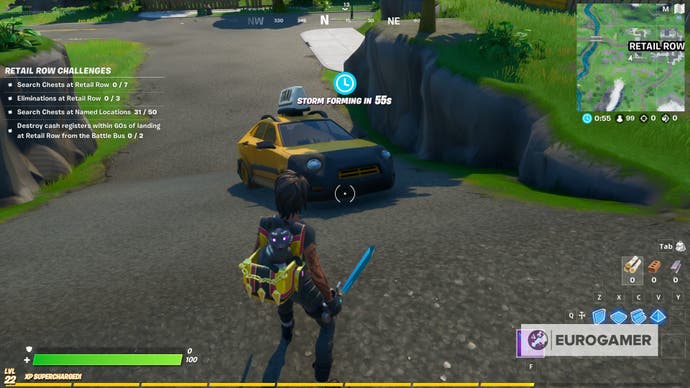 The moment you're in the driver's seat, you'll want to head west out of Retail Row and, once you've crossed the bridge, you'll want to take the road leading north.
Keep heading north until you reach another fork in the road and, once you're there, take the left road.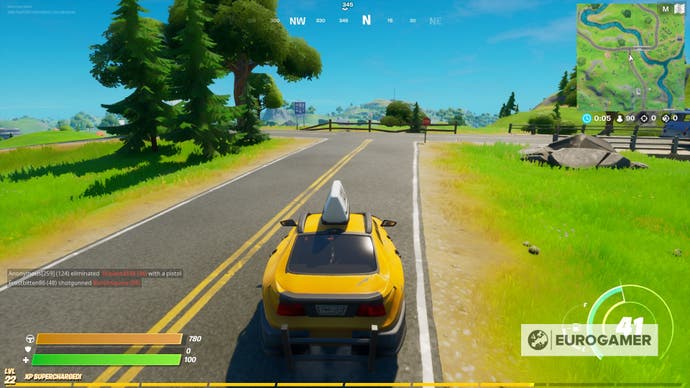 Continue along this road, until you reach the gas station. This is the best place to fill up on gas, because, until gas tanks, you have the ability to completely fill the fuel tank.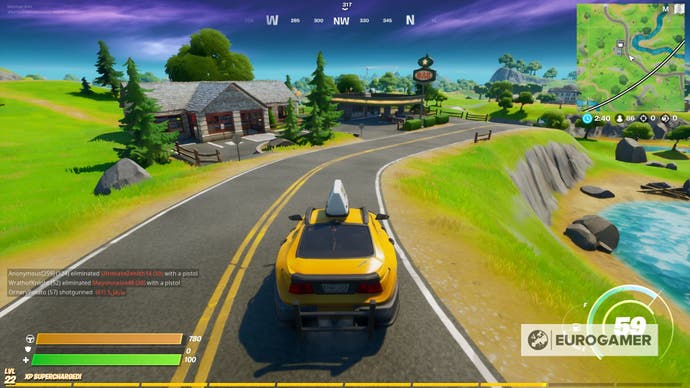 After refuelling your car, get back on the road and continue following it over and beyond the bridge.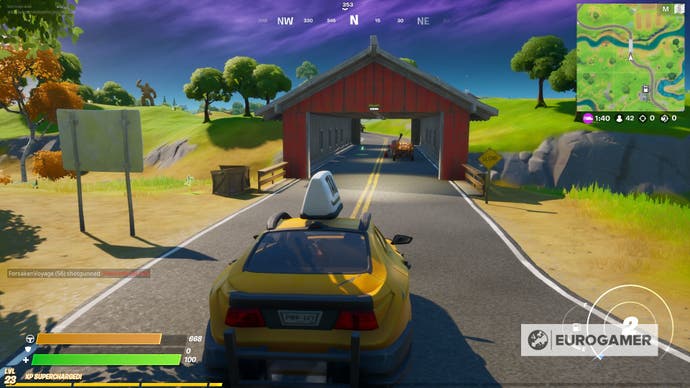 Eventually you'll come to a fork in the road next to a second gas station; here you'll want to take the road to the west, which will take you across the bridge and into Pleasant Park.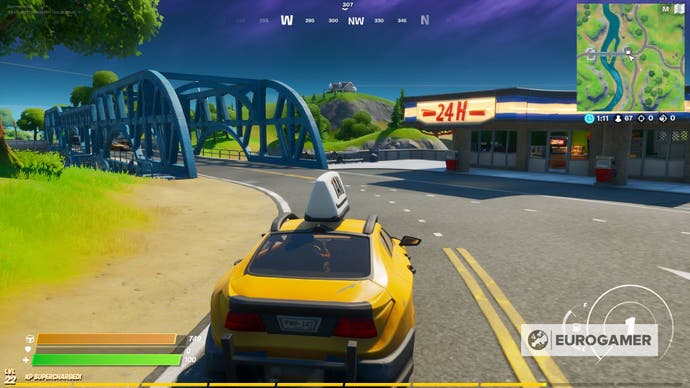 If you manage to complete this challenge within the time limit of four minutes you'll receive a 'Challenge Completed' notification upon entering Pleasant Park. If you don't, then you'll need to attempt this challenge again.
If you want to learn more about this season of Fortnite, check out our Season 3 Battle Pass skin page and other challenges, including finding Balls of Yarn at Catty Corner, Deadpool's floaties and completing the Coral Buddies secret questline.