Fortnite Dive! Challenges list for Week 8
All the available challenges in Chapter 2 Season 1's eighth week.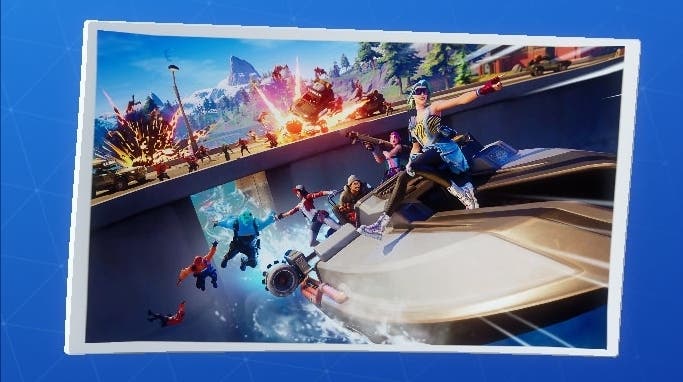 Fortnite Dive! Challenges gives you a new set of objectives in the eighth week of Fortnite Chapter 2.
These challenges mostly revolve around water (unsurprisingly!) and finding supply drops.
Completing a challenge will reward you with a nice amount of XP, helping you level up your Fortnite Chapter 2 Battle Pass.
Fortnite Dive! Challenge list
The following Week 8 'Dive!' Challenges went live on November 28th, 2019. (Thanks to Lucas7yoshi on Twitter for confirming the full list.)
Fortnite Dive! Challenge list:
| Dive! challenge | Total |
| --- | --- |
| Deal damage to descending Supply Drops | 200 |
| Eliminations at Hydro 16 or Holly Hedges | 3 |
| Search a Supply Drop within 10 seconds of it landing | 3 |
| Complete the swimming time trials at Lazy Lake and East of Hydro 16 | 2 |
| Eliminations without aiming down sights | 3 |
| Pull an item, pull an opponent, and catch a fish using a Harpoon Gun | 3 |
| Deal damage to opponents within 30 seconds of using a glider | 1 |
| Search 2 chests within 30 seconds of each other | 3 |
| Harvest wood within 60 seconds after landing from the Battle Bus in a single match | 300 |
| Deal damage with 2 different weapons within 30 seconds | 1 |
Completing eight Dive! Challenges will reward you with a Dive! loading screen.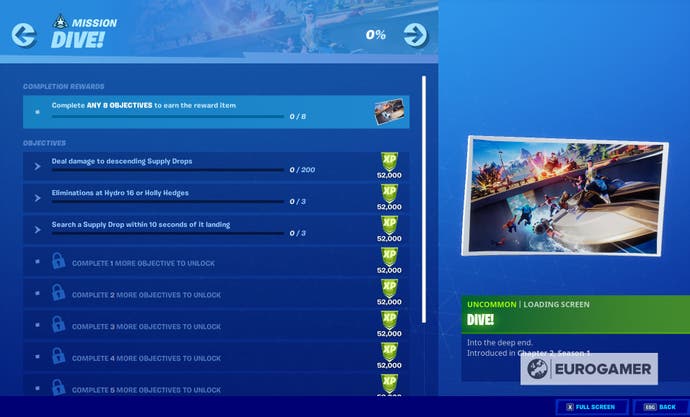 As with other Challenges, once you have this you can the hidden letter in the loading screen.
---
Fortnite Chapter 4 Season 4 is here! To help you get started with this heist themed season, we have guides on how to alert a Securitry Camera, secure data from Forecast Towers and destroy weakened walls or security gates. There's also a new Victory Umbrella! Meanwhile, learn what the best weapons are, the current Augments, how to get XP fast, use the best PC settings and earn a Victory Crown.
---