Former Sonic boss expresses disbelief as Wata-certified game sold for $430k
"That's a scam, right?"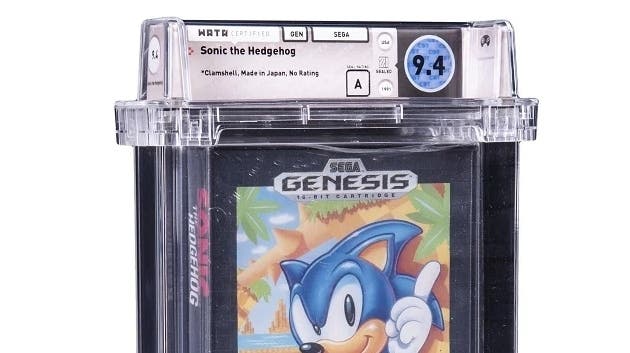 Yuji Naka, former boss of Sega's Sonic the Hedgehog team, has expressed surprise at the $430k sale price for a copy of the original Sonic on Sega Genesis.
The auction is the latest in a string of eye-opening prices for vintage games rated by controversial quality-assessment service Wata.
Earlier this month, Wata co-founder Mark Haspel was accused of breaking his own company rules on selling graded stock for a profit, in a detailed report which alleged a "serious conflict of interest".
Has Yuji Naka been keeping up to date on all this? Last night, seeing word of the sale on Twitter, he replied: "[Hedgehog emoji] What's this" and "Is it a scam?"
"That's a scam, right?" he continued. "I wondered if it was time for Sonic to reach a high."
This particular copy of Sonic the Hedgehog had been rated with a quality of 9.4 by Wata. Anything above a 9.0 rating is suggested by Wata to be "investment grade", and will likely only increase in value.
But while the vintage video game market has long been viewed as an investment, there have frequently been suggestions that prices are now being artificially driven up by collectors and other interested parties to in turn drive up the value of their own collections.
In July 2020, a sealed copy of Super Mario Bros. rated 9.4 by Wata sold for $114k, a record at the time. Fast forward to this April, and a sealed 9.6 Wata-rated copy of Super Mario Bros. sold for a whopping $660k. In July, a sealed 9.0 Wata-rated copy of The Legend of Zelda sold for an even-higher $870k.
Ken Goldin, founder of the auction site Goldin Auctions which was used to sell this copy of Sonic the Hedgehog, has now replied to Yuji Naka on Twitter with the following:
"Naka San - we can assure you that this is a genuine sale to a real buyer on Goldin. Our customers trust us because all of our auctions are fair and for authentic items. We also vet all of our bidders on high end items such as this.
"The video game market is heating up and we are thrilled to be a part of it, this was our 1st venture into the category. Just as millions of fans from around the world have purchased Sonic games, they also want to own the original Sonic, a piece of history. As a founder, I would love to talk to you about our company and the market to ensure you we do business the right way. I have also DM'ed you with my contact info."